Reed Bistro & Hotel Daniel Buzz
It's nearly 3pm and people are still arriving at Catherine Reed's eponymous left-bank bistro. Considering it's Reed cooking, serving and smiling this is a rather unusual riff for a restaurateur n'est pas? Canadian born Catherine was a fashion designer in Paris, Capital of Fashion, when she read an ad in FUSAC magazine for a translator at a cooking school. "As I couldn't boil an egg I thought I'd apply, it would be a good way to pick up a few free tips. I nearly fainted when I discovered it was The Ritz Cookery School working with Guy Legay!" (Chef Legay retired from the Ritz in 2000, is still hyper-active in the world of gastronomy and sport, go to his Facebook page and take a peep at his cycling exploits). So, side by side with chef Legay Reed translated and learned her craft. "I was inspired and began to cook at home. Friends were so impressed they asked me to cook for them". It wasn't long before word of mouth got round and Catherine was offered a post in Gstaad, the Swiss alpine jet set village. "I didn't have much time to ski, I worked really hard. Another learning curve", she recalls. Finally after several private chef assignments in Europe Catherine was homesick for Paris. "I had the idea of my little left-bank bistro and I knew the exact location. So after many false starts, a rather run down office on rue Amelie, a narrow side-street off rue Saint Dominique, became available. After signing the lease Reed's fashion design skills came into their own. Working with builders they gutted the space, out came the sewing machine (for the curtains), paints, and tool box. Decor's bright and welcoming French country house style, antique mirrors, comfortable banquettes (covered with fabric sewed by Reed). Pictures on the wall were found in the cellar, other pieces come from Reed's favourite hunting ground at 40 rue Mauberge, 9th, "it's Aladdin's cave", says Reed. Chef comes out from her open kitchen, grins and explains the dish of the day. Rillettes de maquereaux, salade de roquette to start or Velouté de petits pois à la menthe. Main of the day is: Poulet fermier rôti, sauce aux morilles to which she'll probably add a Tarte fine aux tomates de Sicile for you to taste. Other signature dishes are Terrine de Foie Gras, salade verte (menu's in French and English). Osso-Buco: Pintade Fermière rôtie de morilles: Bourguignon de joue de boeuf: Risotto aux asperges et jambon de parme: Vitello Tonnato, Blanquette de Veau. Desserts are home-made, displayed under glass cloches: Boston Cream Pie. Chocolate Mousse Tart: Sublime Lemon Cheesecake. And what about the wine? No sommelier chez Reed, but Sébastien Mourier, neighbour and owner of Les Grandes Caves on 70 rue St. Dominique will be happy to advise you, he pops in to have lunch with friends who make joyful noise, drink lots of wine. Cries of "oh la la c'est magnifique", ring round the room as Reed serves them. They're drinking white Chablis Domaine Oudin 2009 (29€) and Bordeaux Château Le Gay, 2009 at 17€. Then it's on to the serious stuff as Mourier uncorks a Gevrey Chambertin 2009, Labaux St. Jacques from Claude Dugat. "It's sweet, powerful and inviting", winks Mourier. There's licorice, smoke, sensual fruit, it's all about the winemaker in Burgundy and Dugat's the best", says Mourier. Who's going to argue with that? Reed,11bis rue Amelie, 7Metro: La Tour Maubourg,Open Tues-Fri LunchTues-Sat – DinnerLunch formula – Plat du Jour 14€ Starter/Main or Main/Dessert 18€Starter/Main/Dessert 21€ or A La CarteCooking classes Tuesday Evenings from 17.30T: 01 45 55 88 40No site yet. "Ceci n'est pas un brunch", insisted Sébastien Gaudard, "pâtissier de père en fils depuis 1955" one day last week at Hôtel Daniel, the chic boutique hotel just behind the Champs Elysées. And, Gaudard knows what he's talking about when it comes to the sweet stuff. Inspired by his parents pastry-shop, Patisserie Gaudard, Pont-a-Mousson, north-east France, he's Ex-Fauchon at the time of Pierre Hermé and has baked (as part of his military service) at Hôtel Matignon for two Prime Ministers.  At Delicabar, Bon Marché, he was dubbed "le petit prince de la pâtisserie" and he's Meilleur Pâtissier de l'annee 2012 Guide Pudlowski, just a brief précis of the man's talent and passion. So, if it's not a brunch what is it? "C'est Service à l'Ambigu", he explains. I take a discreet look at my Collins and read, "open to more than one interpretation". Hotel Daniel's a chic addy when shopping on the Champs and you don't want brunch or lunch but you could murder a Selection of Finger Sandwiches, mini jambon beurre/Assiette de jambon Pata Negra de Bellota ou saumon fumé: Un bol de salade mélangée. Oeufs à votre convenance, scrambled, boiled, fried. Fresh fruit juices, teas or infusions and a 3-tiered dish of Gaudard's gourmandises, all spins on classic favourites, tarte au Citron: baba au rhum: millefeuille: éclair: les réligieuses et le Saint-Honoré, as well as tarte à la rhubarbe meringuée, Paris-Brest, Mont-Blanc and Mussipontain, a heavenly creation of merangue, vanilla cream and caramelised almond, created by Daniel, Gaudard's dad. Join the line outside Gaudard's recently opened
Pâtisserie des Martyrs
where he's transformed one of Paris's oldest pâtisseries (La Maison Seurre). "Ceci n'est pas un brunch", grins Gaudard. "C'est un concept snacking chic". Voila! That explains it all. Sébastien Gaudard Pour
L'Hôtel Daniel
,8 rue Fréderic Bastiat, 8Metro: George V or Franklin D Roosevelt,Lunch & Dinner Mon-FriService du Thé – Mon-Fri from 15-18hrs 28-35€Not a brunch, Service à l'ambigu served Saturday, Sunday & Bank Holidays43€ or with a flute of champagne 53€    
SUBSCRIBE
ALREADY SUBSCRIBED?
BECOME A BONJOUR PARIS MEMBER

Gain full access to our collection of over 5,000 articles and bring the City of Light into your life. Just 60 USD per year.

Find out why you should become a member here.

Sign in

Fill in your credentials below.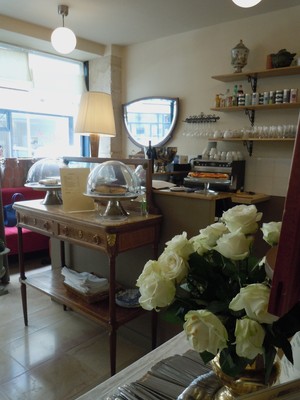 It's nearly 3pm and people are still arriving at Catherine Reed's eponymous left-bank bistro. Considering it's Reed cooking, serving and smiling this is a rather unusual riff for a restaurateur n'est pas?
Canadian born Catherine was a fashion designer in Paris, Capital of Fashion, when she read an ad in FUSAC magazine for a translator at a cooking school. "As I couldn't boil an egg I thought I'd apply, it would be a good way to pick up a few free tips. I nearly fainted when I discovered it was The Ritz Cookery School working with Guy Legay!" (Chef Legay retired from the Ritz in 2000, is still hyper-active in the world of gastronomy and sport, go to his Facebook page and take a peep at his cycling exploits).
So, side by side with chef Legay Reed translated and learned her craft. "I was inspired and began to cook at home. Friends were so impressed they asked me to cook for them". It wasn't long before word of mouth got round and Catherine was offered a post in Gstaad, the Swiss alpine jet set village. "I didn't have much time to ski, I worked really hard. Another learning curve", she recalls.
Finally after several private chef assignments in Europe Catherine was homesick for Paris. "I had the idea of my little left-bank bistro and I knew the exact location. So after many false starts, a rather run down office on rue Amelie, a narrow side-street off rue Saint Dominique, became available. After signing the lease Reed's fashion design skills came into their own. Working with builders they gutted the space, out came the sewing machine (for the curtains), paints, and tool box.
Decor's bright and welcoming French country house style, antique mirrors, comfortable banquettes (covered with fabric sewed by Reed). Pictures on the wall were found in the cellar, other pieces come from Reed's favourite hunting ground at 40 rue Mauberge, 9th, "it's Aladdin's cave", says Reed.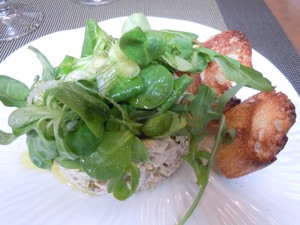 Chef comes out from her open kitchen, grins and explains the dish of the day. Rillettes de maquereaux, salade de roquette to start or Velouté de petits pois à la menthe. Main of the day is: Poulet fermier rôti, sauce aux morilles to which she'll probably add a Tarte fine aux tomates de Sicile for you to taste. Other signature dishes are Terrine de Foie Gras, salade verte (menu's in French and English). Osso-Buco: Pintade Fermière rôtie de morilles: Bourguignon de joue de boeuf: Risotto aux asperges et jambon de parme: Vitello Tonnato, Blanquette de Veau.
Desserts are home-made, displayed under glass cloches: Boston Cream Pie. Chocolate Mousse Tart: Sublime Lemon Cheesecake.
And what about the wine? No sommelier chez Reed, but Sébastien Mourier, neighbour and owner of Les Grandes Caves on 70 rue St. Dominique will be happy to advise you, he pops in to have lunch with friends who make joyful noise, drink lots of wine.
Cries of "oh la la c'est magnifique", ring round the room as Reed serves them. They're drinking white Chablis Domaine Oudin 2009 (29€) and Bordeaux Château Le Gay, 2009 at 17€. Then it's on to the serious stuff as Mourier uncorks a Gevrey Chambertin 2009, Labaux St. Jacques from Claude Dugat. "It's sweet, powerful and inviting", winks Mourier. There's licorice, smoke, sensual fruit, it's all about the winemaker in Burgundy and Dugat's the best", says Mourier. Who's going to argue with that?
Reed,
11bis rue Amelie, 7
Metro: La Tour Maubourg,
Open Tues-Fri Lunch
Tues-Sat – Dinner
Lunch formula – Plat du Jour 14€
Starter/Main or Main/Dessert 18€
Starter/Main/Dessert 21€ or A La Carte
Cooking classes Tuesday Evenings from 17.30
T: 01 45 55 88 40
No site yet.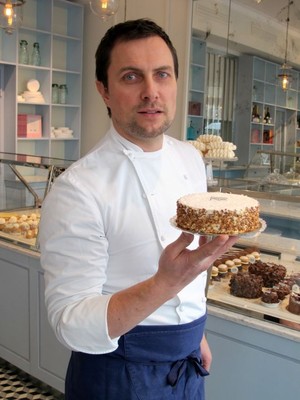 "Ceci n'est pas un brunch", insisted Sébastien Gaudard, "pâtissier de père en fils depuis 1955" one day last week at Hôtel Daniel, the chic boutique hotel just behind the Champs Elysées.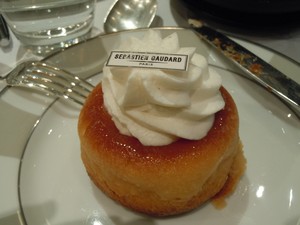 And, Gaudard knows what he's talking about when it comes to the sweet stuff. Inspired by his parents pastry-shop, Patisserie Gaudard, Pont-a-Mousson, north-east France, he's Ex-Fauchon at the time of Pierre Hermé and has baked (as part of his military service) at Hôtel Matignon for two Prime Ministers.  At Delicabar, Bon Marché, he was dubbed "le petit prince de la pâtisserie" and he's Meilleur Pâtissier de l'annee 2012 Guide Pudlowski, just a brief précis of the man's talent and passion.
So, if it's not a brunch what is it? "C'est Service à l'Ambigu", he explains. I take a discreet look at my Collins and read, "open to more than one interpretation".
Hotel Daniel's a chic addy when shopping on the Champs and you don't want brunch or lunch but you could murder a Selection of Finger Sandwiches, mini jambon beurre/Assiette de jambon Pata Negra de Bellota ou saumon fumé: Un bol de salade mélangée. Oeufs à votre convenance, scrambled, boiled, fried. Fresh fruit juices, teas or infusions and a 3-tiered dish of Gaudard's gourmandises, all spins on classic favourites, tarte au Citron: baba au rhum: millefeuille: éclair: les réligieuses et le Saint-Honoré, as well as tarte à la rhubarbe meringuée, Paris-Brest, Mont-Blanc and Mussipontain, a heavenly creation of merangue, vanilla cream and caramelised almond, created by Daniel, Gaudard's dad.
Join the line outside Gaudard's recently opened Pâtisserie des Martyrs where he's transformed one of Paris's oldest pâtisseries (La Maison Seurre). "Ceci n'est pas un brunch", grins Gaudard. "C'est un concept snacking chic". Voila! That explains it all.
Sébastien Gaudard Pour
L'Hôtel Daniel,
8 rue Fréderic Bastiat, 8
Metro: George V or Franklin D Roosevelt,
Lunch & Dinner Mon-Fri
Service du Thé – Mon-Fri from 15-18hrs 28-35€
Not a brunch, Service à l'ambigu served Saturday, Sunday & Bank Holidays
43€ or with a flute of champagne 53€

Subscribe for
FREE

weekly newsletters.
BonjourParis has been a leading France travel and French lifestyle site since 1995.
Readers' Favorites: Top 100 Books, imports & more at our Amazon store
We update our daily selections, including the newest available with an Amazon.com pre-release discount of 30% or more. Find them by starting here at the back of the Travel section, then work backwards page by page in sections that interest you.
Current favorites, including bestselling Roger&Gallet unisex fragrance Extra Vieielle Jean-Marie Farina….please click on an image for details.
Click on this banner to link to Amazon.com & your purchases support our site….merci!
More in France restaurants, Margaret Kemp, Paris restaurants, Restaurant reviews
---
---