Rech, Lenôtre Bùche by Wilmotte & Krenzer, Madame Terrail's Legion D'Honneur & J'Aime New York by Alain Ducasse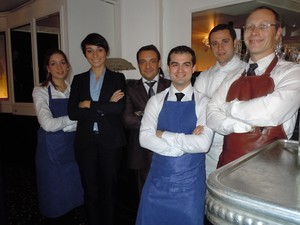 In case you missed the memo: Restaurant Rech was created by Adrien Rech in 1925 and became what the French call an "institution", the place to eat fish and seafood and greet like-minded friends. Three signature dishes kept them coming back again and again. La raie aux câpres. Le Camembert and the Giant Eclair, still on the menu today.
From 1974 Monsieur et Mme Meunier ran Rech, which became a little stuffy in spite of its attractive 1950's style décor. So, when Alain Ducasse took over in 2002 he revised and corrected, but just a few nips and tucks so as not to frighten away the loyal clientèle. The first mec to greet you is the gregarious ecailleur, Monsieur Malek. "Nearly 40 years here", he grins, in between taking care of his regulars.
Rech works well, is usually "complet" so this year Monsieur Ducasse felt confident enough to sweep house. Out go the browns and reds, in comes "le nouveau Rech". Don't worry the beautiful zinc bar remains, on the outsize mirrors fresh market products are noted in white stencil. If you've booked on the second floor, the staircase and stained glass window's are still there as is the open kitchen orchestrated by the handsome, talented and creative Adrien Trouilloud.
Thereafter it's a white story, created by architect Marie Deroudilhe. "We love it, it's like working close to the sea, the light's so bright and beautiful", says Eric Mercier, the delightful Director of the salle.
The menu's fish and sea-food, with input from Jacques Maximin, a nod and a wink to Viande and Vollaille.
Rech is now an exceptional maison, the staff are fast, efficient and friendly and the products described by my French dining companion as "à pleurer" they brought tears to her eyes. Like what? Crevettes bouquet de Bretagne vivantes, simply pan fried in Brittany butter demi-sel. Delicat de velouté de langoustines. Crabe salade Club. Tempting mains:
Noix de Saint Jacques: Langoustines croustillantes: Tronҫon de barbue braised au vin jaune. Golden Sole de ligne, catch of the day.
Drink Marin-Malin wines such as white Côteaux Varois en Provence – La Celle (glass 12€ – carafe 21€) or the wonderful red 2007 Lalande de Pomerol – Chateau la Gravière (14€-42€)
"And, nobody leaves until they've tasted the Eclair XL", insists Monsieur Mercier.  No problem there eh?

Rech,
62 avenue des Ternes, 17
Metro: Ternes
Valet parkinga
T: 01 46 72 29 47
Shut Sunday-Monday
Lunch formula 32€ or A La Carte
Plateau de Fruits de Mer 42€
Assiette de Fruits de Mer 35€
Plateau Royal 58€ Assiette de Crustacés 38€
Tasting Menu Jacques Maximin – 68€
A la Carte average spend : 54€ + wine
NEW YORK, NEW YORK SO GOOD THEY NAMED IT TWICE!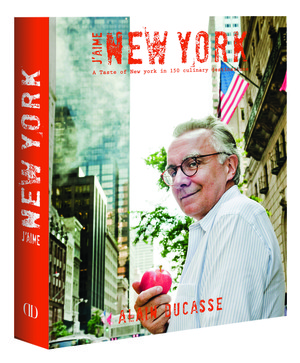 No rookie to NYC, Alain Ducasse has been an honorary New Yorker since his first visit, as a young chef, in 1976. With "J'Aime New York" he invites us to wander around his New York, allowing us to share in his extraordinary culinary adventures. All the city's cultures, cuisines, influences, and inspirations are represented, brought together, and blended. A journey in four parts: New York, NY, Urban Pastoral, Capital of the World, Sweet Life.  150 precious addys make this bible, a genuine City guide. Addresses are found by establishment, by location, or establishment type. Each accompanied by notes from the chef.
Like a culinary Tin-Tin Alain Ducasse shows us the buzz behind the scenes. This is Ducasse as bargain-hunter, collector, gastronome. He talks, discusses, expresses his amazement, All captured through the discreet lens of Pierre Monetta; his vibrant images, picture-postcards of NYC life.
J'Aime New York takes you on a mouthwatering gourmet trip with the Master – Alain Ducasse.
J'Aime New York
Mon New York Gourmand by Alain Ducasse & Alex Vails,
Alain Ducasse Editions,
150 addresses – 35€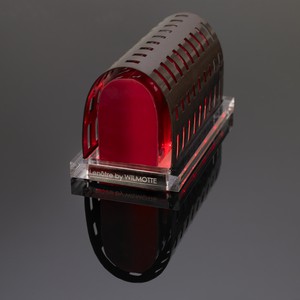 La Bùche de Noël created by Lenôtre's Director de la Création and uber-archtiect Jean-Michel Wilmotte is an extraordinary edifice. Soft and crunchy a "jeu du contraste de textures", constructed with subtle layers of intense dark chocolate, crème oncteuse, confit de Myrtille/Cassis et Baba, topped with a heart of red fruits, the bùche sits on a crunchy base.
"La bûche de Noël, is a precious childhood memory/souvenir d'enfance", say Krenzer and Wilmotte. "We decided to combine tradition with a contemporary touch, the bùche must be a "Féérie de Noël" and, la touche finale: the apparition of the bùche flaming, made possible by the magic of to-day's technology.
Jean-Michel Wilmotte compares his construction of the bùche to the codes he uses as an architect. "There's a lot of similarities between the two professions", he's discovered. "We speak the same language, I've enjoyed this so much, and appreciate the perfect precision of Guy and his team. It was a gamble that's paid off and we are very proud, c'est canon!".
Informations pratiques:
Bûche à partager pour 8 / 10 personnes – Prix : 145 € TTC
Limited Edition du 14 au 24 décembre .
A réserver dès le 7 décembre dans toutes les boutiques Lenôtre,
Téléphone au 0811 656 656 ou sur le site
Légion d'Honneur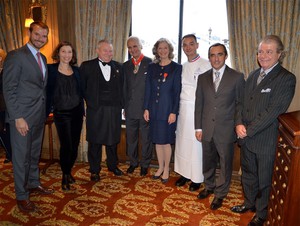 "It's wonderful for Claude, Andre, our son, and the equipe of La Tour d'Argent", said Madame Tarja Terrail as l'insignes de Chevalier dans l'Ordre National de la Légion d'Honneur was presented to her in the presence of high ranking ministers, family, friends and restaurant professionals in the historic salons of the Silver Tower.
Monsieur Jean Tiberi, Madame l'Ambassadeur de Finlande Pilvi-Sisko Vierros-Villeneuve, Madame la Sénatrice Catherine Dumas, Monsieur le Sénateur Jean-Pierre Camoin, Monsieur Bernard Leprince, Monsieur Eric Beaumard, Monsieur Guillaume Gomez, Madame Valérie Vrinat, Madame Françoise Lasserre, Monsieur Patrick Scicard and Madame Colette Lenôtre.
Let's face it La Tour d'Argent is a dynasty, soon to celebrate 100 years in the Terrail family.
"The award of the Legion d'Honneur recognises the Tour d'Argent's magnificent contribution to the "patrimoine franҫais,", said Laurent Fabius, Minister of Foreign Affairs.
For the fuller picture go here.
For a perfect treat go here.

Subscribe for
FREE

weekly newsletters.
BonjourParis has been a leading France travel and French lifestyle site since 1995.
Readers' Favorites: Top 100 Books, imports & more at our Amazon store
We update our daily selections, including the newest available with an Amazon.com pre-release discount of 30% or more. Find them by starting here at the back of the Travel section, then work backwards page by page in sections that interest you.
Current favorites, including bestselling Roger&Gallet unisex fragrance Extra Vieielle Jean-Marie Farina….please click on an image for details.
Click on this banner to link to Amazon.com & your purchases support our site….merci!
Leave a reply
Your email address will not be published. Required fields are marked *