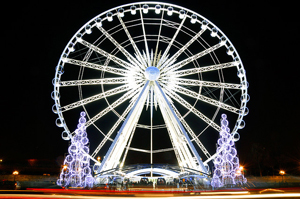 Stow the mistletoe, ignore the eggnog and leave the Christmas tree for another year. Visiting Paris during the festive winter holiday season is a splendid option for singles or couples, for Francophiles with flexibility to travel. Paris sparkles and shines in December and on into early January. The city's normal beauty ramps up to even higher levels burnished by sparkling holiday illuminations driving the dark away. The abundant markets and shops whose windows brim with artfully arranged and irresistible wearable, edible, and generally just can't-live-without treasures, are omnipresent. Cultural life is in full swing, with the city's churches and concert halls offering an enticing array of seasonal musical performances. There are seasonal 'events' aplenty.
There is always cuisine to consider. Culinary delights particular to celebrating the season such as chocolatey Buches de Noel, special-release macarons, limited edition fine chocolates, unctuous Foie Gras, piles of briny oysters, Champagne, cheese varieties at their best in winter, wild game, these all seduce shoppers searching for delicious gifts or for preparing their own feasts, be they major or minimal. Indeed if you are fortunate to have rented a short stay apartment and look forward to a splendid Christmas dinner, the markets are open up through Christmas eve afternoon as are the foodie shops, even the gourmet food halls of the Bon Marché and Galleries Lafayette.
Best of all, unlike London, which feels buttoned-down to visitors between Christmas and New Years, Paris life rockets on at full tilt, albeit with the Christmas and New Year's days being quieter holidays spent with family and friends. Fear not, visitors will not feel like they are isolated from the pleasures of the season.  If you are not invited to dine with friends or not staying in your own cozy abode, hotel guests can find a fine Christmas meal in the art nouveau era brasseries or in major hotel restaurants. On the dining front, New Years eve and Christmas eve are nights where bistros and restaurants generally offer special fixed priced holiday menus. It is wise to reserve well in advance, particularly if you have your heart set on a particular celebrative venue.
Welcoming in the New Year in Paris is simple but requires making critical choices. New Years Eve is celebrated publicly with a huge and noisy party along the Champs Elysées that is not for the introvert or the faint hearted. Fireworks fill the sky over the Eiffel Tower at midnight. There is also a public party up in Montmartre in the square outside Sacre Coeur. A bit quieter than the Champs Elysées, but lively nonetheless, a bonus is the panoramic view out over Paris. And there are always movies, concerts, clubbing, toasting the coming year in celebrative winebars like O'Chateau or Juveniles, and more to happily fill your evening.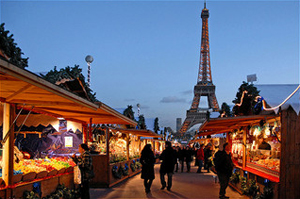 Other special seasonal events that are noteworthy for adults and kids include the Christmas Markets and the skating rinks alongside the Hotel de Ville and at the Eiffel Tower. This year, traditional Christmas Markets will be held in Paris at numerous locations. Most convenient for visitors are the markets on the Champs Elysées, the biggest of all out at La Defense, at the Montparnasse Tower and in the plaza outside Notre Dame. These markets, stemming from a grand Alsatian tradition, add even more shopping, sipping and tasting opportunities to the seasonal feast.
There are three 'enchanted villages' within markets that are of particular interest to families with children. Two are in St. Germain; one on the Place Saint-Sulpice, the second at Place St. Germain des Prés. And this year kids can combine skating, snow villages, and shopping in the seasonal market set up at Trocadero from December 13 through January 6. This is set in the park below Trocadero and opposite the Eiffel Tower.
Speaking of skating, what could be finer that gliding along in spectacular places such as the rink outside the Hotel de Ville or at the Eiffel Tower. Skates are available for rent and all comers are welcomed.
Holiday temptations are not limited solely to Paris. The magnificent chateaus of Vaux le Vicomte and Chantilly host annual holiday celebrations that draw visitors outside the core city. Both are approximately an hour outside Paris, Chantilly to the northwest, Vaux le Vicomte to the southeast near Meaux.
Vaux le Vicomte, the splendid chateau and extensive gardens that 'inspired the creation of Versailles' closes in late fall, but, re-opens especially for the holidays. The Chateau is sumptuously decorated. On selected evenings the special 'Illuminations' welcome visitors to tour the rooms romantically lit by candlelight. A modest additional contribution allows children to dress in period costumes, imagining the elegance of a Christmas at Vaux le Vicomte in its heyday.
Chantilly is another lesser-known gem of a historic chateau. Notable for an art collection said to be second only to the Louvre's, world-famed stables with extensive equestrian programs, and a large, verdant park in addition to the chateau, Chantilly is well worth a visit year round. During the holiday season the chateau offers a special daily, afternoon holiday equestrian show geared to delight children and their adults. It is best to buy a pass for Chantilly which entitles one to discounted rates for the equestrian tickets. Closed Tuesdays.
Christmas markets, chateaus in holiday splendor, oysters and Buche de Noel, treating oneself to joyous celebrations of the winter holiday season, let's raise a flute of Champagne to that!
Sally Peabody advises independent visitors to Paris and leads intimately scaled culinary, 'Eyes of Faith' and other private tours in Paris, Lyon and the Pays Basque through her company Your Great Days in Paris.  Sally also offers advising and touring in Istanbul and elsewhere in Turkey.
photo 1 by Audrey AK [CC BY 2.0], via Flickr
photo 2 by Jean-Pierre Dalbéra [CC BY 2.0], via Flickr