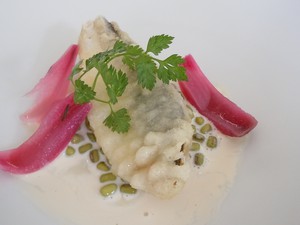 Have you met Pierre Sang Boyer? Face looks familiar? Here's a clue, Finalist, Top Chef M6 2011.
Ah! Yes, of course. Or, you're saying, "bof, never watch that, too boring". Indeed dear, but if not for Top Chef there may not be the likes of Pierre Sang's creative cuisine to-day, the contestants have a unique opportunity to manifest their talent.
Korean born Sang's backstory is the stuff of fairytales. Adopted when he was 7 by the family Boyer in the Haute-Loire region, he lived a traditional French childhood (don't ask why he was adopted that's TMI too much info). Went to local schools, became skilled at hunting, fishing, loved helping Mama Boyer in the kitchen. At an early age he was prepping her Crème Dubarry, Cake aux Légumes et herbes frites, Les oeufs de Mémé Boyer etc.
Never in any doubt about his future PS sailed through catering college and went off to work for the greats in France, read, Pierre Gagnaire; UK's Club Gascon; Sketch, London, Le Bec, Lyon etc., and, returning to Korea to trace his roots, worked, played and met his wife. They now have twins!
"Taking part in Top Chef PS impressed judge Christian Constant, "he's a genius who fuses two cultures seamlessly, and that's an art", thinks Constant. But, on Top Chef, PS was pipped at the post by Stéphanie Le Quellec (who, alert readers know is the Executive Chef at the Prince des Galles, re-opening soon). Chef Constant is still puzzled.
However, win or lose, there is life after Top-Chef. After several pop-ups and TV's, PS found his niche in the hip Oberkampf area and, on a tiny budget, opened a sleek space last June to rave reviews.
"There's no menu, this place is flexible, can be used for events (downstairs), dinners, lunches, culinary conferences. It's a place of creation, an incubator of ideas", he explains. No kitchen, just a long thin stainless steel space behind the bar where PS works with a grin, two Korean apprentices, and lots of zen attitude.
No reservations, no telephone, just turn up and the gregarious Max Guignard will seat you, or offer you a glass of something he can't resist, "pour patienter". PS and Max met when while working chez Gagnaire. Max has worked at the palaces, but has deleted them from his speed dial for the moment to be the "go-to" man at "Pierre Sang in Oberkampf".
There's no doubt the band at Oberkampf are going far. Just taste the delicate colourful dishes, all sourced locally, and you'll agree. Fish from "Charley" across the road, tick. Meat from Richard, ditto.  Bread from Gana, tick. Cheese and butter from Chez Auvergnat, tick. And veg from Marché Richard Lenoir at the end of the road.
Dishes change not only daily, but every five minutes, pray to taste Tiramisu, moussy camembert fermier, rhubarbe, speculoos. Or mackeral aux lentilles du Puy-en-Velay: Herring eggs, bonito, courgettes, cauliflower, tapioca. "I'm also cooking for vegetarians (please note, ladies who do), gluten free and with joy and love". Watch PS. He never loses his cool, why? "Because I'm living my dream".
Get over there as fast as you can not only for a wild culinary experience, but a meeting with a remarkable man and equipe.
Pierre Sang in Oberkampf.
55 rue Oberkampf. 11th.
Ouvert tous les jours. Pas de réservation.
M: Oberkampf/ Parmentier.
Menus 25 € et 35 €. Slunch du Sunday 45 €.
PS Take home the tome: Pierre Sang d'ici et d'ailleurs
M6 Editions 15€
Get a Room!
The handsome hotel Lutetia-Concorde, that big art-deco building on the corner of boulevards Raspail and Sévres is well known for its' wacky philosophy of avant-garde expos, a true bastion of the left-bank. Recently, the owners gave film-maker David Lynch carte-blanche to create a 60- square meter suite, with terrace and private entrance. Since the launch of his website, David Lynch is frequently spotted in Paris. Not only a genius film-maker but also a painter, photographer, sculptor and designer, he conceives a creative and visionary universe where dreams, eroticism, love and death mingle; perfectly. Most of the pieces featured in the David Lynch suite were made in Paris, the lithographs, created in a workshop in the heart of Montparnasse once used by Picasso, Matisse, Giacometti, Miro, Chagall & co. Lynch admits he "fell in love" with "this extraordinary site that is the Lutetia", says Paris is for him an eternal and wonderful source of inspiration.
David Lynch is represented in France by Galerie Item, 51 rue du Montparnasse, 14th
Concorde Hotel Lutetia.
45 Boulevard Raspail, 6th
M: Sèvres-Babylon
T: 01 49 54 46 46
David Lynch Suite from 2,000€ per night
Yes, WeCab®!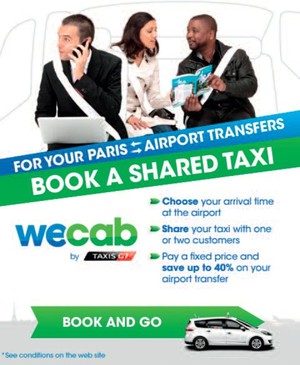 WeCab®, taxis with a difference. "With WeCab® shared taxis, we hope to make taxi service available to more people by offering an economical and environmentally friendly way to get to Paris airports", says Serge Metz, CEO of Taxis G7. Today's concerns about the economy, energy use and ecology make WeCab® a good solution for everyone. WeCab® is in tune with today's consumer values, including sharing resources and preserving the environment. And it's naturally user-friendly …with the quality you expect from TAXIS G7.
Book & Go
T: 01 41 27 66 77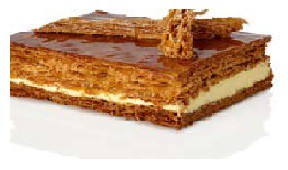 The delicious "Month of the Millefeuille" continues through 7th October.  This is Dominique Saibron's take. Vanille Bourbon de Madagascar, pétales de rose, caramel, fraises et framboises…,and that's just for starters rush to their website – wicked!

Subscribe for
FREE

weekly newsletters.
BonjourParis has been a leading France travel and French lifestyle site since 1995.
Readers' Favorites: Top 100 Books, imports & more at our Amazon store
We update our daily selections, including the newest available with an Amazon.com pre-release discount of 30% or more. Find them by starting here at the back of the Travel section, then work backwards page by page in sections that interest you.
Current favorites, including bestselling Roger&Gallet unisex fragrance Extra Vieielle Jean-Marie Farina….please click on an image for details.
Click on this banner to link to Amazon.com & your purchases support our site….merci!