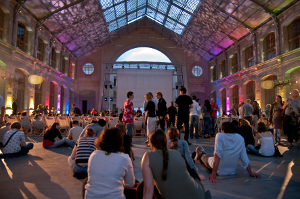 After a bumpy start this fantastic vast venue has really come into its own, offering a wide range of formal activities and exhibitions yet still managing to maintain its sense of an organic cultural space in which creativity spontaneously occurs.
Opened in 2008, this public institution was built rather morbidly on the site of a former municipal funeral service, but these days the structure is full of life.  In its early days, under the direction of Robert Cantarella and Frederic Fisbach, the Cent Quatre received much criticism and amassed an estimated deficit of 700,000€ after just two years in business. It was decreed by many as an out and out flop.
Cue Jose Manuel Goncalves. Hailed by many as the saviour of the Cent Quatre and by others as guilty of taking the project away from it's original premise, this Portuguese native has managed the centre since 2010 after the resignation of its two former directors. Part of his readdressing of the centres direction was to refigure how to successfully incorporate artist residencies into a sustainable business model.
Some fear that this will mean a compromising of space formerly intended for working artists to make way for profit garnering gallery and private show areas. For Goncalves this is a necessary step but for others this is a move away from a founding ethos of accessibility and openness. Nonetheless the artist residencies remain an elemental part of the projects outlook; aiming not just to exhibit finished work but to showcase the artistic process also. Ateliers line either side of the building and upon reservation visitors are permitted to peak in on artists as they work. This is the unique selling point of this phenomenal cavernous space: it is a living, breathing place of creation where lines between spectator and creator run fluid.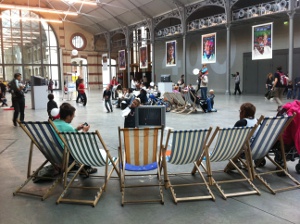 Perhaps part of the Cent Quatre's initial problem lay within this fluidity. It can be difficult to pin down exactly what the venue offers: artist residencies, a book shop, visual art, acting classes, a vintage shop, festivals, balls and concerts of all genres. It isn't necessarily a "go to" venue for one particular thing but honours all manner of creative endeavours. This is evident when looking at the venue's upcoming events: in the forthcoming months visitors can see sculpture by Joana Vasconcelos, take part in acting exercises or attend an Amadou & Miriam gig. Many of these events, excluding concerts, are free to all- another integral part of the culture of the Cent Quatre. The centre is committed to making cultural resources and events accessible to all and works tirelessly with the local community in various forms. This is an invaluable resource for an area complex with social issues and a breath of fresh air in contrast to many Parisian cultural projects which prefer to stick to a decidedly more squeaky-clean, middle class atmosphere.
Information:
Website
Opening Hours: closed Monday; open 12h-19h Tuesday, Wednesday, Thursday and Friday and 11h-19h Saturday and Sunday
Address: 104 Rue d'Aubervilliers/ 5 Rue Curial 75019, Paris, France
Nearest Metro Stations: Riquet (line 7); Crimee (line 7); Stalingrad (lines 2,5 and 7)
photo 1 © Guillaume Vieira
photo 2 © R. Eludut

Subscribe for
FREE

weekly newsletters.
BonjourParis has been a leading France travel and French lifestyle site since 1995.
Readers' Favorites: Top 100 Books, imports & more at our Amazon store
We update our daily selections, including the newest available with an Amazon.com pre-release discount of 30% or more. Find them by starting here at the back of the Travel section, then work backwards page by page in sections that interest you.
Current favorites, including bestselling Roger&Gallet unisex fragrance Extra Vieielle Jean-Marie Farina….please click on an image for details.
Click on this banner to link to Amazon.com & your purchases support our site….merci!