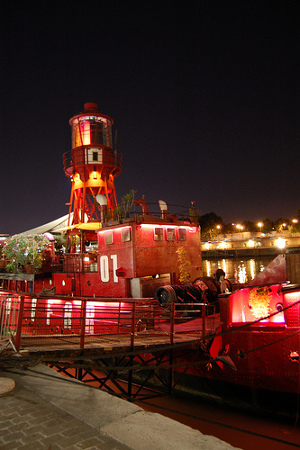 The summer months are a time of mass migration in Paris: all flee south from the oppressive city heat to seek waterside respite. So when other Parisians nip off to their Côte d'Azur retreats those of us left behind must find an urban alternative. For me this can come in no better form than the converted barges found along Paris' River Seine and Canal de l'Ourcq. Here are Bonjour Paris' top three:
Said to be the vessel that sparked the night-club-on-a-boat trend in Paris, Le Batofar has lived various lives since her commission in 1955 but rests now on the left bank of the Seine in the 13th arrondisement. This area, with attractions such as the Bibliothèque François Mitterrand and the Cinémathèque Française just across the river, is the East stretching face of Paris. Not to be found on the picture postcards, it is metallic, high rising and innovative. Pull up a hull side deck chair on the seasonal Batofar Plage (May-September) or go up top to the restaurant terrace to enjoy a glass of white sangria. The tempo is upped for evening events, throbbing to the tune of underground hip hop, rock, electro, house, techno, drum 'n' bass and dubstep. Tickets for club events start at around 5€ on a week night and 10-14€ at the weekend.
Information:
Website
Address: opposite 11 quai François Mauriac, 75013, Paris
Nearest Metro: Bibliothèque François Mitterrand (line 14, RER C) or Quai de la Gare (line 6)
Opening Hours: event times vary, restaurant open Monday 12h-14h; Tuesday-Friday 12h-14h and 19h30-23h; Saturday 18h30-00h
Just a few hundred metres up from Le Batofar is the Petit Bain, a relative newcomer said to be giving the old veteran Le Batofar a run for it's money.  Of course the premise is much the same: there is a boat, there is a bar, and there is art and music. The Petit Bain takes pride however in it's differentiation as somewhat of a cooperative, calling itself 'an island in the city' which seeks to show that it is possible to live a more easy going, considerate lifestyle even in the big bad city. By their own proclamation, the Petit Bain is a place to 'listen, see, hear, garden, dance, learn and meet'. It certainly seems like a lush utopian island with it's lime green decor and plants sprouting here and there from their bathtub pots. But they don't just enforce this ethos aesthetically; the Petit Bain boasts an involvement in several economic, artistic and social projects that aims to promote regeneration and inclusion on both an individual and community scale. Like Le Batofar, in the evening this venue offers live music ranging from indie bands to techno raves, entrance to such events can set you back between 10-22€.
Information:
Website
Address: 7 Porte de la Gare, 75013, Paris
Nearest Metro: Bibliothèque François Mitterrand (line 14, RER C) or Quai de la Gare (line 6)
Opening Hours: Wednesday-Saturday: terrace 12:00-18:30h, restaurant 19:30 to 23h; Sundays 12:30-17:30h (weather permitting terrace can be open in the evening)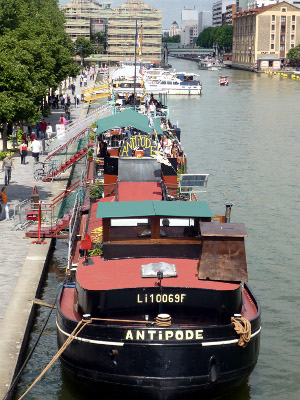 Tucked away further North of the popular Canal Saint-Martin on the Canal de l'Ourcq you will find the Péniche Antipode in all its shabby charm. This is probably the most low key of the three barges with its hippy not hipster staff and unassuming interior. This is also certainly the cheapest of the three: the menu option is delicious and reasonable at 7€ for the soup of the day, a small green salad and a tart of your choice all served rustically on a wooden chopping board style platter. Doubling as a theatre with a humble capacity of 80, in the evening the venue offers offbeat performances such as the upcoming improvisation show RICTUS (Grin) and LE GRAND BAZAR VIVANT a show that seeks to discuss philosophy with the aid of a clown no less. Ticket prices vary but are usually between 5 and 10€.
Information:
Website
Address: facing 55, Quai de la Seine, Paris 75019
Nearest Metro: Riquet – Exit Rue de Flandre (ligne 7) or Jaurès (lignes 2,5,7)
Cafe Opening Hours: weekdays 11h30-14h30 and 19h-23h, weekends 12h-16h and 19h-23h
photo 1 by vemiya [CC BY-SA 2.0], via Flickr
photo 2 courtesy LA PÉNICHE ANTIPODE

Subscribe for
FREE

weekly newsletters.
BonjourParis has been a leading France travel and French lifestyle site since 1995.
Readers' Favorites: Top 100 Books, imports & more at our Amazon store
We update our daily selections, including the newest available with an Amazon.com pre-release discount of 30% or more. Find them by starting here at the back of the Travel section, then work backwards page by page in sections that interest you.
Current favorites, including bestselling Roger&Gallet unisex fragrance Extra Vieielle Jean-Marie Farina….please click on an image for details.
Click on this banner to link to Amazon.com & your purchases support our site….merci!