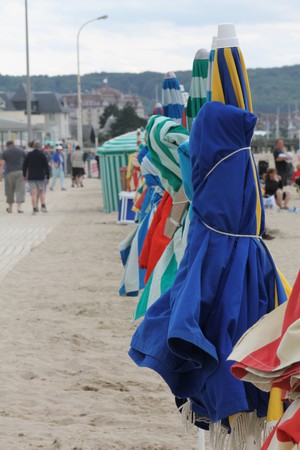 Located in the Basse-Normandie region of North-Western France, the seaside duo of Deauville-Trouville has long since been a popular weekend destination for Parisians, particularly since it is the capital's closest coastal resort. Holidaying on the coast of Normandy became popular after Napoleon III began visiting the area in the 1860s and after subsequent municipal developments to accommodate the upper classes who followed suit. One of such developments was the construction of a railway station in 1863. This meant that the coast could be reached in six hours from Paris. Now, of course, journey times are much shorter, taking just under two hours direct from Gare Saint Lazare. This, coupled with the relatively inexpensive ticket price of around 30€ return when booked in advance, makes the destination perfectly plausible for a day trip away from Paris.
Only a short walk across the mouth of River Touques separates the towns Deauville and Trouville-sur-Mer, yet they feel miles apart. Deauville is perfect, a little too perfect perhaps. It rests on that delicate balance between sweet and sickly, tipping ever so slightly into the latter with its flawless streets, colour coordinated flower boxes and luxury boutiques (including Coco Chanel's first store). Visitors match this description: there is an unspoken social connotation to which side of the river you frequent and God forbid you say the wrong thing to the wrong person. This sense of exclusivity continues with events such as the annual Festival du Cinéma Américain de Deauville, established in 1975, which brings both independent and Hollywood stars flocking.
According to an old fisherman's joke, bourgeois men visiting for the weekend would accommodate their wives in Deauville and their mistresses in Trouville.  Though this may seem to denote that Deauville is somehow the "classier" option of the two, for me it is a case of Trouville's feet resting more firmly on the ground. The crowd in Trouville is mixed, comprising noticeably of more young families attracted presumably by the lower prices and family friendly atmosphere. Both seaside towns are pretty but with Trouville the charm is humble; bunting flutters over narrow pedestrian streets and seaside knick knack shops can be found at every corner.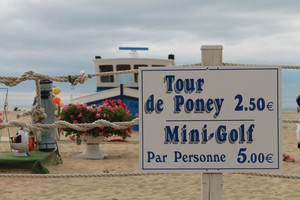 Whilst others herd down to much documented glacier Tutti Frutti, you should make your way down to number 82 Rue des Bains, next to Atelier Bleu Vert, to find the unnamed crêperie and glacier serving the most delicious speculoos (Belgian spiced biscuit) flavoured ice cream, at 3.50€ for two generous scoops. Advance with your ice cream along Rue de Paris to Trouville's beach. This is a charming "old school" beach with brightly coloured beach huts and deckchairs, donkey rides and crazy golf. Lining the beach are various hotels (including the famous Flaubert), cafes and restaurants; the latter proudly maintaining the towns reputation for excellent seafood. The shoreline is lined with great options for fruits de mer but unfortunately, even in Trouville, this comes at a price. Visitors with shallower pockets can do worse than having a good old fashioned picnic on the beach. Many boulangeries in the town centre offer a "formule" meal deal of a baguette sandwich, drink and dessert for under €10 (try the reasonable Patisserie Dupont Sarl along Boulevard Moureaux). Far from missing out on the areas speciality, this gives you an opportunity to test another: cream! Normandy is France's first agricultural region in particular for the production of diary products and has an international reputation for cream, butter and cheeses.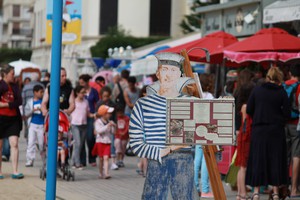 Supplement your picnic by going along to Trouville's local produce market taking place every Wednesday and Sunday morning. Keep an eye out for any local calvados on sale too, another Normandy speciality. This apple brandy, taking its name from a regional department in Lower Normandy, will put hairs on your chest if you're lucky enough to pick up a (quite possibly illegal) farmers homebrew. Trouville is also famous for its fish market, held every day at the port, but day-trippers should of course keep in mind their long trip back on the train before stocking up.
It is nearing the end of the day so pack up your sandy towels, your local calvados and seaside trinkets and head for the station to catch the last train leaving Deauville-Trouville at 20h17 and getting you back into Paris, sandy-shoed, by 22h16*.
*Based on weekday schedule, trains run later at weekends.
See the SNCF website for more information about train timetables and fares.

Subscribe for
FREE

weekly newsletters.
BonjourParis has been a leading France travel and French lifestyle site since 1995.
Readers' Favorites: Top 100 Books, imports & more at our Amazon store
We update our daily selections, including the newest available with an Amazon.com pre-release discount of 30% or more. Find them by starting here at the back of the Travel section, then work backwards page by page in sections that interest you.
Current favorites, including bestselling Roger&Gallet unisex fragrance Extra Vieielle Jean-Marie Farina….please click on an image for details.
Click on this banner to link to Amazon.com & your purchases support our site….merci!