8 Perfect French Gift Ideas for Valentine's Day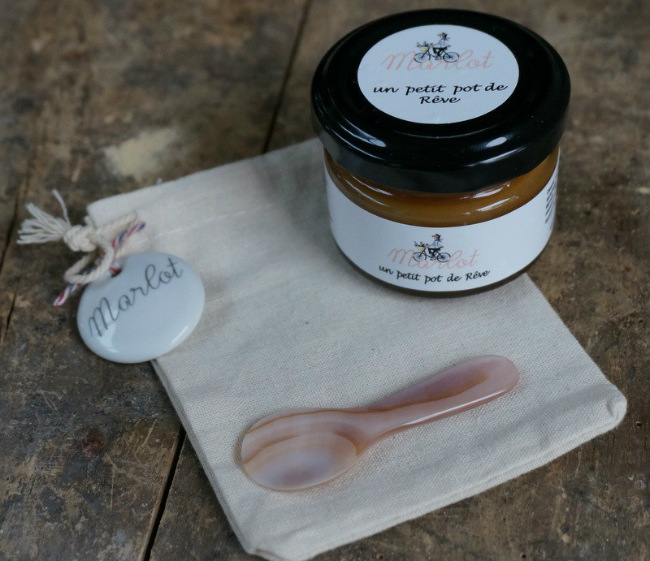 Looking for the perfect gift idea to thrill the francophiles in your life? We've searched high and low to bring you a fun and inspiring collection of French goodies—from Paris and les provinces.
A Little Pot of Heaven
Sometimes good things come in small packages. Take, for example, the "Petit Pot de Rêve" sold by the Marlot gourmet brand. Hand-crafted in Brittany, the caramel is made with the salted butter that's famous in the region. It's so divine, you'll be eating it by the spoonful. Good thing it's sold with a mother of pearl spoon! The packaging is beautiful: the petit pot arrives in a cloth pouch with a porcelain pendant. 14 euros.
Slip into Something a Little More Comfortable…
We're talking comfortable slippers from Armor Lux, the classic French brand. Made of 100% wool, these stylish striped slippers are the perfect companion for binge-watching your favorite TV series. Armor Lux was first founded in Quimper in 1938, and today continues to delight with clothing (and accessories) inspired by the French maritime tradition. 39 euros.
A Michelin-Starred Meal (& a Chance to Win a Boucheron Watch!)
A meal at Epicure, the Michelin three-starred restaurant at Le Bristol, is something that you won't ever forget. From Chef Eric Frechon's culinary artistry to the cordial and attentive service of the waitstaff, this is pure gastronomic extravagance. Splash out with a fancy feast for Valentine's Day; the multi-course menu includes dishes like "Sea scallops with caviar from Sologne, shellfish, salicorns and seaweed butter" and, for dessert, "Snowball litchis and meringue perfumed with rose, pear and lemon". What's more, Epicure will host a special drawing so that one lucky lady will win Boucheron's covetable timepiece, the Reflet watch!
There will also be an evening drawing at 114 Faubourg, the hotel's Michelin-starred brasserie, with a chance to win a night at the hotel, a dinner at 114 Faubourg, or a treatment at Spa Le Bristol by La Prairie. And one lady will win a sterling silver choker necklace made by Maison Christofle.
Scents and sensibility…
Create a romantic, hotel room vibe at home with a scented candle… but not just any old bougie. The Paris-based Diptyque brand is renowned around the world for its line of luxurious scented candles. The hot seller for Valentine's Day is the Rosaviola, created in partnership with French fashion designer Olympia Le-Tan, "known for her mischievous sense of humor and her passion for the color pink." The scent is said to capture "the mystery and allure of the lady's bag," and the candle is decorated like one of Olympia's signature bags- "the diptyque oval embroidered in playful colors and sealed with a kiss." 30 euros, 55 euros.
Make your Own Wine
The Caves du Louvre is an incredible new "wine experience," housed in the former mansion of Louis XV's sommelier. It's the brainchild of Olivier Magny and Nicolas Paradis of Ô Chateau, who invested incredible time and resources in restoring the historic site. The result, akin to an interactive, hands-on museum, is a fun way to immerse yourself in the world of French wine via the five senses. The admission fee is just 11 euros, but you can also sign up for a wine-making workshop where you get to blend your very own wine. Take home your own bottle for just 30 euros (this fee also includes Admission and three glasses of wine).
A Cornucopia of Chocolate
Paris's world-famous chocolatiers get crafty for Valentine's Day. BP contributor Jill Colonna, author of Mad About Macarons, takes us on a Paris tour, stopping to taste the sweet treats by award-winning chocolate makers. Check out her recommendations for chocolate gifts in this article.
Taste of Paris
To the great delight of foodies, the 2nd edition of Taste of Paris, the popular culinary extravaganza, returns to the Grand Palais this week. Delight your sweetheart, and your taste buds, with nibbles prepared by some of the top chef talents in France- like Guy Savoy (La Monnaie de Paris), Fréderic Anton (Le Pré Catalan), Pierre Sang Boyer (Pierre Sang on Gambey), etc. Entry fee for the lunch session is 15 euros.
Jewelry Fit for French Queens (without the price tag)
Did you know that the magnificent Chateau de Versailles has an online boutique? The splendid offerings include unique jewelry that's also affordable. Pictured here: a gilt pewter brooch with Marie-Antoinette's monogram (24,17 euros). You'll also find Les Perles de la Reine earrings (12,50 euros), Gilt "Louis" cuff-links (16,67 euros), and a lovely collection of jewelry inspired by the fleur-de-lys emblem (including pendants and earrings).
Photo credit : "un petit pot de Rêve" by Marlot Gourmet
Leave a reply
Your email address will not be published. Required fields are marked *