Take Home a Piece of La Tour d'Argent, the Iconic Paris Resto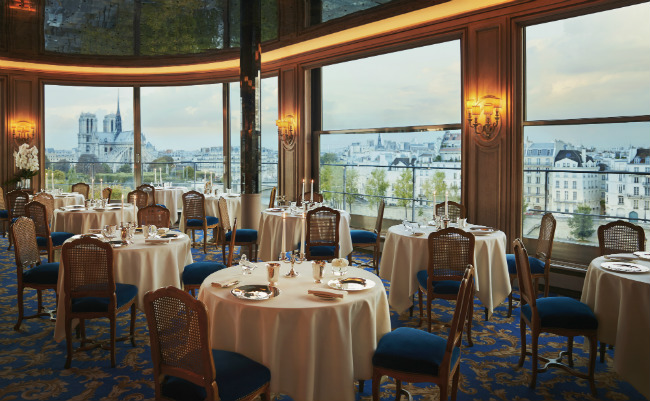 La Tour d'Argent is one of those mythical Paris places where it's hard to separate fact from fiction. Legend has it that Henri IV frequented this historic spot, which traces its roots to the 16th century. In fact, it's said that here he discovered the use of the fork, a utensil imported from Italy. La Tour d'Argent has been captured in books—like Hemingway's A Moveable Feast—and films like Pixar's Ratatouille.
From its perch on quai de la Tournelle, La Tour d'Argent has beautiful views of Notre-Dame cathedral. The Michelin-starred restaurant is famous for its elaborate duck dish (prepared with a silver press) and for one of the finest wine cellars in the world, stocked with a whopping 350,000 bottles. During the Nazi German occupation of Paris in WWII, the restaurant went to great lengths to hide its collection… building a fake wall in the cellar. Today this exceptional cellar is overseen by to David Ridgway, the Chef Sommelier since 1981.
And soon this iconic restaurant, what the New York Times calls "a Parisian shrine to the art of fine dining," will be auctioning off tableware, décor, and even rare spirits… after renovations have left no place for accumulated treasures. The auction will take place on Monday, May 9, 2016 with Artcurial.
La Tour d'Argent has the largest glass collection in the world, with custom glasses made especially to taste the restaurant's diverse wine offerings. To be auctioned off: over 3,000 pieces of engraved tableware, including the famous silver goblets. There will also be one duck press up for auction, estimated to fetch 4,000 – 6,000€.
Other stand-out items include a screen and tapisserie by Bernard Cathelin, an enormous 16th century carpet, exterior lanterns and two iconic sculptures from the restaurant including a character called 'le Carnardier' and another called 'le Cuisinier Rôtisseur' (inspired by the figures of Arcimboldo and Larmessin).
Last but note least: 60+ rare spirits and liquors will be auctioned off from the cave, including Eaux de Vie, Cognac, Calvados, Porto, Madeira and Armagnac. To quote Artcurial, "the majority of these were bottled in the cellar itself, something which was forbidden until the 20th century. The stone stairway and hook which was used to lift the barrels can still be seen and are proof of this activity." The oldest bottle, a Grande Fine Clos du Griffier Cognac dating back to 1788, has an estimated value of 20,000€.
Lead photo credit : courtesy of La Tour d'Argent
Leave a reply
Your email address will not be published. Required fields are marked *