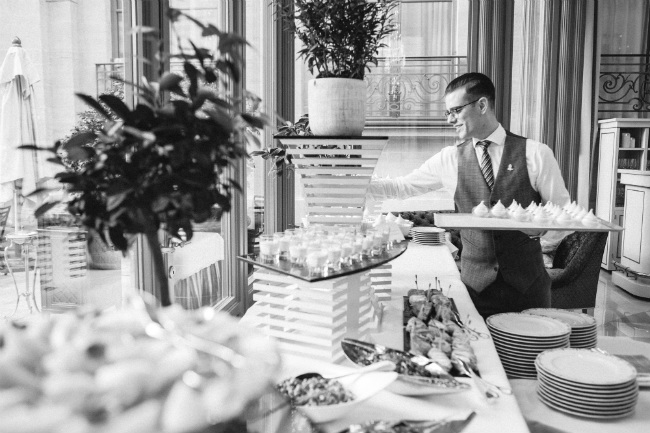 Le Ritz, Paris – Sunday Brunch
With a pianist tinkling the ivories in the bucolic garden setting of The Ritz Paris, it's the place to be for relaxed Sunday Brunch. Begin with fresh juices or a glass of Château Barons de Rothschild – Réserve Ritz Brut champagne and then ask what Coco Chanel would have chosen? How delighted the legend, who lived at The Ritz for more than 30 years, would have been to pop downstairs, perhaps after a swim in The Ritz Club pool.
Eggs any style, pancakes and maple syrup, smoked salmon, a multitude of warm breads and croissants, salade César tres "Ritzy". A few oysters followed by puff pastry wrapped Filet mignon of veal; roasted Pollack beurre blanc – smashed butternut and hazelnuts; Tuna Tataki with sautéed vegetables. A little Beaufort, Tête de Moine, Valençay cheese – a taste of warm tarte tatin, rum baba cake with whipped Chantilly cream and, to finish, warm madeleines and TWG Tea Companies Jasmine Green as selected for The Ritz.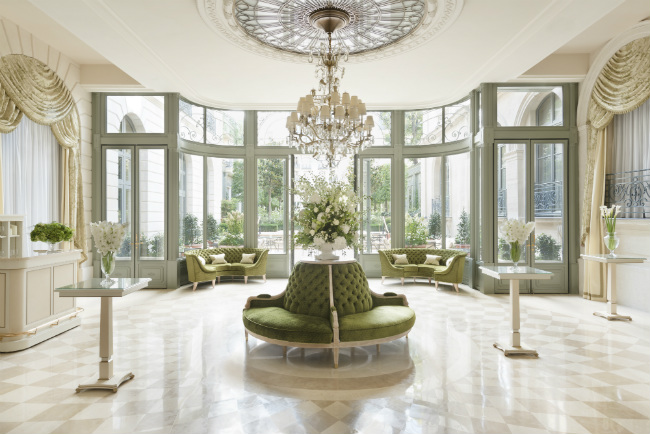 Post-brunch, how about a stroll around Place Vendôme – so calm and peaceful on Sunday – then back upstairs (reserve "The Coco Chanel Suite for €18,000 per night) for a game of Ritz Monopoly – probably ringing room service for a Serendipity signature cocktail by head barman Colin Field… Thus ends a perfect Sunday in Paris.
Ritz Paris, Salon d'Eté, 15 place Vendôme, 1st arrondissement. Metro: Opéra/Concorde. Tel: 01 43 16 30 30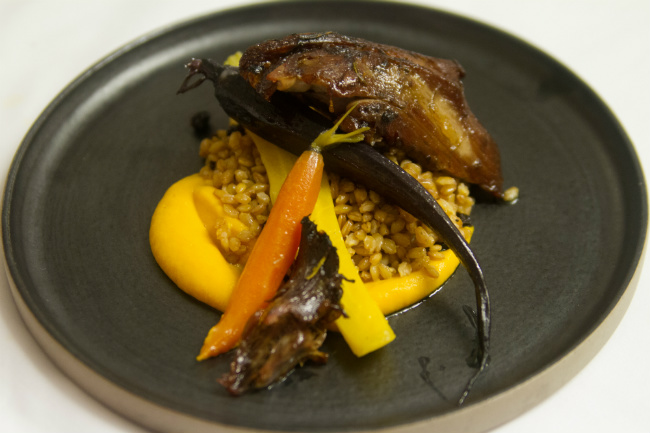 (V)ivre
Located opposite the Théâtre de la Michodière the very original (V)ivre (Feel Good) opened last October, the concept of Caroline Savoy (Guy Savoy's daughter)– together with her partner and wine expert Bruno Blain.
The kitchen is helmed by chef Charlotte Thiercelin, formerly at Pickles in Nantes. Ingredients are carefully sourced such as the freshly caught fish of the day from Tom Saveurs, simply poached in olive oil. Vegetables from market gardeners Elise and Thierry Riant in the Yvelines at Carrières-sur-Seine, bread from Maison Lebon etc. (Lunch 19-24-28€; Dinner 39€ – pre theatre from 19€-24€ or post-theatre snacks. Six course tasting menu 59€ with wine pairings 89€).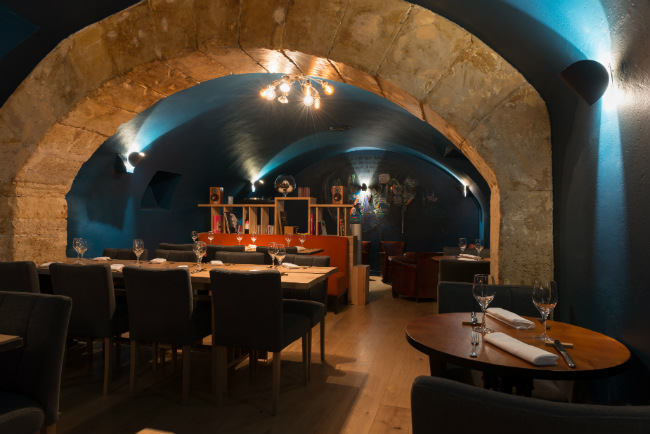 Standouts are the tender Cevennes Onion starter, onion broth/ buckwheat crumble and slow cooked shoulder of Lozère lamb with red cabbage and black olives. Choose from 200 French and international wine references; Bruno Blain suggests 2013 Roquette & Cazes Douro 2013 (58€) or glasses from €6. Running the perfectly orchestrated upstairs and downstairs salles, punctuated with contemporary art, is James Tromeur, the Franco/Yorkshireman who comes to (V)ivre via Christian Constant's Le Violon d'Ingres and the Plaza Athénée where he learned the art of service from the Master – Denis Courtiade.
Long live (V) Ivre !
(V)ivre, 3, rue de la Michodière, 2nd arrondissement. Metro: Quatre Septembre. Tel: 01 58 22 89 90. Closed Sunday-Monday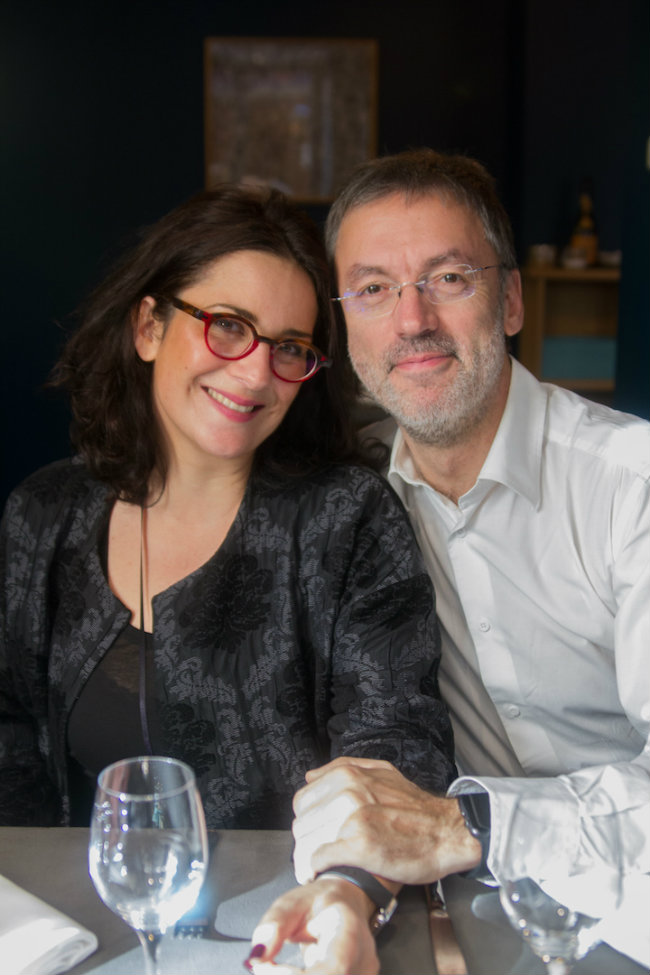 Marcella
After 10 glorious years, restaurateur Hugue Courage's Bastide Blanche brasserie, an olive stone's throw from Parc Monceau, is now an Italian cantina in hommage to Courage's Italian grandmother. There's a terrace for people watching and, on the ground floor, the massive marble table d'hôte forms the central feature as well as the convivial zinc bar. Interior decoration, with rustic wooden beams, is by Hugues Courage in collaboration with designer Michael Malapert. Upstairs, you're in Grandma's living room with fireplace, mismatched flea market chairs and tables, comfy sofas, books, newspapers and magazines. Wherever you choose to sit there's always a pasta of the day, like the Pappadelle aux Ragout de Toscane (€16); the Suggestion du Jour, say Dos de Cabillaud (cod) a la Plancha with lentils; and Pizza of the day (such as Gorgonzola, coppa and roquette for €17).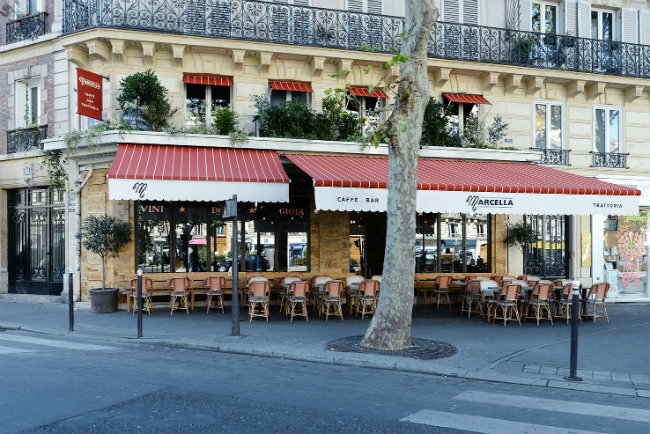 Starters include fresh truffle Burrata (€16), Vitello Tonnato (€12), and Grilled vegetables drizzled with Sardinian olive oil (€7). Mains include Vegetarian or Beef burgers (€15.50-€16.50), rib sticking Osso Bucco (€23) and Gratin de Maccheroni with truffles (€16). Drink by the glass from €5 or the tannic, woody Chianti Falmalgallo Biologico di Toscana (€31). To finish, choose Crème Marcella (7€), Pannacotta (€6.50), or Tiramisu (€8). Sundays try the big Bellini based Italo'Brunch (29€-34€, children, under 12 are €15). And, in addition to the traditional menu, chef Massimo Curti (from Lombardy) highlights different regions of Italy. In March-April, it's Piedmont (Turin, Alba, Asti), and in April-May, the spotlight is on Sicily.
Marcella, 1 Boulevard de Courcelles, 8th. Metro: Villiers. Tel: 01 40 08 08 25. Closed Sunday night.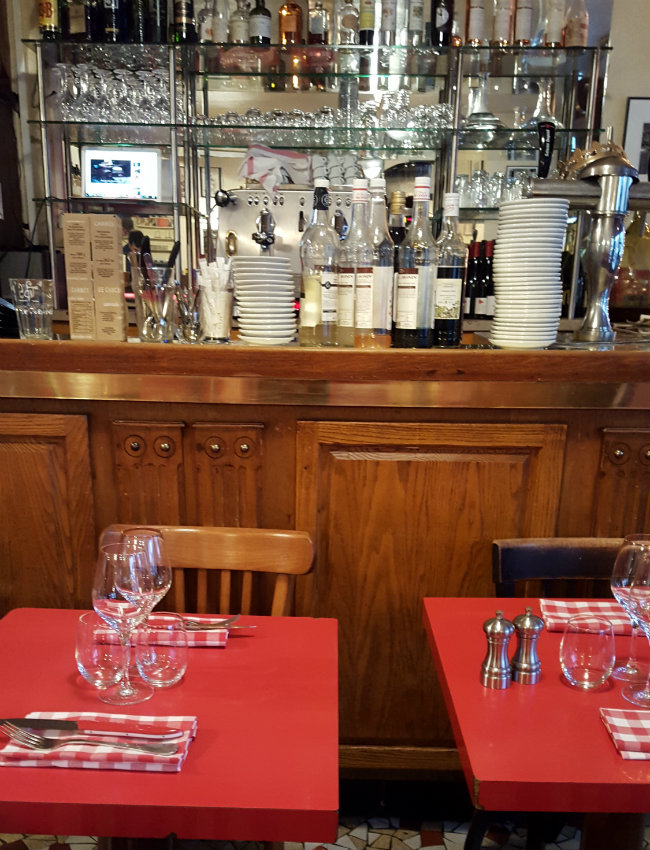 Le Petit Célestin
On the right bank opposite the Seine, authentic bistro, wine bar, café transformed by the brothers Mimoun – we love Jaïs. The menu's seasonal, tables are red, napkins red check and the wine's red… or white if you prefer. We loved the sharp Serbian white Estella & Cyrille Bongiraud Istina 2012 (33€) and the Loire red Pithon Paille Chinon Narcay 2013 (36€). Entrées include Terrine d'agneau aux girolles (11€); Fond d'artichaut, œuf poché, crème de pleurotes (13€); Œuf en meurettes et son toast, figues fraîches (11€). Mains: Bavette de Salers aux échalotes, frites maison (21€); Rognons de veau, sauce moutarde à l'ancienne écrasé de pommes de terre (19€); Joue de bœuf façon bourguignon et tagliolini fraîche (24€); Filet de bar (sea bass), fondue de poireaux (leeks), sauce pistou (21€). Desserts include Tarte citron meringuée (9€); Mousse au chocolat et amandes (7€); and Ile flottante (7€). There's a daily changing lunch formula (23€)
Le Petit Célestin, 12 quai des Célestins, 4th. Metro: Sully Morland. Tel: 01 42 72 20 81. Closed Monday-Tuesday. Open Wednesday-Thursday 8h-midnight Friday: 8h- 2h. Saturday-Sunday 10h- 2h.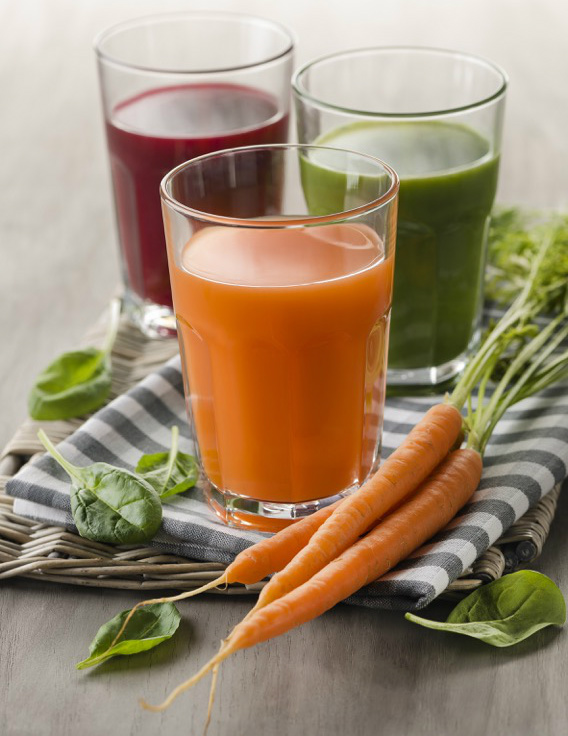 EXKi Nature's Kitchen
Mission statement: "The vegetable's king and gastronomy's green."
This is the 15th address for healthy eating showcasing hot and cold breakfast, lunch, tartines & sandwiches, desserts and take-away. Look for the organic vegetable of the month (March it's carrots in all colors used in a multitude of ways), hot and cold dishes (average spend menus from €8.90 + dessert €3.50. Wash down with smoothies, fresh fruit and vegetable juices (€3.10)
EXKi, 9 Boulevard Malesherbes, 8th. Metro: Madeleine. Tel: 01 42 66 48 77. Closed Sunday