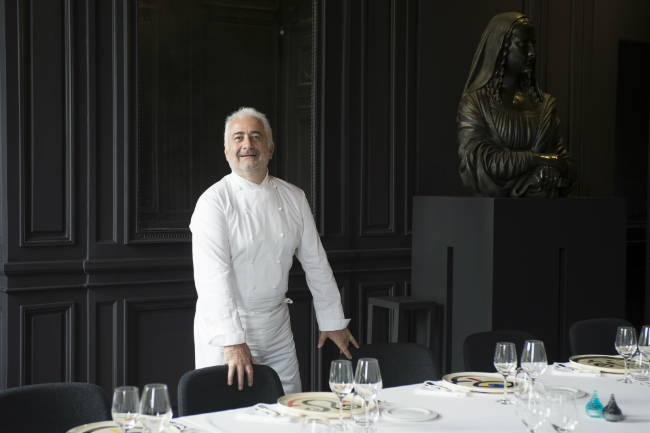 Want to know how to eat at Guy Savoy's Michelin three-starred restaurant at Hôtel de la Monnaie without breaking the bank? Read on…
In a bold move, star chef Guy Savoy– because he believes, "tomorrow is always more interesting than today"– recently moved his eponymous flagship restaurant, together with 30 chefs, and Serge the car jockey, across the River Seine to the L'Hôtel de la Monnaie.
The listed 18th century landmark, which houses the Paris Mint, wraps around a large interior courtyard. Part of the building is a museum used by the Ministry of Finance to make Légion d'Honneur medals and showcase exhibitions. [Editor's note: Overlooking the Seine, La Monnaie de Paris is in the midst of an ambitious transformation into a major Paris attraction. To find out more, read this France Today article.]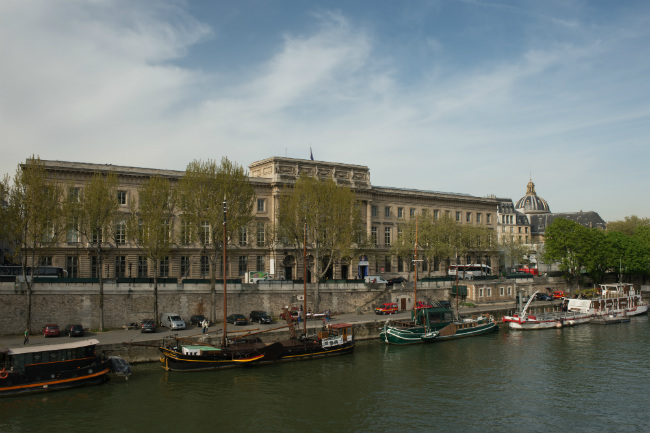 At the top of the elegant red carpet staircase leading to the restaurant, a bold neon sign reads: "Cooking is the art of instantly transforming produce suffused with history into happiness." And, if you book online, lunch is yours for €110 + wine as long as you arrive at 12 noon on the dot.
"It's a dream location which has taken architect Jean-Michel Wilmotte three years to transform", says Monsieur Savoy, who was born near Lyon, where his mother ran the village café, and who never wanted to be anything but a chef. "There's a whole city behind the long façade, at present it's a work in progress, soon there will be luxury boutiques, landscaped gardens and an informal café, Savoyr'Faire."
From the first floor restaurant, there are panoramic views over the Seine, the famous riverside bouquinistes (book sellers), the Louvre, the Pont des Arts (now love lock-less) and the Ile de la Cité. With magnificent high ceilings, the 60-seat space is divided into six elegant salons, each punctuated with contemporary artwork and sculptures. The salons are called Bibliothéque, Académies, Scénes de Paris, Bouquinistes, Vert Galant and Belles Bacchantes.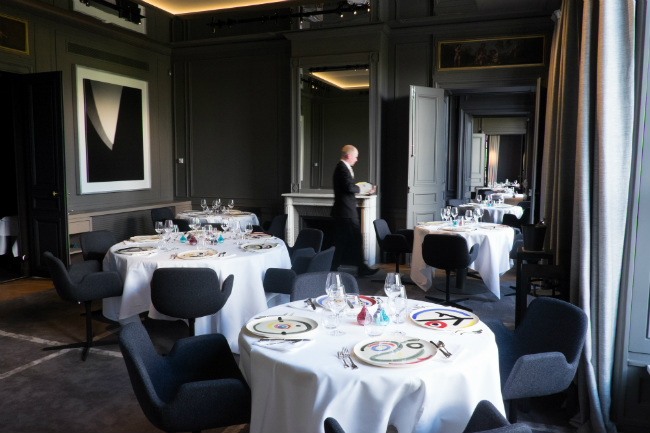 "I want to convey the feeling of dining with friends in a beautifully decorated Hôtel Particulier," explains Guy Savoy. "Jean-Michel Wilmotte's intelligent use of mirrors reflects the light, so you have the feeling of being outside, inside," he adds.
Both Wilmotte and Savoy went flea-marketing in New York and Paris for pieces, some of which decorate the tables. In room Belles Bacchantes, "Effervescence"– an ethereal ceiling painting by Fabrice Hyber– reflects gossip from the diners beneath; in another room, Subodh Gupta's bold black bronze sizes up the proceedings. The table presentations are also works of art: the Smiley face dishes by Virginia Mo, the Bernaudaud tableware, and sexy carbon knives by Bruno Moretti.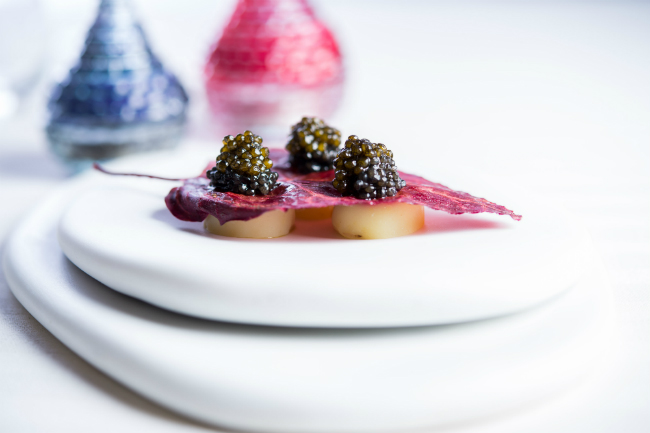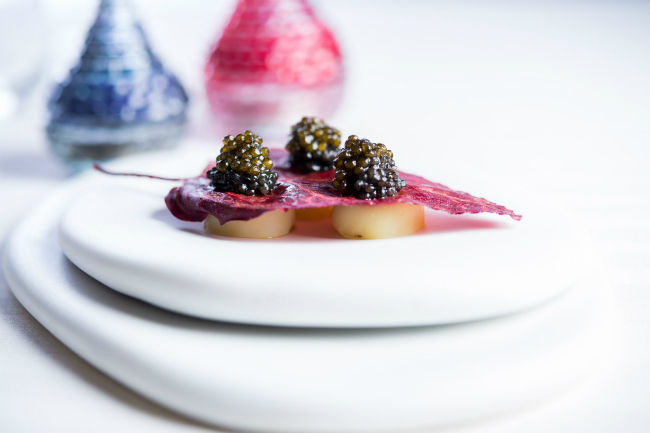 From the state-of-the-art kitchens– measuring 250 square meters– Savoy sends out an array of beautiful dishes. Soothing signature Artichoke and Black Truffle soup, the accompanying warm brioche feuilletée spread with molten truffle butter. Crab graffiti in two services. Mains of standout Saumon Figé, thick slices of marinated salmon, "slow cooked" at the table on a block of carbonic ice. Catch of the Day. Beef and carrots two ways. Mop up your plate with cereal and grain breads by Monsieur Lalo. Marie Quatrehomme's seasonal cheeses follow, then select the warm, crumbly, featherlight vanilla Millefeuille. Each room has handsome chariots bearing magnums of champagne, cheese, mignardises, and herbs for infusing.
This is the ultimate three-star eating experience.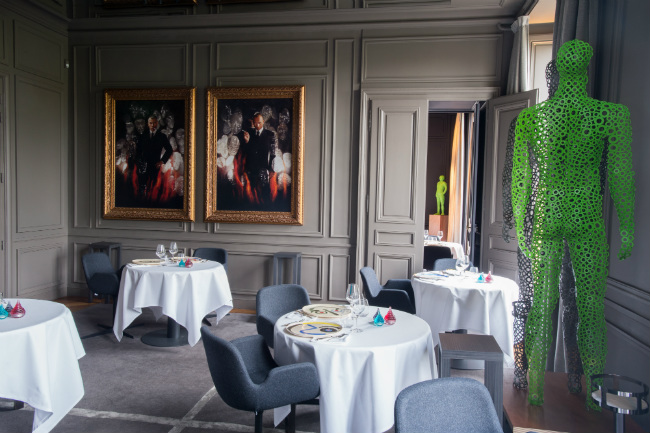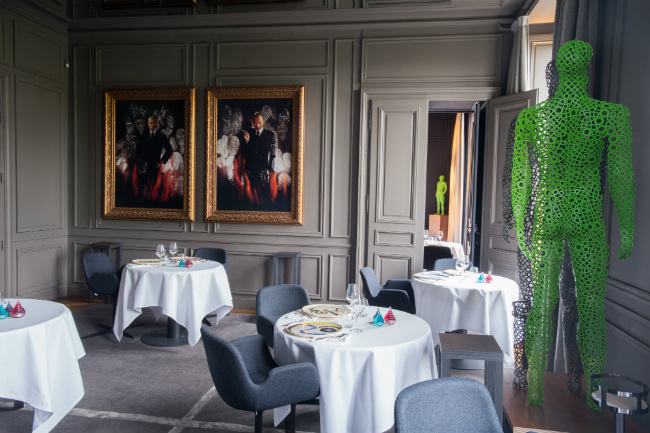 Study the glass "wine walls" for suitable vintages, or consult Head Sommelier Sylvain Nicolas. Perhaps he'll suggest, by bottle or glass (€10), Champagne Guy Savoy Blanc de Blancs and/or, with floral notes white Puligny-Montrachet "Le Trezin" 2011, and consider the red, slightly spicy, 100% syrah Domaine Lambert- Côte-Rôtie "Viallière" 2011, Domaine Cluzel. Finish with a shot of Chartreuse from the chariot, "it's full of mystery", says Guy Savoy.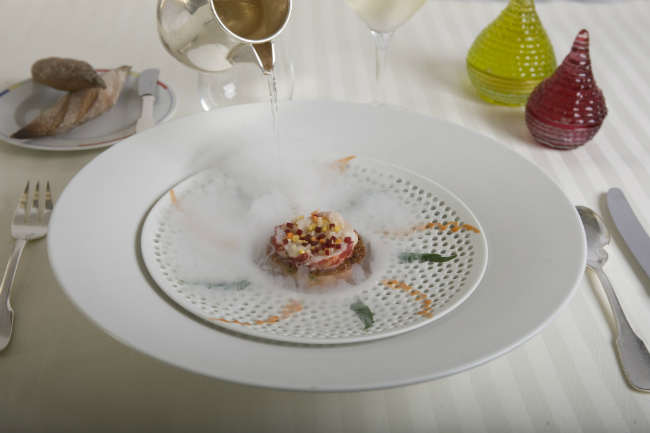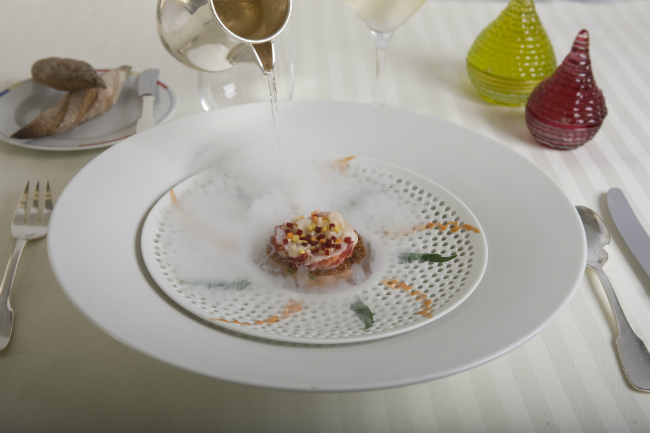 Born in 1953 in Nevers, Burgundy, Guy Savoy's resume is impressive:
1968-1976: Apprenticed to chocolate maker Louis Marchand, then chez Troisgros, Roanne: Lasserre, Paris, Lion d'Or, Geneva, L'Oasis, Mandelieu-la-Napoule
1977-1979 : Chef at La Barrière de Clichy.
Opens first restaurant rue Duret (16th) wins a Michelin star in 1981, then the second in 1985.
1987: Moves to rue Troyon (17th)
1994 Opens Les Bouquinistes, (7th) and, in, 2000 is awarded the Légion d'Honneur
2002 – wins 3rd Michelin star
Opens L'Atelier Maître Albert, Paris 5th and Chiberta Paris 8th for which he wins a Michelin star.
2006: Opens Restaurant Guy Savoy, Caesars Palace, Las Vegas.
2015: Launches Guy Savoy at L'Hôtel de la Monnaie: Re-opens the rue Troyon flagship as Etoile-sur-Mer, a fish eatery, as well as L'Huitrade (oyster bar), and Goût de Brioche, the boulangerie on rue Mazarine devoted solely to brioche.
No wonder Savoy's mantra is: "Never too much on my plate!"
Restaurant Guy Savoy, La Monnaie de Paris, 11 Quai de Conti, Paris, 75006. Tel: +33 1 43 80 40 61. Email : [email protected]. Average Spend 200€ + wine. Menu Couleurs, Textures et Saveurs: 360€. Closed Saturday lunch, Sunday & Monday. Restaurant can be hired privately Sunday & Monday. Book online for lunch at 110€