Omnivore Continues its Wild & Wacky World Tour – in Paris
Omnivore, the world's most irreverant and exciting foodie festival, returns to Paris (5 – 7 March 2017), for three days devoted to contemporary cuisine.
The scene is set at the Maison de la Mutualité, as the greatest chefs are giving solo demonstrations (for example, Pierre Gagnaire celebrates 50 years of haute gastronomy!). There will also be group tastings which festival founder Luc Dubanchet insists on calling "Fucking Dinners" (sorry!). It's organized chaos, a riot of a festival rocking young cuisine– read the Glastonbury or Coachella of gastronomy — not to be missed!
The Omnivore World Tour was launched in 2006 by Luc Dubanchet, a former editor at the Gault & Millau Guide, who decided it was time to revolutionize French gastronomy – break the codes (he called the Michelin Guide "boring"). Stars, thinks Dubanchet, are for schoolkids.
The Festival kicks off with a big Omnivorous party at the Pavilion de L'Arsenal and there are two- and four-handed pop-up dinners cooking all over town, just go to www.omnivore.com.
Throughout the year, the festival travels to different world destinations introducing new tricks and treats to a huge wide-eyed audience. It's a chance for young unknowns to rub shoulders with gastro royalty for delicious moments of cooking, schmoozing, sharing, exchange, banter.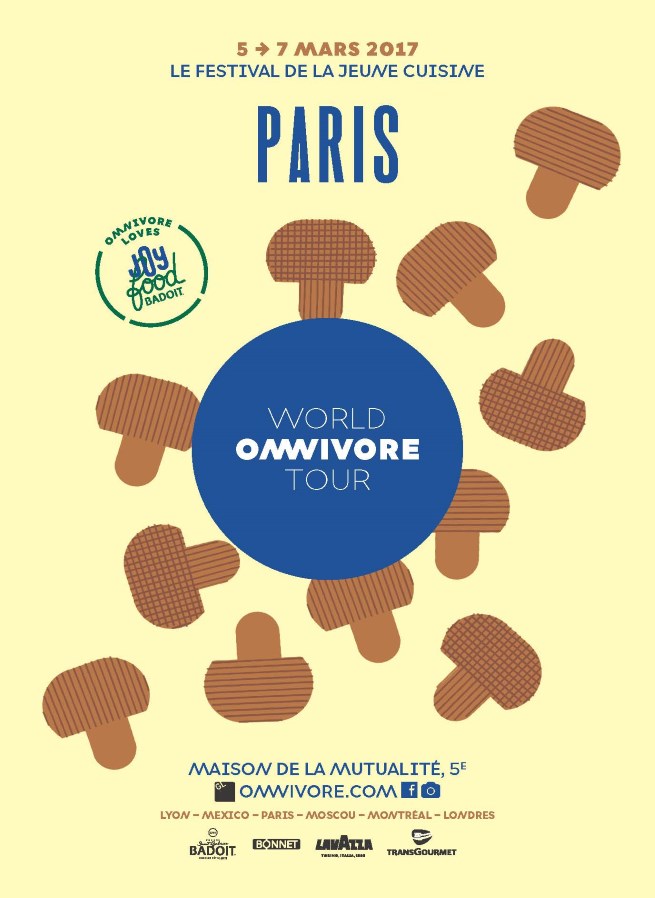 This year 120 guest chefs, putting on as many demonstrations, will strut their stuff in the 1,500 seat amphitheatre of Maison de la Mutualité. Check out and choose from Masterclasses showcasing Savoury, Sweet, Artisan, Cocktail, Avant-Garde (sharing and discussing new ideas) and the animated street food scene. Participating chefs include: Jean-François Piège & Alexandre Gauthier (France), Thierry Marx (France), Kemal Demirasal (Turkey), Daniel Burn (NYC), Bruno Verjus (France), Tom Aikens (London), Pierre Gagnaire (5pm, Monday, the 6th of March), Sylvain Sendra (France), Romain Meder (France), Nuno Mendes, Giovanni Passerini, Florent Ladeyn, Christophe Saintagne and more.
The Mutualité Village Omnivore brings together cutting edge partners and exhibitors related to the fields of catering, tableware, cooking equipment, everything you need to know about food and wine 2017 is there waiting for you.
See you there!
Omnivore World Tour Paris Festival, March 5-7, 2017. Maison de la Mutualité, 24 rue Saint-Victor, 5th arrondissement. Metro: Maubert-Mutualité. From: 9:30 am-6pm. Entry: 39 € the day, 99 € 3 days. Website.
Leave a reply
Your email address will not be published. Required fields are marked *