The Rush Bar, located in the 11th Arrondissement of Paris, doesn't look like anything special from the outside…or from the inside, for that matter. You wouldn't know by looking at it, that this bar serves some seriously high quality food for a seriously reasonable price. I started coming to this bar for drinks when I first moved to Paris, but when they hired a new cook sometime in the beginning of 2011, I started coming because I'm addicted to their food.
The Rush is a sports bar (their team is Liverpool), and they are the only bar in Paris that regularly plays Bundesliga games. But enough about the sports. I want to talk about the food!  The food here can only be described as French fusion. You can find some authentic French dishes, but they are usually made with a twist. The Rush only serves meals at lunchtime (with the exception of wraps for games, and the rare exception of hamburgers during games). The first meal I tried here –with their new cook, although I would like to call him a chef, since he has had training – was their hamburger. Words simply won't do this burger justice, so I'll show it to you, and then describe it.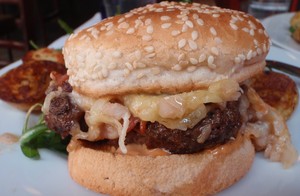 This picture doesn't really do the burger justice either (least of which is because I'd already smushed it a bit when I picked it up to take a bite, and then remembered I wanted to take a photo). The bun is, of course, toasted, the meat is a 100% beef patty, hand mixed with a special blend of spices and cooked to order. Graciously topped with a handful of grated cheddar cheese and some bacon, the burger is finished with a special made sauce. Onions are optional. On the side, sautéed potatoes and a fresh salad, and all of this for 12,50€.
Now, I have a small stomach, so I am usually not able to finish the whole plate…but it never stops me from trying.
While the burger at the Rush Bar is fantastic, and it is without a doubt the best that I have had in Paris, they do have other items on their menu. My favorite appetizer (entrée in French) is the mille-feuille de chevre, a wonderful goat cheese and apple tower topped with a fruit chutney.  Again, a photo might be necessary: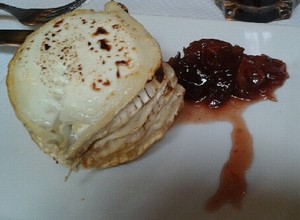 Did I mention that everything at the Rush is made in-house? That chutney is not something that Phil (the chef) bought at a supermarket. He made that chutney himself in the Rush Bar's kitchen.
Phil also makes a fantastic steak – and he doesn't buy the steaks already cut. Phil buys the whole cut of beef, and cuts the steaks individually, cutting the sinews and fat off to give a perfectly textured faux-filet, cooked to your specifications. Served alongside the faux-filet are usually either sautéed or mashed potatoes and seasonal sautéed vegetables with a pepper sauce or a Roquefort sauce in a ramekin on the side.
The menu here changes a couple times during the year, as people like to eat different things in the summer vs. the winter. I am a particular fan of the Thai curry that was added to the most recent menu. If you like it spicy, Phil can give it a kick. Made with chicken, seasonal vegetables, and served in a nice sauce with steamed rice and a small bit of chutney on top.
On any given day, you will find about 6 main courses on the menu, with a daily special.  Sometimes the special with be a magret de canard (duck breast), which rivals the duck for which you pay 50€ at a fancy restaurant. Phil has also done a rabbit dish, an Irish stew (for St. Patty's Day), chicken with a special sauce, and more. The atmosphere is friendly and very down-to-earth, but the food is of top quality.
Note:
The Rush Bar only serves food at lunchtime during the week. And they're closed for the entire month of August.
Tel: 09.52.66.25.05.
Address: 32 rue Saint Sébastien, 75011.
Nearest metros: 5 "Richard Lenoir," 8 "Saint-Sébastien Froissart," 9 "Saint Ambroise"

Subscribe for
FREE

weekly newsletters.
BonjourParis has been a leading France travel and French lifestyle site since 1995.
Readers' Favorites: Top 100 Books, imports & more at our Amazon store
We update our daily selections, including the newest available with an Amazon.com pre-release discount of 30% or more. Find them by starting here at the back of the Travel section, then work backwards page by page in sections that interest you.
Current favorites, including bestselling Roger&Gallet unisex fragrance Extra Vieielle Jean-Marie Farina….please click on an image for details.
Click on this banner to link to Amazon.com & your purchases support our site….merci!