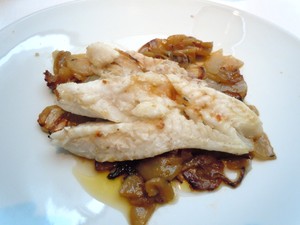 Helen is located in the former Chez Catherine, no idea why anyone would call a fish place thus but, hang on a minute, maybe it's for Dame Helen Mirren's performance in A Fish Called Wanda? So hope there's no chips on the menu!
Navy and white décor's by NeM architects , the walls punctuated with fish by Saint Maxime sculpter/artist Christophe Lastavel, using moulds of real Mediterranean poissons. There's a temptation to semaphore the order into the semi-open kitchen.
The Captain's Franck Barrier who you remember from Le Duc, 243 Boulevard Raspail, 14th., where he welcomed the great and the good (Mitterand, Carole Bouquet, Michael Douglas!) for twenty years. All shipshape and Bristol fashion, the crew includes Marie Roger a 23 year old sommelière with a bright palate, formerly at L'Atelier de Robuchon, Saint
Germain. Ms Rogers hands over the I-pad listing the wines. "A tour de France, and some world wines, our cellars are not
complete yet, we're adding Italy, Spain Corsica and New Zealand", she says.
In the meantime the splendid, dense red Blaye Côtes de Bordeaux, Chateau Le Queyroux at 50€ and the white AOC Anjou Rouchefer from Agnès and René.Mosse at 47€ are excellent ideas, so is the dry white Rully and other selections by the glass from 8€.
The menu, interpreted by talented Sébastien Carmona-Porto, is dedicated to the sea and its' bounty. The freshest possible, to-day Chapon, red rascasse, is prepared in hommage to Domaine de Murtoli the jet set's private paradise.
Begin with Yellow tuna, yuzu and jalapenos: oysters: carpaccio of daurade with citron caviar: seabass carpaccio or tartare: sea-bream ceviche: S'Agaro octopus salad and soothing old-fashioned soupe de poissons maison: Stuffed baby squid. All delicious. Then choose your main and how you want it cooked, steamed, grilled, à la plancha, en suquet (Catalan fish stew style). It arrives at table to be filleted, if necessary, by Mr. Barrier with the skill and dexterity of a surgeon. Merou: St. Pierre: Chapon (see above) Line caught sole, turbot, red mullet and Brittany lobster. Pasta al vongole de Vicenza: squid linguine:
Finish with a little seasonal chèvre from Père Fabre and, joy of joys, the trundle of the good old fashioned dessert trolley
laden with Tarte au citron meringuée, feather-light millefeuille etc.
So, full speed ahead to Helen, find it next door to the stunning Hôtel Particulier of Madame Adèle Rothschild who
bequeathed it to the French government. It's now the Centre National de la Photographie, always worth a visit and stroll
around the gorgeous gardens.
Helen
3 rue Berryer, 8th
Metro: Charles de Gaulle Etoile,
T: 01 40 76 01 40
Lunch formula 60€ Starter, Main, Dessert.
Average Spend 100-150€ + wine
Shut Sun-Monday (gone fishing!)
Buzz Bar: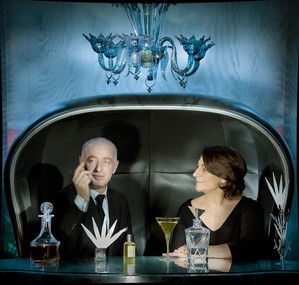 Photo Credit:  Pierre-Anthony Allard – Plaza Cocktail
Thierry Hernandez, Bar Director at the Plaza Athénée and his wife Sophie Labbé have more or less the same jobs. He's a mixologist, she's a nose who's mixed perfumes for the likes of Givenchy, Bulgari, YSL, Ferragamo. "We recently had the idea to create a cocktail together", says Hernandez. "Then we thought, why not celebrate Spring with a new cocktail and a new perfume!" So, from 21st May, order the cocktail, "Elixir de Printemps" and Hernandez will present you will Ms
Labbé's fragrant fragrance.
Cocktail avec limited edition perfume: 28.00€
Available au bar du Plaza Athénée
25, avenue Montaigne 8th
T : 01.53.67.66.65
Buzz Hot Now:
Where's the beef?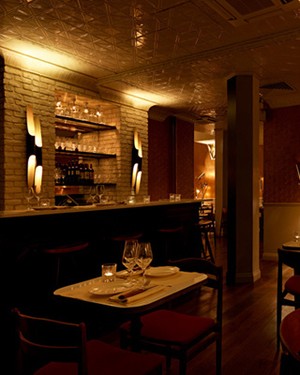 At Beef Club where confirmed meat-heads Olivier Bon, Pierre-Charles Cros and Romée de Goriainoff (from the Experimental Cocktail Club) recently launched the NYC style steak-house, using only English grass-fed beef from Tim Wilson's farm in Yorkshire UK, matured and butchered by Frenchie Yves-Marie LeBourdonnec (Le Couteau d'Argent, Asnières and Lamartine, Avenue Victor Hugo 16th). It's noisy, you'll make new best friends because the tables are close. Surf & Turf : Cheeseburger, bun maison, whisky sauce. Excellent beef and condiments, each flame-grilled cut has history. Before or after sip smoked cucumber cocktails available below stairs in the "Ballroom". "We've got the best beef in Europe", says Olivier Bon.
Beef Club,
58 rue Jean Jacques Rousseau, 1st
T: 09 54 37 13 65
Metro: Etienne Marcel
Average Spend – 35-65€ + wine
Shut – Sun-Mon. Ballroom shut Sunday
Diary Date:
The 65th Cannes Film Festival has invited Italian Director Nanni Moretti to be President of this years' jury. May 16th-27th.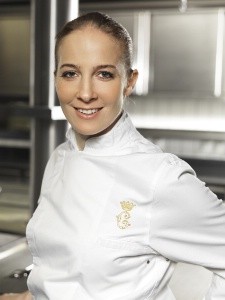 "C'est une supercuisinière", says Jean-Franҫois Piège of the talented Amandine Chaignot, until recently, second to Christopher Hache at Les Ambassadeurs, Hôtel de Crillon. You've probably seen her peeping out from the kitchens of Prunier, winning Le Bocuse d'Or as commis, at the Plaza Athenée, Le Bristol, Le Meurice and now at Le Raphael where Amandine is Chef de Cuisine. Is this the year of the super-chefettes? Watch out for Stéphanie Le Quellec (winner of 2011 Top Chef) at the newly transformed Prince des Galles. More in a future BUZZ.

Subscribe for
FREE

weekly newsletters.
BonjourParis has been a leading France travel and French lifestyle site since 1995.
Readers' Favorites: Top 100 Books, imports & more at our Amazon store
We update our daily selections, including the newest available with an Amazon.com pre-release discount of 30% or more. Find them by starting here at the back of the Travel section, then work backwards page by page in sections that interest you.
Current favorites, including bestselling Roger&Gallet unisex fragrance Extra Vieielle Jean-Marie Farina….please click on an image for details.
Click on this banner to link to Amazon.com & your purchases support our site….merci!