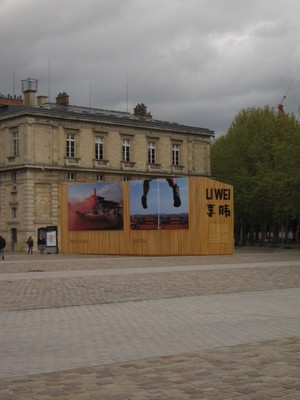 Beijing-based photographer, Li Wei, has found the ideal space in Parc de la Villette to showcase his gravity-defying photographs that forge a link between mankind and the environment. Once the site of a slaughterhouse and cattle market, the now urban park situated at the northeastern edge of the 19th arrondissement, was redesigned in 1986 by Bernard Tschumi to bring together architecture and nature, with a dedication to the arts, science, and leisure activities. Today, the site also serves as home to the popular Cité des Sciences et de l'Industrie, the Cité de la musique, the Grande Halle de la Villette, three concert facilities, a cabaret, and more.
Until August 19, visitors have the opportunity to view Wei's billboard-sized photographs hanging from large bamboo structures scattered throughout the attraction-filled park. Staying true to his native cultural values, Wei's themes of nature meeting art, open space and air, produce images of reincarnated characters (often including himself) who are free from the "normal" conventions of life. The resulting points of view defy gravity and touch on the weightlessness that each of us has often desired; the ability to escape from our everyday lives, and in effect, fly. Alongside this, however, is the still-present anxiety of having ourselves stripped of those "safe" conventions. The resulting situations can be either humorous or critical, embodying the unexpectedness of such "free reign."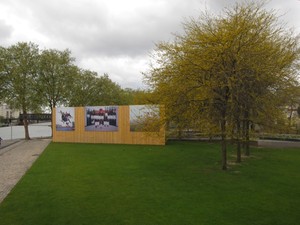 Most of Wei's images are situated in the park alongside the Ourcq Canal. As I strolled next to the water's edge on a windy Sunday afternoon, it was refreshing to see the park's goal of humanity and art accomplished, as I stopped to watch men play soccer or children navigate the modern playgrounds, all while taking in Wei's work. A mesmerizing "Buddha au Parc de la Villette" opens the exhibition. Taken this year in anticipation of the event, Wei placed a flying Buddha character on top of the park's welcoming fountain. Releasing red smoke from his hands that blind the lion head spouts, the figure stares directly at the visitor, resulting in the foreshadowing effect of remembering to maintain peace as you traverse the rest of the terrain. Another work, "Marche dans l'espace" taken in Pekin in 2000, puts the focus on two dangling boot-clad legs overlooking the rooftops of a village, leaving the observer in a dilemma over whether you want the character to fly or stay safely put.
Perhaps the most poetic photo, however, is "Rencontre d'amour a 22 Metres." A young woman clad entirely in white lays flat on her back with her eyes closed atop a red-leaved tree, as her lover soars up to meet her over a highway in Pekin, resulting in a "Sleeping Beauty" revisited. The closing two photos, each titled "29 Etages pour la liberte," are set next to each other against one of the canal's bridges. The first, taken in 2003, features a man who has floated outside of his office window and remains suspended in air as his colleagues attempt to pull him back inside, while the other, taken a year later, depicts the same man being kicked off the building's ledge by one of the same colleagues. It is here, that Wei's desired question of how to react when being faced with the ability to be set free, is posed most directly.
As I began to make my exit from the park, it was hard not to feel a bit overwhelmed by the amount of different structures competing for my attention. From the gardens playing sound effects in order to create the feeling of walking through a movie set, to the 26 "folies" each set exactly 120 meters apart, serving as bright-red meeting spaces, differently designed within the confines of 10.8 meters in width, it was easy to see why Wei had chosen to place a Buddha on top of the park's main fountain. As the water roared and an outdoor exercise class pumped up its music nearby, I was able to slow down my breath by remembering the symbol of mental peace in Wei's photo. Throughout all the ensuing activity, I was reminded that I was still within the confines of nature. I may have felt free, but was not yet fully ready to let go.

Subscribe for
FREE

weekly newsletters.
BonjourParis has been a leading France travel and French lifestyle site since 1995.
Readers' Favorites: Top 100 Books, imports & more at our Amazon store
We update our daily selections, including the newest available with an Amazon.com pre-release discount of 30% or more. Find them by starting here at the back of the Travel section, then work backwards page by page in sections that interest you.
Current favorites, including bestselling Roger&Gallet unisex fragrance Extra Vieielle Jean-Marie Farina….please click on an image for details.
Click on this banner to link to Amazon.com & your purchases support our site….merci!