Interview with Jamie Cat Callan – Author of "Bonjour, Happiness"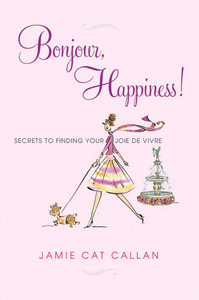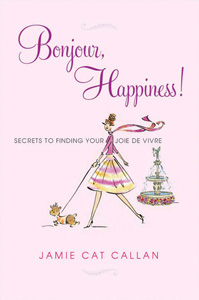 "Happiness expert," author, and speaker, Jamie Cat Callan, was inspired by her French grandmother to return to France and discover the secret to joie de vivre…at any age.  She shares those secrets in her latest book, "
Bonjour Happiness
." Callan has also previously authored "
French Women Don't Sleep Alone
," is the creator of The Writers Toolbox, appeared in The New York Times Modern Love column, won numerous awards, is an absolute Francophile, and a self-proclaimed, unabashed romantic. Callan offers keynote talks, lectures and workshops on "The Secrets to Joie de Vivre: How to love yourself for who you are right now."
BonjourParis.com caught up with Callan to glean some of those secrets…
What made you want to write: "Bonjour Happiness?"
We live in a time when we're all under a lot of stress.  We multi-task and we rush around from one thing to the next, accumulating more things–a bigger car or a fancy gadget.  But it seems to me these things have not brought us closer to our essential selves or brought us more joy.  I noticed that my French friends take so much delight in simple, everyday experiences.  There is less of this desire to rush and more of an appreciation for the pleasures of ordinary moments.  For
Bonjour, Happiness!
, I wanted to discover the source of all that
joie de vivre
.  This is what I learned: For the French, happiness is not a thing you can own, but an experience you can share.
Your book shares French women's secrets to whole-life happiness. What have you found to be the biggest difference in how French women view life vs. North Americans?
French women tend to live in the moment.  While we have "the pursuit of happiness" here in America, for French women there is no such expression.  Rather, they have "rechercher de bonheur" which literally translates as "to look for a good hour."  I love the idea that happiness is right in front of us–in simple, ordinary, everyday moments, we just have to open our eyes and embrace it.
In your book you talk about how French people flirt differently than Americans who view flirting as teasing. How do the French approach flirting?
The French don't have a word that's equivalent to "flirting."  This is because to engage in clever banter, to be sweet or funny or challenging is a way of life.  It engages another person–man or woman, child or shop owner–in the delicious game of conversation. For the French, "flirtation" is simply being alive to the joys of everyday encounters, transactions and even negotiations.  A French woman will engage in what we call flirting when doing something as simple as buying a bag of apples at the market.  In this way, the shop keeper might give her an extra apple or a good price and in any case, it makes life so much more delightful.
How can those "flirting" skills be used in the business environment?
These conversational flirting skills can truly make any encounter more interesting and more lively.  In terms of a business environment, it gives you an opportunity to display your intellect, your charm and your sense of humor.  It's a a great way for you to demonstrate how much joie de vivre you have and what a great team player you will make when you do conduct business together or engage in a group project.  You know, how in America a lot of "business" is conducted in the context of playing on the golf course? Well, in France, life is a golf course!
What are some unique things about social interactions in France? What might surprise us?
In France, there is no such expression as "time is money."  For a French person, time is time and so you might sit in a cafe for hours and hours and the waiter will not bring your check until you ask for it. This can frustrate Americans, who like to rush from one thing to the next, but once you relax into this spirit of things, you realize this generosity of time is one of the most delicious luxuries in the world.
If you're visiting as a guest in a French home, what should you expect and what would be expected of you?
I love this question, because I've stayed as a guest in French homes from very upscale in the 16th arrondissement in Paris to tiny Left Bank flats to farm houses in the southwest and apartments in Toulouse and many other places.  (As part of my research for my books, I love to see how real Frenchwomen live, so I prefer homes to hotels).  So, to answer your question–first I think that staying as a guest in a French home is similar to staying in an American's home.  It's important to pay attention to your host's routines and expectations.  If you're just visiting for an afternoon, don't expect a "tour" of the house.  The French are very private and keep a distinction between the public areas of a home and the private areas.  If you are staying for just an afternoon or for a few days, it's nice to ask how you can help.  Some French people will welcome your contributions, such as setting the table for dinner or even participating in cooking in the kitchen, while some French people might prefer you to stay in the living area and chat with other guests.  As a general rule, I've found that most of my French friends like cooking together and that's a wonderful experience and opportunity for sharing and cultivating a deeper friendship.  Food is a great way to find common ground!  And in terms of a hostess gift, food is also most welcome–you can bring chocolates or macarons or even some fresh jam from the country, if you're visiting a friend in the city.  I like to ask French friends what they'd like me to bring from America.  You'd be surprised at the responses.  Once a French woman asked me to bring Reese's mini peanut butter cups!  Apparently you can't get them in France!
What are some of your most favourite places in Paris?
I recently had dinner at Cafe de l'Homme at the place du Trocadero.  What a treat!  We sat outside on the patio and had a spectacular view of the Tour Eiffel, which lit up every half hour or so.  It was very romantic!  I also love Le Jules Vern which is in the Tour Eiffel. Wonderful views.  Oh, and L'Atelier de Joel Robuchon is a fun experience.  The food is spectacular.  You sit around the bar and get to watch the food being prepared.  There's lots of surprises.  It's expensive, but the food is so delicious and the experience is wonderfully theatrical.
Speaking of theater, I love the cabaret, Crazy Horse.  I went there with my husband for our honeymoon.  (Yes, it was my idea–my mom and dad had gone there in the 1970's and loved it).  It's very sexy and very classy and a perfect show for couples.  You sit in a little theater with red velvet seats and they serve you a bottle of inexpensive champagne.  I think there all were all couples when we went.  It was a very modern show, but the theatre itself felt like something out of the Belle Epoch.
And finally, in terms of favorite places, I just love that walk through the Tuileries from the Arc de Triomphe all the way to The Louvre Museum.  The fountains, the couples on benches, the children in the park–all of it.  I could go on and on!
What are some great places for women to go visit in Paris if they are travelling solo?
Certainly, walk through the Tuileries and go to the Louvre.  Musee d'Orsay is wonderful, as is the Musee de l'Orangerie.  Follow Hemingway and Fitzgerald's path and go to the cafes along the Left Bank–Les Deux Magots and Cafe de Flore [these are fairly touristy spots, however].  I also love Cafe de l'Industrie on rue Saint-Sabin.  I conducted interviews in there for my first book, French Women Don't Sleep Alone.  For shopping, there's Printemps and of course Gallerie Lafayette.  My French friends won't like me to reveal this–so this is just for your readers–but, there's a fabulous shop called "La Piscine" which means swimming pool.  It's located in the Marais and there's another around Boulevard St. Germaine.  They have the most exquisite designer clothes at a greatly reduced priced.  The salesladies are so helpful.  Everytime I'm in Paris, I go there!
I also love Cemetery Pere Lachaise where Sarah Bernhardt, Collette, Frederic Chopin, Maria Callas and Jim Morrison are all buried–among many other luminaries.  After visiting Pere Lachaise, it's lovely to walk from there to the Belleville neighborhood (remember the movie The Triplets of Belleville?)  This is a very artistic area and every year in June they hold the Fete de Musique which is most definitely worth attending.  Oh, and Edith Piaf was from Belleville!
In the book you talk about something called "The Lingerie Diet" — Why is beautiful lingerie important for women?
First, I want to say that French women wear good lingerie everyday, for themselves, not necessarily to impress a man.  It's about wearing something fine and beautiful right next to your skin.  Beautiful lingerie gives a woman a sense of confidence and ooh la la. Also, by wearing beautiful lingerie everyday, she develops a sense of balance.  She gets away from that either/or mentality.  You know, either "I'm on a diet" or "I'm off my diet."  In terms of romance–if she is wearing lovely lacy panties and a matching lace bra then she always feels beautiful and desired.  There's a disconnect between wearing cotton granny panties for everyday and then a Frederick's of Hollywood lace-up bustier get-up for that "special occasion."  When a woman wears lovely undies on a daily basis, she always feels beautiful and confident.
Oh, and one final tip I offer in my book about lingerie–try wearing a red silk slip under a classic black dress.  This little secret gives a woman a lot of mystery and that sudden unexpected flash of red at the hem will drive a man wild!
A lot of women (and men) are self-conscious about their bodies and there's even a Weight Watchers in France. Based on your experience, what are the key differences between the American and the French attitudes towards dieting?
I actually attended several Weight Watcher meetings in France.  They were very interesting compared to American Weight Watchers. Here, we're all about low fat or sugar free and how to eat a lot more, with fewer calories.  The French are much more about eating delicious food (yes, even chocolate and wine) with all the calories intact.  They'd rather eat a little less, than give up real food.  In fact, they call our diet products and processed foods "cuisine industrielle."  French women are all about making little adjustments and maintenance.  And if they do go on a diet, they're very discreet about it.  Oh, and French people don't eat out as much as we do. They cook at home, and I think that keeps the calorie intake down.  That said, the French struggle with weight just as we do. However, I think they aren't as self-conscious about their bodies, and this comes from a tradition of self-care (massages, spa treatments), good lingerie, dressing well everyday and walking everywhere.  So, it's not so much about dieting, as building confidence.
What do you love most about French women?
For me, French women are endlessly mysterious.  You know, my grandmother was French and I always felt as if there were so many layers to her, I could spend a lifetime getting to know her.  I think all French women are a little like this–they are fascinating because they reveal only a little at a time.
What do you love most about France?
Again, it's the mystery.  I think the secret gardens are a good metaphor for France.  You walk into a park and it's beautiful.  There are lovely yellow flowers and green grass, but then you turn a corner and you see a little red brick path off to the side, and you go further, oh and behind that, there's a fountain with water bubbling forth and a sculpture of a voluptuous woman, and so you approach the fountain, and you discover that beyond that, there is a little gazebo, just off to the side, further down the path.  My love affair with France is like that.  It will never cease, because La Belle France withholds just enough of her secrets to keep me forever fascinated and endlessly intrigued.
Visit Jamie Cat Callan via her website.

Subscribe for
FREE

weekly newsletters.
BonjourParis has been a leading France travel and French lifestyle site since 1995.
Readers' Favorites: Top 100 Books, imports & more at our Amazon store
We update our daily selections, including the newest available with an Amazon.com pre-release discount of 30% or more. Find them by starting here at the back of the Travel section, then work backwards page by page in sections that interest you.
Current favorites, including bestselling Roger&Gallet unisex fragrance Extra Vieielle Jean-Marie Farina….please click on an image for details.
Click on this banner to link to Amazon.com & your purchases support our site….merci!
Leave a reply
Your email address will not be published. Required fields are marked *