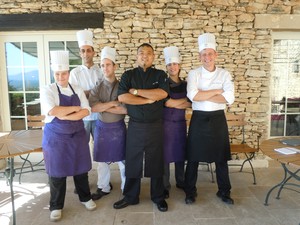 It's truffle season in Provence, time to head off in search of some black diamonds n'est ce pas?
With this in mind the picture-postcard Mas Des Herbes Blanches have created "A La Découverte du Diamond Noir".
Located at Joucas, the pretty "carte-postale" provenҫal village in the heart of vineyards and lavender fields the R&C hotel has unique views overlooking "Les Ocres de Roussillon", "Les Falaises de Lioux" and massif du Luberon.
Built in the style of traditional 13th century Bories, Herbes Blanches is surrounded with the oval shaped cave- like shepherd's dwellings, hand made bricks piled on top of each other, no cement, just amazing artisanal skill.
18 chambres (2 apartments, 3 junior suites, 4 chambres "Elégances", 7 chambres "Tradition" et 2 chambres "classique") recently revised and embellished embellished with elegance and charm, using contemporary colour mixes reflecting the warm tones of Provenҫe. Most rooms have a terrace, balcony, jacuzzi or private garden overlooking the beautiful heated pool.
Now about those truffles. Alert readers know it's in the Vaucluse at the markets of Richerenches and Carpentras the best black diamonds are found, ubiquitous, coming from car boots, rolled out of stained handkerchiefs like precious diamonds, little old ladies bring them saying, "my dog found these in the garden this morning", oh yeah! Dream on mamie, we weren't born yesterday!
From 25th November through 20 December, 2012, Mas des Herbes Blanches propose "A La Découverte du Diamant Noir". Champagne cocktail on arrival followed by a romantic "diner pour deux" themed around truffles, mixing the saveurs provenҫales et locales in the restaurant "Gourmet". Next morning breakfast on the panoramic terrace and a mouthwatering visit to Musée de la Truffe, Menèrbes.
Mas des Herbes Blanches Executive chef Akhara Chay was born in Paris to Cambodian/Thai parents.  When his mother died he found himself in the kitchen cooking for the family and, age, 15 wangled a post with Ghislaine Arabian at Pavillon Ledoyen. He then went to Alain Ducasse in Paris and St. James, avenue Bugeaud. Returning to his roots in Asia Akhara met his wife, they returned to France and the Royal Barrière, Deauville with "my spiritual master", Eric Provost.
Now happily settled in Provenҫe Akhara loves meeting hotel clients, is up early to market where he gets high on the interaction between traders, chefs and local fooderati. The tres adorable Akhara describes his cuisine as, "French with discreet touches of Asia".
"The Truffles are giving me food for thought, I will interpret them my way", he decides. "But I must tell you that when I'm cooking I like the aromas to spread all over the hotel, not just in the restaurant!".
Oui chef !
Hôtel Le Mas des Herbes Blanches,
Relais & Chateaux,
Lieu Dit Toron – 84220 Joucas,
T: 04 90 05 79 79
A La Découverte du Diamond Noir
25 November-20 December from 612€ for two
News from Bibendum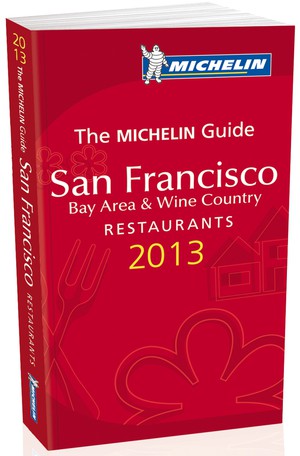 The latest edition of Michelin Guide San Francisco Bay Area and Wine Country 2013 confirms 42 restaurants in the Michelin galaxy..
The French Laundry and The Restaurant at Meadowood keep the three stars awarded in 2012.  2013 sees six restaurants awarded two Michelin stars. Including Dominique Crenn, the talented French born Iron Chef's awesome Atelier Crenn.
"Today is a happy day, Atelier Crenn was awarded 2 Michelin Stars. I want to thank my team for their dedication and their hard work, for believing in me and the vision of Atelier Crenn. I want to thank my Pastry Chef Juan Contreras for being by my side. I also want to thank my loved ones, and dedicate this second star to my dad, Papa Crenn", she said. Go to www.ateliercrenn.com
Thirty-four restaurants earned one Michelin star, a significant culinary accomplishment that can be defined as "a very good restaurant in its category." The three newcomers to this category are All Spice, SPQR and Keiko à Nob Hill.
Inclusion in the Michelin Guide is an acknowledgment of culinary excellence and quality.  A total of 539 restaurants are included in the selection covering San Francisco, the East Bay, Wine Country, Marin, South Bay and the Peninsula.
Michelin inspectors tasted at least 47 different cuisines this year, reflecting the divine diversity found across the SF region.
The Guide's available a week after Michelin announced that 70 restaurants earned "Bib Gourmand".  Neat good value addys offering two courses plus a glass of wine or dessert for $40 or less (excluding tax and tips).
Michelin Guide 2013 editions include two new symbols: one highlighting notable beer lists the other highlighting dim sum restaurants.
In the U.S of A., San Francisco is one of three cities where Michelin publishes an annual guide.  BP readers know that New York City 2013 went on sale earlier this month and diarise Chicago 2013 due for release November 13, 2012.
The seventh edition of Michelin Guide San Francisco Bay Area & Wine Country – $18.99
Penny Pincher – London.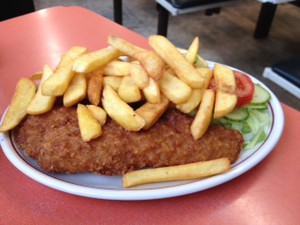 Spent all on the truffles, need a cheapie but goodie, head off to City Road (Underground Old Street) and the cheeriest cafe in town. It's borderline "greasy spoon" but you'll soon be so hooked on the full English breakfast the Cod and Chips, Mixed Grill, Gammon Steak, veggie and beef burgers, you' ll find excuses to return.
Slide into a window banquette and watch the world go by. From construction workers, to city types, goths, mods, rockers, a fascinating cross-section of Londoners to meet. At least fifty sandwiches feature on granary or white builders bread from BLT to (almost) seasonal turkey.
It's all good. Wash down with a nice mug of rosy lee (tea).
Sheperdess Cafe, Restaurant & Sandwich Bar
221 City Road,
London EC1V 1JN
T: 0207 7253 2463
Open Breakfast and Lunch only until 4.15pm
Average Spend Breakfast £5.40
Two course lunch – £7
A night at the Opera?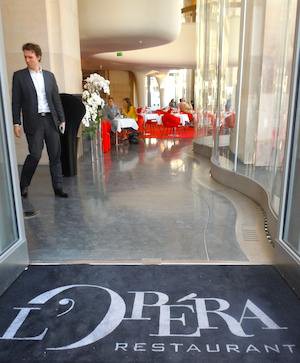 Reservations are open for an exceptional soirée at L'Opéra Garnier 31st December. Four works specially created for the Ballet de l'Opera by William Forsythe and Trisha Brown. Combine this with dinner at the spectacular Odile Decq designed 2* L'Opéra Restaurant where Christophe Aribert and Yann Tanneau's menus will be seriously festive and flexible, for example "L'Avant Spectacle" (50€) before, something light between, or a slap up celebration afterwards (160€).
Booking details for le spectacle du 31 décembre can be found here.
L'Opera Restaurant & Martini Bar,
Palais Garnier,
Place Jacques-Rouché, 9th
Open 7/7
M: Opéra,
T: 01 42 68 86 80

Réservation pour le diner du 31 décembre

Subscribe for
FREE

weekly newsletters.
BonjourParis has been a leading France travel and French lifestyle site since 1995.
Readers' Favorites: Top 100 Books, imports & more at our Amazon store
We update our daily selections, including the newest available with an Amazon.com pre-release discount of 30% or more. Find them by starting here at the back of the Travel section, then work backwards page by page in sections that interest you.
Current favorites, including bestselling Roger&Gallet unisex fragrance Extra Vieielle Jean-Marie Farina….please click on an image for details.
Click on this banner to link to Amazon.com & your purchases support our site….merci!