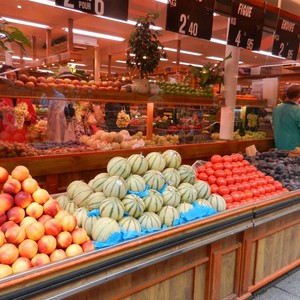 What could be more Parisian than a market street? Best-of-the-season produce displayed in colorful groupings, rôtisserie chickens slowly turning a perfect golden brown, boulangeries and pâtisseries offering fresh breads and pastries to satisfy every craving. For many travelers, the market streets of Paris offer the quintessential experience of shopping like a local. Why are the market streets of Paris so popular among travelers and coveted by the Parisians? Here are a few reasons: 1.  They're open 6 days of the week–every day except Monday. This allows more shopping opportunity than the open-air markets, which are open one or two days each week. If you want to see market streets at their most vibrant, Saturdays and Sunday mornings are usually best. On Sundays the shops along market streets close by early afternoon, so get there before noon. 2.  They're picturesque and pleasant to stroll. You don't have to buy anything and yet still enjoy the experience of ambling along these markets and observing the locals as they go about their shopping rituals. Most Parisian market streets are cobblestoned and many retain elements of the street's rich history in the architecture and shop fronts. 3.  It's not only about the shopping. They're lined with cafés and restaurants that offer a perfect perch for relaxing and people-watching. There are a dozen street markets in Paris, scattered across different parts of the city. Each has its own personality. Their personalities have been shaped by the history, architecture, and demographics of the immediate neighborhood where they're situated. Some nearly burst with vibrancy, while others are more subdued. Many draw primarily local residents and workers; others cater slightly more to tourists. Some shimmer with beautiful views and picturesque cafés, and a few take place in gritty surroundings. In all cases, they serve the needs of their customers well. Varying the possibilities even more, each street market takes on a slightly different personality during weekdays versus weekends. It's common to see families with children strolling the street markets on Sunday mornings. During weekdays, most of the local trade is there for the express purpose of tending to their daily needs. It's less of a leisure activity and more of a targeted shopping expedition. Market streets offer an array of tempting foods. There's always a broad selection of fresh produce, and at least one if not several butchers, fishmongers, charcuteries, cheese shops, and traiteurs for takeaway meals. But it's not only about eating. In addition to displays set up on the sidewalks, these market streets are flanked by shops that sell items from clothing and shoes to hardware, flowers, wine, and more. Rue Cler in the 7th arrondissement has a well-heeled clientele. And I mean that literally. One of my favorite stores for sturdy walking shoes is on rue Cler. La Fromagerie is a superb cheese shop. Customers line up for charcuterie at Jeusselin and across the street at Davoli's with its Italian delicacies. Some say that the quality and variety on rue Cler has declined slightly, yet I find that it still has excellent offerings and a devoted clientele. Rue Montorgueil in the 2nd arrondissement and rue Mouffetard in the 5th attract a lot of tourists due to their locations and reputations. And yet you will see a large number of locals who patronize the shops and cafés along these streets as well. Pâtisserie Stohrer at 51, rue Montorgueil is one of the oldest and most famous pastry shops in all of Paris, laying claim to having invented the baba au rhum. I can't pass this shop without popping in for a chocolate éclair. Rue Mouffetard is always fun for a stroll, particularly on weekends when musicians, singers, and dancers often gather at the base of the hill near the 12th-century church on square Saint-Médard. Pomi V's stands overflow with fresh seasonal produce. Rue Daguerre in the 14th, rue Cadet in the 9th, and rue de l'Annonciation in the 16th are all good examples of street markets that have the friendly feel of a small village. They cater primarily to their immediately residential community.  Rue Daguerre has several excellent cheese shops (one of them, Vacroux & Fils, is recognizable by the plastic replicas of cows that seem to be grazing on the balcony), a hat shop, and alluring gift items at Valette. Rue Cadet has one of the city's remaining chevaline (horse meat) butcher shops, a bagel shop, and more. Rue de l'Annonciation is one of the shortest market streets but offers all the essential provisions. Rue d'Aligre in the 12th is a vibrant market street, especially on weekends. This street market leads to two other types of markets at its center. Enter the covered building to find Marché Beauvau, and across from it in the open plaza is a small flea market. All of the markets streets mentioned above are permanent, and they are designated as pedestrian-only walkways. They're designed for shoppers to stroll in the middle of the street. (But still watch out since delivery vans and motorcycles occasionally scoot by.) There are other streets in Paris that are known for their commercial activity, but they aren't "market streets" in the strict sense. Rue des Martyrs,which lies between the 9th and 18th arrondissements, as well as rue de Buci and rue de Seine in the 6th, are examples. I recommend incorporating a stroll down one of the market streets of Paris while en route to other destinations.  Maybe you'll get lucky and happen upon one, but a little advance planning helps a lot so that you're sure not to miss them. Grab a basket and go! Marjorie R. Williams is co-author and photographer of
Markets of Paris, 2nd ed
.  Her work has been featured in numerous travel and food magazines and blogs. She lived in Paris while researching and photographing the markets. Visit
Marjorie's website
for more information.
SUBSCRIBE
ALREADY SUBSCRIBED?
BECOME A BONJOUR PARIS MEMBER

Gain full access to our collection of over 5,000 articles and bring the City of Light into your life. Just 60 USD per year.

Find out why you should become a member here.

Sign in

Fill in your credentials below.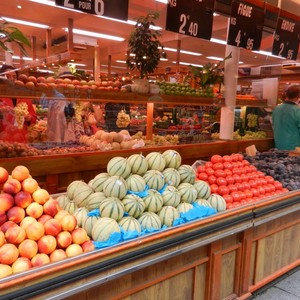 What could be more Parisian than a market street? Best-of-the-season produce displayed in colorful groupings, rôtisserie chickens slowly turning a perfect golden brown, boulangeries and pâtisseries offering fresh breads and pastries to satisfy every craving. For many travelers, the market streets of Paris offer the quintessential experience of shopping like a local.
Why are the market streets of Paris so popular among travelers and coveted by the Parisians? Here are a few reasons:
1.  They're open 6 days of the week–every day except Monday. This allows more shopping opportunity than the open-air markets, which are open one or two days each week. If you want to see market streets at their most vibrant, Saturdays and Sunday mornings are usually best. On Sundays the shops along market streets close by early afternoon, so get there before noon.
2.  They're picturesque and pleasant to stroll. You don't have to buy anything and yet still enjoy the experience of ambling along these markets and observing the locals as they go about their shopping rituals. Most Parisian market streets are cobblestoned and many retain elements of the street's rich history in the architecture and shop fronts.
3.  It's not only about the shopping. They're lined with cafés and restaurants that offer a perfect perch for relaxing and people-watching.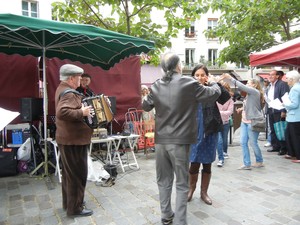 There are a dozen street markets in Paris, scattered across different parts of the city. Each has its own personality. Their personalities have been shaped by the history, architecture, and demographics of the immediate neighborhood where they're situated. Some nearly burst with vibrancy, while others are more subdued. Many draw primarily local residents and workers; others cater slightly more to tourists. Some shimmer with beautiful views and picturesque cafés, and a few take place in gritty surroundings. In all cases, they serve the needs of their customers well.
Varying the possibilities even more, each street market takes on a slightly different personality during weekdays versus weekends. It's common to see families with children strolling the street markets on Sunday mornings. During weekdays, most of the local trade is there for the express purpose of tending to their daily needs. It's less of a leisure activity and more of a targeted shopping expedition.
Market streets offer an array of tempting foods. There's always a broad selection of fresh produce, and at least one if not several butchers, fishmongers, charcuteries, cheese shops, and traiteurs for takeaway meals. But it's not only about eating. In addition to displays set up on the sidewalks, these market streets are flanked by shops that sell items from clothing and shoes to hardware, flowers, wine, and more.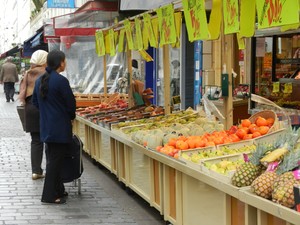 Rue Cler in the 7th arrondissement has a well-heeled clientele. And I mean that literally. One of my favorite stores for sturdy walking shoes is on rue Cler. La Fromagerie is a superb cheese shop. Customers line up for charcuterie at Jeusselin and across the street at Davoli's with its Italian delicacies. Some say that the quality and variety on rue Cler has declined slightly, yet I find that it still has excellent offerings and a devoted clientele.
Rue Montorgueil in the 2nd arrondissement and rue Mouffetard in the 5th attract a lot of tourists due to their locations and reputations. And yet you will see a large number of locals who patronize the shops and cafés along these streets as well. Pâtisserie Stohrer at 51, rue Montorgueil is one of the oldest and most famous pastry shops in all of Paris, laying claim to having invented the baba au rhum. I can't pass this shop without popping in for a chocolate éclair. Rue Mouffetard is always fun for a stroll, particularly on weekends when musicians, singers, and dancers often gather at the base of the hill near the 12th-century church on square Saint-Médard. Pomi V's stands overflow with fresh seasonal produce.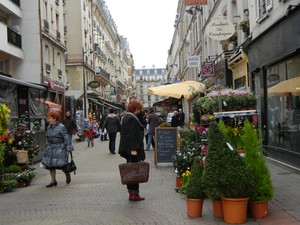 Rue Daguerre in the 14th, rue Cadet in the 9th, and rue de l'Annonciation in the 16th are all good examples of street markets that have the friendly feel of a small village. They cater primarily to their immediately residential community.  Rue Daguerre has several excellent cheese shops (one of them, Vacroux & Fils, is recognizable by the plastic replicas of cows that seem to be grazing on the balcony), a hat shop, and alluring gift items at Valette. Rue Cadet has one of the city's remaining chevaline (horse meat) butcher shops, a bagel shop, and more. Rue de l'Annonciation is one of the shortest market streets but offers all the essential provisions.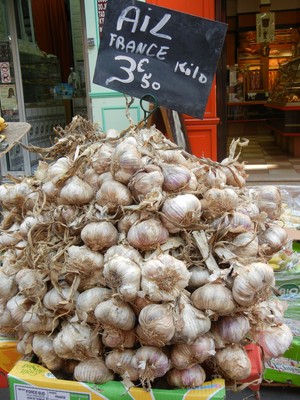 Rue d'Aligre in the 12th is a vibrant market street, especially on weekends. This street market leads to two other types of markets at its center. Enter the covered building to find Marché Beauvau, and across from it in the open plaza is a small flea market.
All of the markets streets mentioned above are permanent, and they are designated as pedestrian-only walkways. They're designed for shoppers to stroll in the middle of the street. (But still watch out since delivery vans and motorcycles occasionally scoot by.) There are other streets in Paris that are known for their commercial activity, but they aren't "market streets" in the strict sense. Rue des Martyrs,which lies between the 9th and 18th arrondissements, as well as rue de Buci and rue de Seine in the 6th, are examples.
I recommend incorporating a stroll down one of the market streets of Paris while en route to other destinations.  Maybe you'll get lucky and happen upon one, but a little advance planning helps a lot so that you're sure not to miss them. Grab a basket and go!
Marjorie R. Williams is co-author and photographer of Markets of Paris, 2nd ed.  Her work has been featured in numerous travel and food magazines and blogs. She lived in Paris while researching and photographing the markets. Visit Marjorie's website for more information.
[copyright MRW]
More in food markets, market, market streets, Rue Cler, Rue d'Aligre, Rue Daguerre, Rue Montorgueil, Rue Mouffetard
---
---