Shop 'til you drop at Beaugrenelle: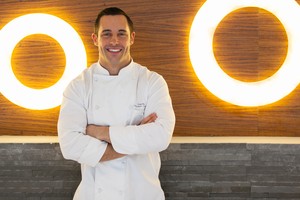 Opened in October 2013, Beaugrenelle, exciting Front de Seine development, is the €450 million redesign of a former 1970's shopping center.
Located on the left-bank opposite Radio France and The Statue of Liberty, the glass and steel buildings, with multiplex cinema, are organized in 3 sections: B-Panoramic: B-Magnetic: B-City.
Entering the main doors one goes towards the center of each structure where it becomes clear that this is no ordinary mall but one that takes inspiration from the  shopping centers of Asia and Dubai.
Here's extreme retail therapy including a 4-floor Marks & Spencer + all the favourite brands: Guerlain: FNAC: Adidas, Nike: Eric Kayser: Pâtisserie des Reves: Sephora, Darty etc.  Acres of designer space to sit (free wi-fi) meet, shop, fix your nails and bien sur, eat.
With breathtaking top-floor views of the Seine, Bermuda Onion's history is similar to Beaugrenelle's. Created by Patrick Derderian, of Zebra Square, Bermuda Onion bistros were the hip and happening Paris eateries between 1985-2004. New owner, entrepreneur Laurent de Gourcuff: Monsieur Bleu: Yoyo at Palais de Tokyo etc. plans the renaissance of the brand.
Onion's décor's 50's luxury cruise-ship; book a table by the floor-to-ceiling windows. Executive chef Valentin Néraudeau from Toulouse (you may have seen him on Top-Chef 2013, or at Michel Guérard: chez Les Freres Pourcel or Le George V with Philippe Legendre) creates contemporary cuisine to enjoy before/ after shopping, at night before/ after the cinema. Or, just stop by for an assiette of charcuterie and cocktails (Spy C Bermuda: Ginger Mint: Grape Me Up: they need one called Shop 'Til You Drop!) by mixologist Francesco Moretti.
Starters include Burrata/Huile d'Olive/Roquette. Salade Divine stars Crevettes Thäi/Mango/Raspberries and Foie Gras.
Mains of: Lasagne gratinée: Roasted cabillaud, olives, pulpe de pommes de terre: Plump and juicy Saint-Jacques snackées, saffron flavoured fennel confit, raisins, a touch of orange: Duck with truffled Jerusalem artichoke purée: Le Burger du Bermuda Onion, made with Aubrac beef/Pommes allumettes, served in newspaper.
Drink Red 2009 Bordeaux de Maucaillou (6€-29€ bottle) White 2012 "non filtred" Domaine Lavantureux (9€-36€ bottle).
Cheese from Marie-Anne Cantin and wicked desserts such as the delicate trio of lemon tarts, chocolate ice cream, a touch of lime: Banofee Pie: Vacherin glacé or Café Gourmand.
Bermuda Onion,
Centre Commercial Beaugrenelle, Ilôt Panoramic,
7 rue Linois, 15th
M : Bir Hakeim/ Charles Michels
Free shuttle boat service from the Eiffel Tower
Valet Parking
Open 7/7
Lunch formula 28-35€
Brunch Sunday
Average spend A La Carte 35€
Le Lebey des Bistrots: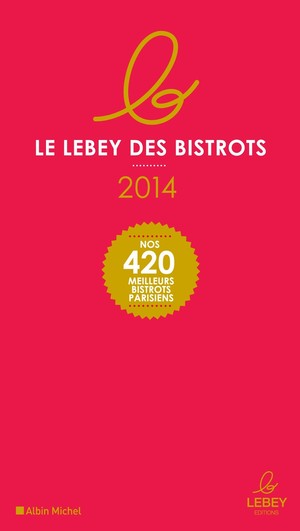 A jury of experts work with the incredible 92-year « young » Claude Lebey (President of the Society for the Preservation of the Egg Mayonnaise) and publish the little red book of 420 perfect bistrots annually, since 1989.
You can eat what the jury eat as each mealis chronicled and dated within the review. The top award Le Prix Staub-Lebey goes to Daï Shinozuka at Les Enfants Rouge.
Winner of Les Meilleures Créations Culinaire 2014 include :
Best Starter : Jose Manuel Miguel, Goust, Paris, 2nd :
Best Fish : William Ledeuil Ze Kitchen Gallery :
Best Meat : Tomohiro Uido : Restaurant Le Village, Marly-le-Roi :
Best dessert : Yann Couvreur, La Scene, Hôtel Prince de Galles & Best Petit Fours : Laurent Jeannin, Epicure at Le Bristol.
As well as listing delicious little addys outside the city, there's also a section on Brussels, treated as if it's a 21st arrondissement of Paris.
Definitely a useful addition to the bookshelf, compact enough to fit in the Birkin. 12€.90
L'Oriental: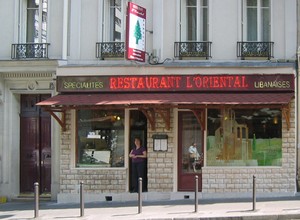 Try L'Oriental for lovely Lebanese cuisine, perfect for vegetarians or meat-packers. Order hot & cold mezze, pizza, and choose mains from viandes, grillades and legumes. Wash down with Lebanese beer or a bottle of Lebanese red Kefraya. To finish, home made ice cream, baklava, mint tea.
L'Oriental,
58 rue de L'Ourcq, 19th
M : Crimee
T : 01 40 34 26 23
Shut Sunday
Average Spend 20€