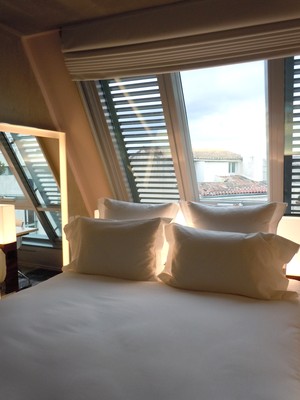 Marseille, second ville de France, a sprawling city, divided into sixteen arrondissements, doesn't have the same cachet as Cannes and Nice, the bling-bling riviera neighbours. However, the city must feel rather smug preparing for Marseille/ Provence European Capital of Culture 2013 when it will be "the place to be".
At present, the old port area's a mess as a massive transformation is in progress. New cultural sites are under construction such as MuCEM, Museum of European and Mediterranean Civilizations. More than 400 events are planned around the region in 2013, 60 exhibitions, concerts, festivals. And, of course, local gastronomy will showcase bouillabaisse, Pernod, fresh caught fish washed down with Provence wines, ubiquitous olive oils, perfumes and Savons de Marseille.
And, cherry on the gateau, following the success of Mama Shelter, Paris, the dream team of Serge Trigano, Philippe Starck and Co. launch Mama, Marseille, located in the St. Julien, "arty" 6th arrondissement, read crumbling. Formerly a butcher shop with offices above, the multi-story stone 127-room hotel is in a quiet street, opposite a picture-postcard bar. The state-of-the-art contemporary building has a statue of Saint Victor, patron Saint of Marseille protecting all who pass. Nice touch.
Inside, wonder what he'd make of Starck's black grafitti ceiling and lino on the floors. The stage for live performances, guitars displayed like works of art, the bar decorated with rubber rings children wear to swim and the outsize babyfoot? Whatever, "le tout Marseille" are flocking to Mama, "l'hotel le plus funky de la ville".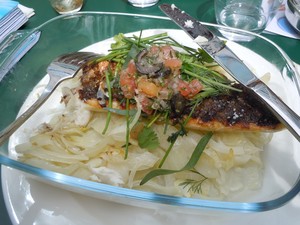 Mama rocks, food's excellent created by Alain Senderens, as at Paris Mama.  Jean Grezel, Senderen's former second in Paris sends out Mediterranean dishes from mostly local suppliers. Everything's made in Mama. Locals pop by for the buffet breakfast, with warm breads, almond croissants, cakes just out of the oven fresh juices, eggs any style.
Lunch and Dinner's in the restaurant or on the terrace, a pastis bar and barbeque are about to launch.  Sip Mama Loves You (vodka, apricot brandy, cranberry juice) as you study the menu. Begin with creamy cold fennel soup or fresh tomato salad or Beignets de calamars, sauce tartare épices thai.  Share a Burrata or terrine de foie gras. Or, for the ladies who do: Salade Mama.
Then a bon Daube de seiche de la "Mama" riz à l'encre. A glass of rosé Coteaux d'Aix-en-Provence AOC (5€). Fish of the day? Pray it's grilled seabass on a bed of al denté fennel and herbs. Le Cheeseburger d'Alain Senderens, frits. Parmentier Vegétarian. Poulet aux olives vertes et citron, puré maison. Red Corbières AOC "Marrenon" (28€). Mama's signature dish is Cocotte de coquillettes, Jambon Mostellos et oeuf mollet. For carnivores, Bavette Angus à la plancha, sauce diable (or Heinz if you must) frites maison. The sweet course? Ice creams and sorbets (made in Pacojet) Banana Hot Fudge, Chocolat Liegeois, Strawberry Tart. And if you're over 18 – Sorbet Pastis, fraises, basilic.
Take the graffiti lined lift and choose from five different types of room or one suite. All have 27-inch iMacs and Kiehl's products, TV, radio, internet and free WiFi, as well as microwave oven, mini-bar, free movies, ultra comfy beds and gorgeous snowy white sheets and towels (no Kleenex, robes, or slippers!).
"The rooms are not large, the concept of Mama is a modern kibbutz, a place where friends gather around a table, a drink, to make new best friends", says Serge Trigano. Mama mia it's good.
Mama Shelter, Marseille,
60 rue de la Loubiére, 13006
Metro: Baille/Castellane/Notre-Dame-du-Mont
Rooms from 69€
T: 04 84 35 20 00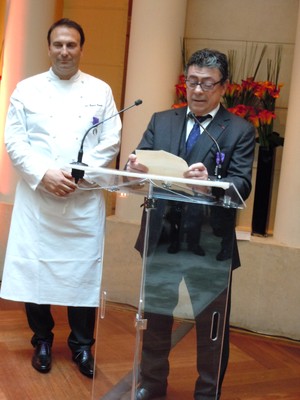 What is it about chef Christian Constant? Wherever he is there's an exciting atmosphere of discovery, as at Les Cocottes where he decided everything tastes better cooked in Staub pots. There's the beautiful Violon d'Ingres and the casual Cafe Constant. At each addy there's young chefs learning their craft, serving with a smile. In France this does not go un-noticed, you may have noticed!
So, last night at the achingly chic Park-Hyatt Paris-Vendome chef Constant was given yet another gong, that of Chevalier des Palmes Académiques by Luc Chatel, Minister of Education. "Not bad for a boy refused a place at Ecole Hotéliere", said Constant, accepting the gong, with the endearing look of a naughty school-boy.
Chef Constant was not alone getting a gong from Monsieur Chatel last night. His protegée, and erstwhile second at Les Ambassadeurs, Hôtel de Crillon, Jean-Franҫois Rouquette was also honoured for services to young cuisiniers. Rouquette's enthusiastic rockets (the restaurant is "Pur" at the Park-Hyatt) prepared an eyewatering buffet using the plant/herb style signature dishes for which chef Rouquette is noted. Tasting Asperges vertes et blanches au cumin, pralin à l'ancienne, agrume confit, chef Constant said, "hmm not bad, a little more salt and pepper and it'll be perfect!"
"Where's Eric?" asked Constant, "he said he'd be here". Probably at his book launch (this is his 3rd).  Eric Frechon was with Constant at Le Hôtel de Crillon, the boy did good, Constant's proud of him, got 3-Michelin stars at Le Bristol and works 24/7. "A Partager!" is written with Clarisse Ferreres, a confirmed gourmande but not a professional chef. "If I can cook these dishes you can". Insists Clarisse.
24€ 90 Editions Solar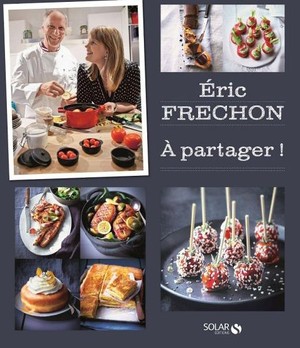 Twelve years ago super-chef Alain Ducasse created a state-of-the-art school, just outside Paris, to teach new pro and amateur talent.
Keen to Cook?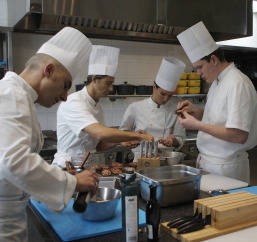 There's a few places left at the Headquarters of Alain Ducasse Centre de Formation. Four fully-equipped professional kitchens offer students the opportunity to improve existing skills or develop new cooking techniques.
The summer Programme for beginners is a two month course from July 6-August 31 and includes one week of restaurant experience, visits to markets and producers.
From July 20th-January 4th 2013 the six month course is for Practising Cooks. Fluent English is required for both courses and you need to be 18 or over.
Le Centre de Formation d'Alain Ducasse,
41, rue de l'Abbé Ruellan,
95100, Argenteuil,
T: 01 34 34 19 10