Le Camion qui fume – A Food Truck in Paris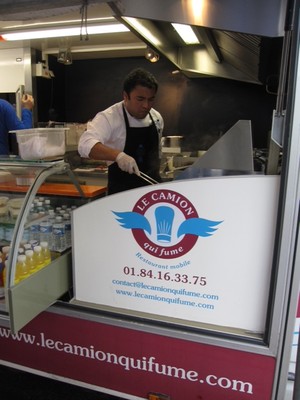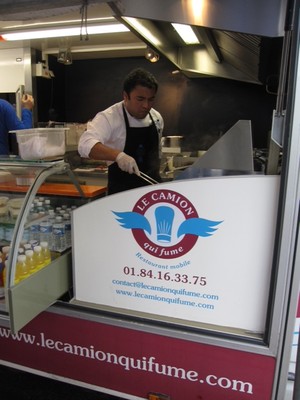 For the first time in my life, I had to set my alarm to get to a hamburger truck. It was a windy, rainy 10 am when I left my apartment to make sure I was in line by 10:30 am at Le Camion qui fume, Paris' first (and still only) food truck, which started service at Place de la Madeline at 11 am. Coming from New York, where there are so many food trucks that they now seem part of the pavement, I was interested to see why this concept has become so popular in the land of haute cuisine, and if the food was worth the wait.
After training at the Ecole Supérieure de Cuisine Française Ferrandi in Paris, owner and California native, Kristin Frederick, was eager to capitalize on the popularity of food trucks that had swept America, and that had just begun appearing in other European cities such as Berlin. The truck would also aim to fill in some of the gaps of Parisian takeaway. Mostly importantly though, Le Camion qui fume focuses on the theme of "get there before it's gone." Each day the truck holds a limited supply of fresh ingredients, which can serve around 150 people, and after these run out, service is finished. This has happened on warm days with a big line before the truck has even officially opened.
The truck changes its time and location daily, which is listed weekly on its website, Facebook page, and Twitter feed. After being warned ahead of time, by both former employees and Parisians, of the queue, I found it surprising that there were only two other people waiting at the truck when I arrived. Situated next to the markets in front of the grand Madeline church, the truck is designed in the three colors of France, along with an accompanying tent that holds two small circular standing tables, where people would soon scarf down their burgers.
The menu is quite simple. Listed on a chalkboard in front of the truck, visitors have the opportunity to choose from four mainstay burgers (classic, mushroom, barbecue, blue cheese), a "burger du jour," a pulled pork sandwich, and a vegetarian offering. Burgers cost €8 or €10 with a side of fries. Cheesecake is available for dessert at €4, as well as a variety of beverages ranging from normal sodas and Vitamin Water to coconut milk.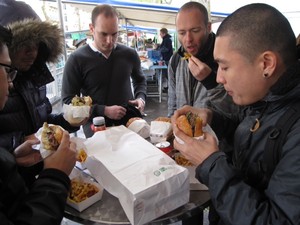 Once the line accumulates a bit, your order is taken (along with your euros), and in exchange, you receive a ticket with a number that is then called when your food is ready. It was during this waiting period that I was able to view the entirely open kitchen of the truck with a critical eye. Disorganization met with flickering electricity ensued as the crowd continued to huddle under the awning in front. My companions chose a classic burger and a pulled pork sandwich, while I ordered the vegetarian option. My cohorts were happy with their meaty selections, which were sizable offerings served on toasted buns. The vegetarian does not include a soy burger, but rather is listed as containing mushrooms, cheddar cheese, caramelized onions and the usual burger fixings of lettuce, tomato, pickles, and mayonnaise. This sounded great to me. As my number was called though, I noticed that I was given someone else's wrong order, which was therefore served to me cold. There was also no cheese or mushrooms in sight. The small order of thinly sliced fries was cold for the entire group. After standing in the rain and waiting close to an hour, I expected more than that for €10. The New Yorker in me was ready to complain, but the newfound Parisian side of myself just shrugged her shoulders and ran back home to take a warm shower–and eat a second lunch.
The final verdict? This is definitely a great alternative lunch option for those working close to the truck, as they have sufficient time to wait and can easily transport their food back to their office. But what about those of you wanting to visit Paris? This city is known for its food, so unless you are a die-hard food truck fan (and I know there are many), stick to the boulangeries if you are looking for lunch on-the-run. If you are craving a hamburger, Paris offers a number of places that will provide you with a larger (and warmer) platter, along with a seat, for close to the same price.
Still, perhaps this is only the beginning for the food truck trend in Paris?
Leave a reply
Your email address will not be published. Required fields are marked *