Le 39V, Christophe Felder & Artcurial Buzz
Just off the Champs Elysées, perched high above a renovated Haussmann building, accessed by private lift, chef Fréderic Vardon has created 39V a spectacular space, showcasing contemporary French cuisine, for which he notched up a Michelin star in the 2012 Guide.
"There's no good cuisine without good products", said Fréderic Vardon one evening last week. This talented disciple of Ducasse, for whom he was corporate chef for 14 exciting years, launching Spoon restaurants, Benoit Tokyo, Alain Ducasse at The Dorchester etc. "I inherited a philosophy from Monsieur Ducasse", he says. "Make something that is already beautiful, taste good".
View this post on Instagram
After leaving Group Ducasse, in 2008 chef Vardon joined forces with Corfou, the French investment fund specialising in property and gastronomy, to create his own concept.
Today, 39V is the haute couture flagship and Vardon's hip Zinc brasseries are located at Gennevilliers: near the Opéra Garnier: Zinc des Neiges in the chic ski resort of Courchevel 1850. Not forgetting Feliz, Paris, for delicious eat-in / take-out which can be ordered on line.
"Accents are on seasonal organic products", says Vardon. We have more and more requests for gluten-free and vegetarian dishes. "Funny, ten years ago it was rare that clients talked of allergies, now it's an everyday ask. We try to do our best, I often wonder what my grandmother, who influenced and nurtured my culinary passions, would say!"
View this post on Instagram
Talking healthy, Monsieur Defert's large soft boiled organic egg is a perfect starter, "I tried to take it off the menu, had to put it back", admits Vardon. Seasonal Ormeaux feature. The abalone, fished by a diver in the Baie de Saint-Brieuc, is roasted, crusted with spices and condiments, a side of Monsieur Bertin's leaves and herbs.
Monkfish, American Style, with shellfish and tomates arrives with long grain Camargue rice. Raw razor sliced scallops sit on a layer of potatoes, crème aigrelette (see photo). Monsieur Tauzin's chicken Marengo with crayfish, mushrooms and velouté sauce.
View this post on Instagram
39V's wine card's superb, everything you ever wanted, chosen and tasted by Vardon. Following a meeting with young Burgundy winemaker, Thièbault Huber (see photo) a "pièce entière" of vines is dedicated to Le 39V. "Very rare in this region", says a proud Vardon.
Stay tuned for tasting notes on wine bottled the 30th and 31st October. The premiére vinification will be matured at Caves de Montquartier, Issey les Moulineaux.
Cheese from Monsieur Anthony is seasonal, the perfectly ripe brie in-house enhanced with creamy mascarpone, studded with black truffles. Desserts are exquisite works of art as in 39V pure chocolate: Paris Brest: and featherlight classic Souffle Grand Marnier.
We loved:
Chef's table. Almost inside the open kitchen (ask for it when you book).
The smiling helpful service.
The table settings.
The 360° circular steel and glass space.
The "Skyfall" syndrome. This is Daniel Craig/James Bond country.
The géoluminescene (don't ask, just go check it out) concept is by light artist Sophie Bruére, evolves with the seasons, in perfect synch with chef Vardon's cuisine.
Come Spring, the terrace and potager are the ideal setting for him to put a ring on it. See you there. I'm a fan..
39 avenue George V, 8th
Metro: George V
T: 01 56 62 39 05
access from 17 rue Quentin Bauchart,
6th floor
Lunch: 39.50-49.50
Dinner A La Carte 85€ – Tasting Menu 95€
Shut Sat-Sun
Valet Parking at night
View this post on Instagram
Luxury Food Auction
If you went last year you need to know that the charity auction Gastonomie – Fine Foods 2 will be bigger and better this year.
Participating chefs include Alain Ducasse. Alain Passard, Michel Troisgros, Michel Guèrard, Pascal Barbot, Michel and Sébastien Bras, Pierre Hermé, René Redzepi etc.
Under the hammer of Mâitre Franҫois Tajan and with the expertise of Bruno Verjus, author, critic and general foodie maven, expect to be amazed. Your chance to bid for, say, a side of 70-day aged Rubia Galega beef from Hendrik Dierendonck. A side of Blonde d'Aquitaine beef reared in the Roman Camps of the Meuse region by Alexander Polmed.
Oysters from the Belon river, tenderly raised by the Cadoret family. Or, bid for a Magnum Louis X111 signed Pierette Trichet, cellar-master at Rémy Martin, which includes a visit to the domain.
Artcurial is a fairytale villa, always worth a trip to see what's going on, but this is something completely different. And, money raised is gifted to the Croix-Rouge Franҫaise.
Gastronomie – Fine Food Auction 2
18th December 2012
Artcurial
7 Rond-Point des Champs Elysées, 8th
Metro: Champs Elysées Clemenceau
Christophe's Canderel Cake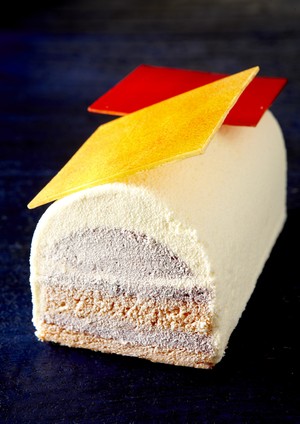 OMG a lipsmacking, mouthwatering low calorie bùche from Christophe Felder, lipsmacking, mouthwatering artisan pâtissier. Santa Claus must really exist n'est ce pas darling?
In collaboration with Canderel 100% Sucralose 186 calories a tranche to be tasted without moderation. Hurry, they're selling like….
Christophe Felder's Canderel Bùche Prestige,
Available at publicisdrugstore from 21 December-1 January 2013
133 avenue des Champs Elysées, 8
Metro: Charles de Gaulle, Etoile
Open 7/7
36€ feeds 6
Want to be inspired by more French foodie experiences and enjoy classic French food, wine and recipes? Head to our sister website, Taste of France, here.
Lead photo credit : Photo © The 39V Paris, Facebook
More in Eating in Paris, gourmet cuisine, Paris restaurants
---
---