Every year the pyramids of the Louvre welcome millions of art lovers from every corner of the world. Most will join the mob of tourists in front of the Mona Lisa, snap a quick picture, and then head off with their maps to find the next treasure housed within the walls of the famous museum.  Farther East in the city a similar crowd wanders up the sidewalk of La Seine to discover the works of Monet and Van Gogh at le Musée d'Orsay, the old clock from the former Parisian railway station greeting them as they enter. Yes, traditional art in Paris has become, well, sort of a tradition to visit when exploring the city for the first time. And how can you blame anyone for wanting to see some of the world's most famous works with their own eyes? But Paris, the city of lights, love, and traditional art is quickly becoming the city of something else: Digital art.
Yes, that's right digital art, or art numérique in French, is capturing the limelight of artistic hotspots throughout the city which are currently housing more mixed media exhibitions than ever before. Many people are eager to learn more about the creation of digital art, and when they do are surprised to see just how prevalent it is in their everyday lives. But is digital art real art? What is it exactly and where is it found? Simply put digital art is any art that is created with the aid of a computer, a tablet, or other multi-media device. These technologies give artists a variety of pathways to create and manipulate images and sounds. There are many programs which serve as the digital artist's toolbox (Photoshop, Illustrator, and Corel are some of the most popular for imagery), allowing inspirations to take shape at the whim of a stylus or click of a mouse, thus breaking the mold of the traditional techniques used in painting, drawing, and sculpting. The result is a world so full of digital art that it may have escaped you: graphic illustrations created for advertising (logos, flyers), models made for movie animation and video games, aesthetics produced for websites and magazines.
SO, how are Paris and the traditional art scene coping with this popular intruder? Over the past decade and more so over the past few years, the Parisian art culture has grown to welcome digital art as well as promote its creators. Check out some of the best places in Paris to catch the digital vibe:
In the City: La Gaîté lyrique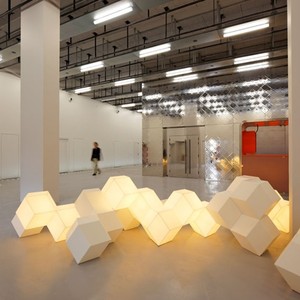 In November of 2011, after 6 years of preliminary work done by architect Manuelle Gautrand, La Gaîté lyrique celebrated its official reopening. Prior to becoming what is now one of Paris' largest collectives of digital art and contemporary music resources, the center was an 1800-seat theater which stood as an emblem in the Parisian art culture for over 150 years. Each year the newly restored Gaîté Lyrique hosts over 120 performances (both live and created with multimedia) with the goal of exploring and promoting the best of what new arts and technologies have to offer. The center naturally attracts 15-35 year-olds, but regularly hosts productions geared towards children and Gaîté lyrique specific genres of art, thus enriching visitors of all ages and backgrounds with digital media presented from a variety of perspectives. You can check out their calendar online to browse the countless exhibitions held every year plus scope out their abundant and ever-growing resource center.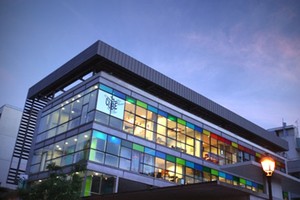 Just outside of Paris in the town of Issy-les-Moulineaux stands another center of reference for digital art creation, Le Cube. Since its opening in 2001, Le Cube has served the public as well as aspiring artists by providing an abundance of educational resources about the variety of uses for digital technology, thus facilitating not only research and technological innovation, but also the relationships between actors in the digital art field. In addition to organizing over 500 events a year – concerts, performances, art shows- Le Cube boasts a guest book of over 1,000 artists who have shown their work in exclusive exhibitions. For the artists to be, Le Cube provides workshops for all levels of experience as well as serves as a launch pad for first time exposition holders from diverse artistic backgrounds.
Online: Curioos.com -The Digital Art Factory
Curioos is a start-up company located in the 20th arrondissement in Paris. Their website is both a social networking "playground" where digital artists can interact and also a marketplace where digital art lovers can purchase the hottest digital images in print and on accessories. What began in 2011 as a small marketplace of 33 artworks has grown today to showcase over 10,750 unique pieces with nearly 800 available for purchase. Curioos' high printing/showcasing standards have attracted the attention of artists from all over the world, currently hosting profiles for creatives from 92 countries. Their team is small, but energetic and very determined to support digital artists both in Paris and abroad.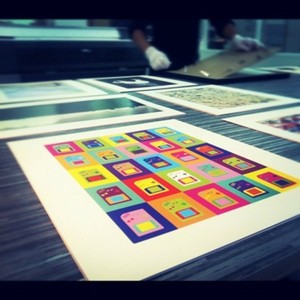 The founder of the company, Mathieu Valoatto, announced in October the official opening of Curioos in NYC. Along with the new adventure in NYC, Curioos is currently in the process of expanding their product lines. Quality Art Skins inspired by their artists' works are now available for smartphones as well as Art Straps produced in collaboration with the Swiss watch company Bill's. Even more exciting products are coming soon so make sure to check back often.
*Curioos offers BonjourParis readers 10% off their order with the reduction code: BONJOURCURIOOS
Places of Study: L'Ecole Supérieure de la Création Numérique & L'Ecole National Supérieure des Arts
Décoratifs
Want to learn even more about digital art and how it's produced? How about enrolling in a Parisian university? Oh la la! With great reputations and unbeatable tuition rates, you too can join in on the digital art movement right here in Paris. Most art schools offer a bachelor's degree (or licence) in graphic design, illustration, or diverse multi-media studies. Some even offer specialized master's degrees in addition to the bachelors. L'Ecole National Supérieure des Arts Décoratifs (Arts-Déco) is a public art school located in the heart of Paris. They offer 5-year degrees programs in animation, multimedia/graphic design, and product design, among others. Just south of Paris (and in 4 other cities in France) is L'Ecole Supérieure de la Création Numérique. They too offer many different options to students in the field of graphic design: Game design, interactive design (apps, web interfaces), design & communication (advertising), and motion design (3D graphics/animation). Just be sure to brush up (pun intended) on your français before applying!
All in all…
Whether you live in Paris or are just visiting the sites, be sure to check out the most "à la mode" digital hotspots the city has to offer. From exhibitions to performances, digital art prints/products to degree programs, Paris is quickly becoming a leader in the promotion of "new" art technologies all the while cherishing the great traditional works of the past. So now the big question: is digital art real art? Monet may be rolling over in his grave at the thought of calling a tool in Photoshop a "paintbrush", but if he was around today I think we could get even him to admit that yes, digital art is real art.
Kalyn Burns
Director of Community Management @ Curioos.com