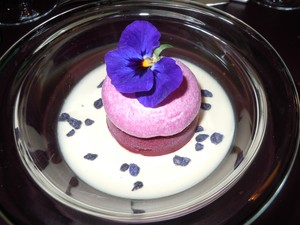 Is chef Hélène Darroze opening in NYC? This week, returning from the Big Apple, there was definitely a twinkle in her eye, but no clues. Certainly Ms Darroze has her hands full, the one-Michelin star rue d'Assas, Paris restaurant. On two floors, sensual décor, wonderful menus showcasing the South-West region where Ms Darroze was born.
In London, two stars at The Connaught, and, family-wise, two adopted Vietnamese daughters. Most people would probably say, "enough already" but not Hélène, she's made of sterner stuff.
Yesterday, no sign of jet lag as chef emerged from her spacious rue d'Assas kitchen to sip a glass of Sauternes. discuss a menu created specially to show that Sauternes is a flexible wine, not just for Christmas but year round, right through the meal, "from soup to nuts".
The wine area of Sauternes and Barsac is located in the southern part of the Bordeaux region, inside the Graves wine region, about 40 kilometers south-east of Bordeaux. Wines of this Appellation d'Origine Contrôlée (AOC) area are produced in five communes: Sauternes, Barsac, Bommes, Fargues and Preignac. Of these five communes, Sauternes and Barsac are the best known.
Sauternes winemakers are on a mission to give their wines a younger, hipper image. Ms Darroze sent out tender young vegetables, multicoloured beetroots, combined with baby artichokes, burrata, roe, and Iberica ham. The Sauternes – Clos Haut Peyragey 2006. Sweet Cévennes onion ravioli, truffles, parmesan: Chateau Laville 2005. Mackeral, grilled pepper, sauce vierge, ginger, green mango. Premier Brumes de Closiot 2003. Landes foie gras, purée of chick peas, confit of shallots and Corinthe raisins, jus aux épices du Sultan. Ch: La Clotte Cazalis 2007. Joue de Boeuf de Chalosse, sauce terriyaki, chantilly de Stilton: Domaine de Monteils 2007: Noix de Saint-Jacques rôtie aux épices Tandoori: Choose from Chateau Suduiraut 1999 or Clos Haut Peyragey. Dessert Macaron: Domaine de Carbonnieux 2009 or Château Suduiraut 1999 (see photo).
"It's high time we re-discovered Sauternes' rich flavours, 56 amazing arômes such as litchi, pineapple, vanilla, white flowers, citrus, the notes are fresh, crystallised or peppery. Sauternes is a new young way to surprise your guests", says chef Darroze.
Hélène Darroze,
4 rue d'Assas, 6th
T: 01 42 22 00 11
Shut Sun-Mon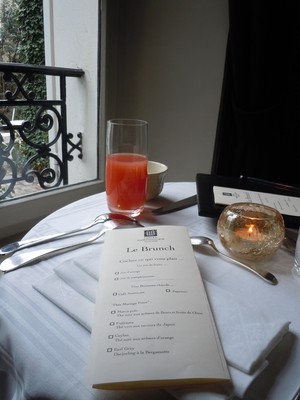 With a name like Oscar, Oscar Comtet could only contemplate one career. Right? Well sort of, he's an actor/director who's worked on many films, including the Oscar winning "The Artist". Jean Dujardin and Bérénice Bejo are on his speed dial, as are probably, le tout Paris.
At present it's Oscar who answers the door at Hôtel Particulier, not really a door, read cast iron gate, Fort Knox style, don't just rock up to Hôtel Particulier without a reservation, it's very private.
"It's a mini French version of Château Marmont, Hollywood", explains Oscar. "Touched with scandal and commemorated in literature", he smiles. Säid the beautiful white cat looks on approvingly from his seat on a plush red velvet sofa.
Located on the Montmartre hillside, opposite the epic rock formation "Rocher de la Sorcière", the handsome former 19th century Hôtel Particulier of the Hermès family was transformed into a boutique hotel, with five suites, decorated by Morgane Rousseau, in 2007. Surrounded by gardens and centuries old trees, landscape artist Louis Benech has re-worked the spaces with his signature "look natural, wild", as if no human hands have ever touched the greenery. Enthusiastic noises off come from the petanque pitch; it's a Midsummer Night's Dream all year round and you're Alice in Wonderland!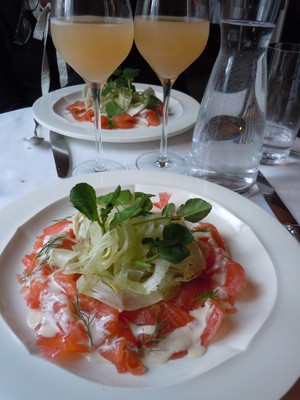 Summer Sunday brunch, in the garden, will include honey from Particulier's own beehives, salads and vegetables from their potager. At present it's a delicious affair with warm viennoiseries, baguette, jams and honey, pancakes, fromage blanc with fruit salad, meusli, oeuf cocotte à la crème de champignons.  Sip a Bellini as you wait for, say, Burrata di Buffala, terrine de poireaux, concassé de tomates: Gravelax saumon with fennel salad or 8-hour braised beef cheeks. A light and lovely nougat glacé for dessert.
So, do they only serve brunch? No, edgy, talented Gilles Stassart is consultant chef, remember him from Nomiya on top of Palais de Tokyo and Transversal the neo-bistro at MAC/VAL Contemporary Art Centre, Vitry-sur-Seine. "Gilles is creating a Cabinet de Curiosités, all will be revealed very soon with exciting new menus", promises Oscar.
There will be revised and corrected twists inspired by Stassart's culinary masters, Alexandre Dumaine, Marc Meneau and Bernard Loiseau, what else would you expect in a magical mansion a few steps from where Picasso & Co., lived, painted and partied?
"And, by the way", I ask Oscar, "what's you next film project?" "At present I'm concentrating on the reality show that's Hôtel Particulier", he grins. And so, I sware. did Säid the chat.
Hotel Particulier,
23 avenue Junot, 18th
Metro: Lamarck- Caulaincourt
T: 01 53 41 81 40
Sunday Brunch 36€
Dinner from Wednesday-Sunday
Formula Dinner/Suite from 590€
Michelin Main Cities of Europe 2012 Restaurant & Hotels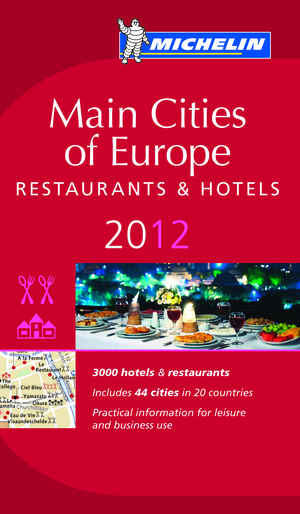 Published in English the guide, which concludes Michelin's European coverage for this year, covers 44 cities in 20 countries. 1,500 hotels and 2,100 restaurants, include 15, but no new, three-stars, 74 two-stars of which 18 are new, and 287 one-star restaurants of which 44 are new to the guide.
Two restaurants snag two stars: Silvio Nickol's Gourmet Restaurant, Vienna, Austria; and Maaemo, Oslo, Norway. In Copenhagen there are four new one-stars but no third star for Rene Redzepi at Noma, although Time magazine made him their European cover boy this week.
Prague, the Czech capital city, has two new one-star restaurants, Alcron and Degustation Bohême Bourgeoise. Funky Gourmet and Galazia Hytra celebrate their first star in Athens, Greece.
www.amazon.com
Pret-A-Manger,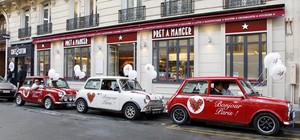 Are now open, just off the Champs Elysées, eat in or take away delicious natural sandwiches, wraps, salads, cookies, smoothies and cakes. Free Wi-Fi and always a smile. What's not to like?
Go to: Pret-A-Manger for the full story.
Pret,
19 rue Marbeuf, 8th
Metro: Franklin D Roosevelt
T: 01 58 12 04 17

Subscribe for
FREE

weekly newsletters.
BonjourParis has been a leading France travel and French lifestyle site since 1995.
Readers' Favorites: Top 100 Books, imports & more at our Amazon store
We update our daily selections, including the newest available with an Amazon.com pre-release discount of 30% or more. Find them by starting here at the back of the Travel section, then work backwards page by page in sections that interest you.
Current favorites, including bestselling Roger&Gallet unisex fragrance Extra Vieielle Jean-Marie Farina….please click on an image for details.
Click on this banner to link to Amazon.com & your purchases support our site….merci!