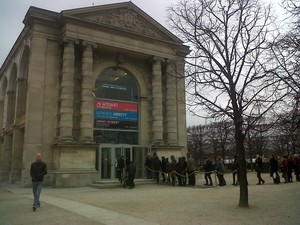 Due to its amazing location at number one Place de Concorde, the Jeu de Paume is a magnet for tourists. Meanwhile, its reputation for blockbuster exhibitions is also what gets locals lining up around the impressive building. Built by Napoléon III as a sports facility for the game 'jeu de paume,' translated as 'real tennis' in English, the court was converted into an exhibition space in 1909.
The gallery is currently hosting the first major solo exhibition of Ai Weiwei's work in France, presenting photographic and video art. The Chinese artist is hot property at the moment, with Art Review positioning him at the top of its 'Power 100' ranking last year. Ai's name entered the mainstream after his involvement in the design of the iconic 'Bird's Nest' stadium for the Beijing Olympic Games. Prior to that, he had been a well-known name in art circles for some time contributing to the biggest international art festivals since the late nineties. Over the past decade his fame has become stratospheric due to his regular run-ins with the state in his home country. These run-ins have included imprisonment, the shutting down of his blog, and ultimately, the destruction of his studio.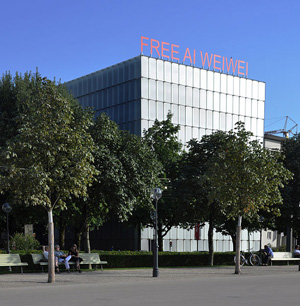 Ai was born to be an activist. A year after his birth, his father, an internationally acclaimed poet, was accused of having 'rightist' political beliefs and sent to a Chinese labour camp for several years. This fight against the political system in his home country has made him a lot of friends (and money) in the rest of the world. When he was detained for seven weeks last year by the Chinese Government for (among other offences) alleged tax evasion adding up at least 12 million yuan (US $1.85 million), an Internet appeal by a lawyer-friend reportedly collected over 1 million yuan from global supporters. Ai is still currently forbidden to leave China due to these charges.
Entrelacs or Interlace in English begins with images demonstrating the breakneck speed of change urban China is experiencing with the demolition of beautiful ancient buildings to make way for towering skyscrapers. Since 1949, all land in China has belonged to the state, which means nothing can get in the way of development. Ai Weiwei documents the effect it has had on the people who got in the way, thousands of people uprooted from their homes and re-located with little to no compensation. Videos in this section also show interviews with people who have suddenly lost their jobs or places at university for breaking laws they did not even know existed.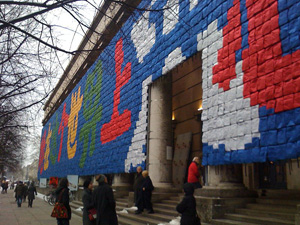 The Sichuan earthquake in 2008, which killed at least 69,000 people had a huge impact on Ai's work. The show includes the unsettling images that were the starting point for his 2009 installation, 'Remembering', in which Ai covered the front of Munich's Haus der Kunst with 9,000 children's backpacks spelling out the sentence in Chinese characters, "She lived happily for seven years in this world," a quote from the mother of one of thousands of children who lost their lives because of the natural disaster.
Before his blog was shut down in May 2009, Ai posted tens of thousands of photographs of everyday life in China sent from his mobile phone, some of which are shown in the exhibition on a rotating slideshow on flat-screen televisions. Reactionary written statements he made on his blog are also shown in the same format.
The exhibition is divided into two halves, the first shows his politically charged recent work and the second looks back to his ten years in New York for ten years from 1983. The first room lets the viewer appreciate him as a political activist while the second shows Ai as an artist. In his recent work Ai relies on digital photography as a way of putting his work on an international stage, quickly, whereas, at the start of his career in New York he used traditional camera film. The appearance of the medium shown as blown-up negatives and grainy black and white photos evoke nostalgia and provide a dramatic contrast to the colour-rich images in the first half of the show.
The shots of New York record the lives of outsiders, including a series documenting police arrests, protests and people sleeping rough. It also gives an insight into the bohemian lifestyle Ai led with a collective of Chinese artists who had moved to city to express and develop their creative spirit. One friend who is shown in several images is controversial performance artist Zhang Huan who uses his body as his canvas and is thought to be the inspiration behind Lady Gaga's infamous 'meat dress'. He was also a friend of American Beat poet Allen Ginsberg. Whilst in the United States, Ai even started to draw inspiration from Andy Warhol, Jasper Johns, and, most of all, Marcel Duchamp.
The Jeu de Paume's previous exhibition, a retrospective of work by Diane Arbus, had over 200,000 visitors and was pushed to extend opening hours to cope with the demand, but by the looks of the endless snaking queues the Ai Weiwei exhibition is pulling in; it won't have to do much more to compete.
So Sorry photo by Pittigrilli (Own work) [Public domain], via Wikimedia Commons
Free Ai Wei Wei photo by Andreas Praefcke (Own work) [CC-BY-3.0], via Wikimedia Commons