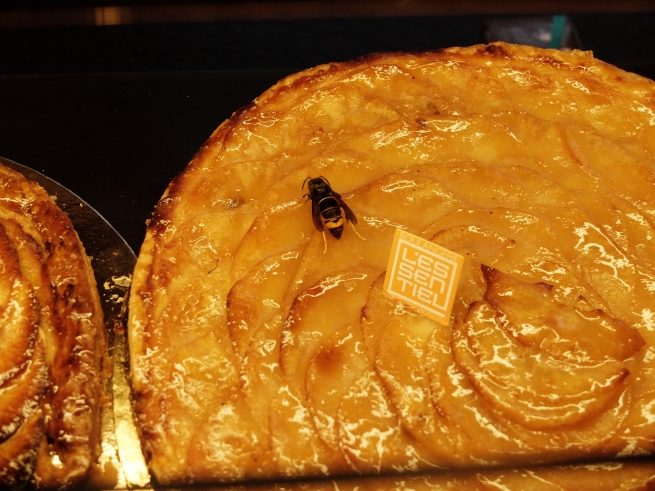 Judith Jones, writer, editor, foodie and Francophile, wrote, "I believe that some of us are genetically predisposed to love food, whereas others are not so blessed."
I am one of the blessed. Food drives my life, it motivates my day, it sends me regularly on pilgrimage to Paris, mecca for food lovers of the world. Fashionistas are just as driven.  They're passionate about Prada, they flaunt the latest Fendi and, when fashion dictates, they hobble happily on Jimmy Choo stiletto heels.
Foodies and fashionistas do have one thing in common: both our hungers are best fed in Paris. Mine never more than when I walk through the doors of La Grande Epicerie de Paris, the ultimate foodie destination in the City of Light. Sandra Gustafson, whose books are a roadmap to good eating abroad, says, "Close your eyes and think of a supermarket in heaven. Open them, and you will be in La Grande Epicerie de Paris."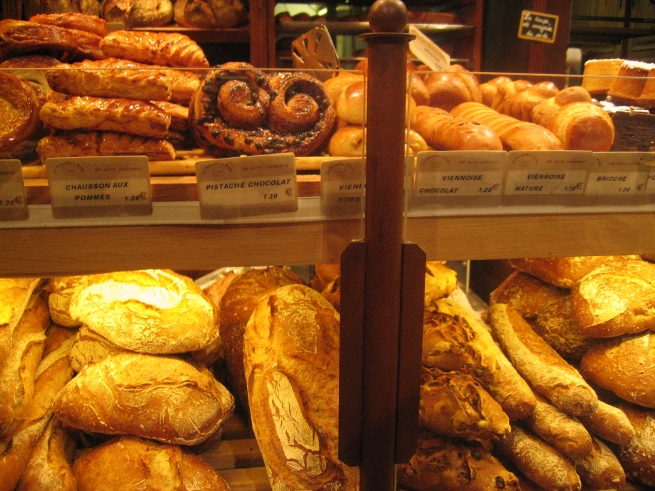 This vast, deluxe food court of Le Bon Marché, the venerable Left Bank department store, never fails to dazzle me with its amazing displays of all the foods France is famous for:  artisanal cheeses made with raw milk that intensifies their taste, charcuterie offerings of mosaic pates and lusty sausages in their floury skins, pyramids of pristine produce that only the most fearless of shoppers dare touch. And my personal dietary downfall, the boulangerie. Comfort food, for me, is bread and butter. Simple and sublime – when the bread is worth standing on line to buy and the butter is at its most unhealthy, not a single percentage of its fat reduced. It's worth the risk. In France, bread-baking is considered an art, and Parisians are discerning patrons. I never met a Parisian who wasn't ready to go to battle in defense of his favorite boulangerie, dismissing all others with characteristic French disdain.
Like the French, I too have a favorite boulangerie. There's no doubt in my mind, and in the writings of the Parisian gourmands who led me to him, that the breakfast pastries of Pierre Hermé have no equal. He's been awarded the Legion of Honor, and Vogue has anointed him "The Picasso of Pastry." How could a foodie be in Paris and not find her way to his door? Locals and tourists alike cross his hallowed threshold quietly, respectfully, almost as if entering church. Though genuflecting was not required, I would willingly have bent a knee in homage.
The glass cases display exquisitely decorated cakes and glazed fruit tarts, but we focused on what we had come for, the viennoiserie, morning pastries: the shop's signature breakfast offering, the Kouign-Amann, a Breton buttercake glazed with caramelized sugar; the Bostok, a flat disk of a brioche soaked in an almond and orange syrup and filled with almond cream; the Ispahan croissant, with rose-flavored almond cream. We thought we'd bought too many, but devoured them all, justifying our shameless indulgence by asking each other, "Who knows when we'll be here again?" We were there again the next morning. We secured two green metal chairs in a nearby park and devoured our feast, sending buttery crumbs and flakes cascading down our jackets, onto our laps, and down to the ground – where the luckiest, plumpest pigeons in Paris diligently cleaned up the mess.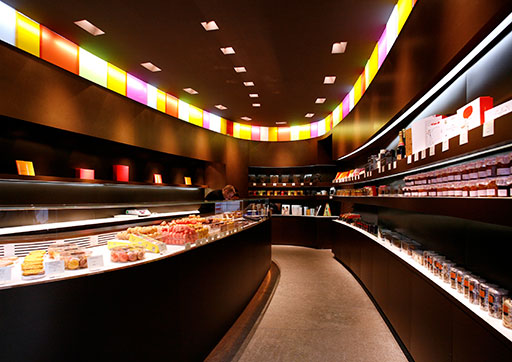 I always return to Le Bon Marché just before the flight home and fill a shopping bag with gifts for my friends and treats for myself. On the check-in line at the airport I stand proudly amidst the fashionistas with their glossy couture packages, a jaunty baguette leaning out of my bulging supermarket bag.
I don't know what started me on the path to seeking nirvana in food rather than fashion, but at some point in my life, I chose cuisine over couture and have never looked back. Maybe it was the sign I saw in a Paris boulangerie that read, "Bread is the warmest, kindest of words." It brought tears to my eyes then. It still does.