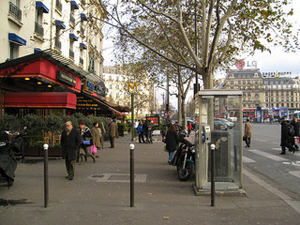 "Thirty euros a plate?" Jake and I were examining the menu in the window of La Closerie des Lilas. "Well, we found it; now let's find someplace we can afford."
We had made our way south from our flat near Montmartre to seek out the famous café which had long stood in another of the historic neighborhoods of Paris–Montparnasse. La Closerie des Lilas is representative of the Montparnasse of the 1920's and 1930's, when it was the world capital of art and intellectualism. It boasts a patronage that includes James Joyce, Ernest Hemingway, Zola, Cezzane, Miller, Wilde; they were all there, along with many other great names who had gathered in France to hone their craft.
As we were rather unfamiliar with the area, we began wandering at random keeping our eyes open for someplace that seemed reasonably priced. La Closerie des Lilas stands where the Boulevard Saint-Michel encounters the Boulevard du Montparnasse just south of the Luxembourg Gardens. The region is heavily populated with students and tourists who bustle about shopping and stopping in the cafes for the occasional drink. It is a rather pricey region, and the restaurants that lined the main boulevard were outside of our budget.
As Jake and I made our way up the road we passed by the Tour Montparnasse, one of only two skyscraper to mar the Paris skyline. The construction of the building, I had been told, was a topic of much contention. While it is a bit of an eyesore, I later found out that its roof is an excellent vantage from which to survey the city.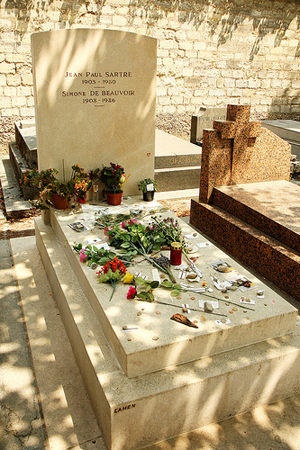 We turned south at this enormous protrusion and made our way to the Montparnasse Cemetery. The long walk had built a fierce hunger in both of us, but we decided to delay our restaurant hunt long enough to visit the graves of Baudelaire and Sartre. It is a lovely cemetery that rivals Pere Lachaise in its beauty and historic internment. During this particular visit, we only stopped off at the fore mentioned graves due to hunger. In addition to these, the cemetery houses Samuel Beckett, Serge Gainsbourg, Guy de Maupassant, and a host of other figures including Alice Prin, better known as Kiki–the Queen of Montparnasse. Kiki was a nightclub singer during Montparnasse's heyday, posing for a number of the time's greatest painters. A model Bohemian, she once famously said, "All I need is an onion, a bit of bread, and a bottle of red; and I will always find somebody to offer me that."
Eventually we exited the cemetery to the east, then resumed our search for sustenance. Everything we found on the more prominent streets was still out of our price range, so we elected to wander along the smaller back alleys.
At some point we came to a sign that stood in front of an open door through which we saw a narrow staircase. The sign said 'Hamburgers'. The only places I knew to offer hamburgers in Paris were junk food joints like McDonalds and Quick, and we immediately agreed to give it a try.
We climbed up the stairs and emerged into what appeared to be, and most likely was, a simple flat. It had all of the effects of home, but in the middle of the room stood three small tables complete with place settings and candles. The whole thing was rather strange and for a moment I considered backing out, but as soon as we entered the room we were engaged by a smiling elderly woman who took us by the arm and guided us to our seats.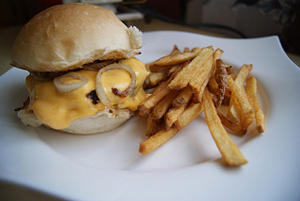 "Hamburgers?" she said and nodded. We smiled and nodded back.
After opening a bottle of red wine, which we did not order but did not reject, the woman went through a door that presumably led to a bedroom. After a few moments she returned with her husband, who wore a broad smile. "Hamburgers?" He asked.
"Yes, thank you."
He went to the sink and washed his hands, saying, "I visited California once and learned how to make hamburgers. They have great food in California."
"Better than Paris?" I asked.
He shrugged. "That depends on what you want to eat. For hamburgers, California."
The man went on to concoct what was indeed an excellent hamburger with frites on the side. The burger was thick and well seasoned, pouring over with onions and cheese. After satisfying our hunger we paid and bid our adieus, then went down the stairs and out onto the street.
I regret that I did not mark its location on a map. Later I would attempt to find the strange little restaurant, but searched the alleys of Montparnasse in vain. If you are in Paris and in need of a good burger, head to the left bank and keep your eyes open for the sign–"Hamburgers".
photo 1 by Chris Yunker [CC BY-SA 2.0], via Flickr
photo 2 by Andrea Schaffer [CC BY 2.0], via Flickr
photo 3 by Aneil Lutchman [CC BY-SA 2.0], via Flickr