Coffee in Paris: 4 Cafés We Love on the Left Bank
Strolling around the Left Bank and in need of a caffeine fix? Here's a list of four favorite cafés serving great specialty coffee along with a quintessential Parisian experience.
Once Ernest Hemingway's favorite café during his time in Paris, La Closerie des Lilas is one of the storied haunts —  along with Le Dôme, La Rotonde, Le Select, and La Coupole —  clustered along the Boulevard du Montparnasse. In the Roaring Twenties it was a reputed hub for artists and intellectuals and to this day, it's a good spot for people-watching. La Closerie des Lilas isn't just a café, it doubles as a gourmet restaurant, but as far as coffee goes, the price is low and the quality is high. Order up a post-lunch café (or a café crème — what's more classically French?) and follow in Hemingway's footsteps…
Address: 171 Boulevard du Montparnasse, 6th arrondissement
Tel: +33 (0)1 40 51 34 50
Hours: Everyday- 12-2:30 p.m., 7-10:15 p.m.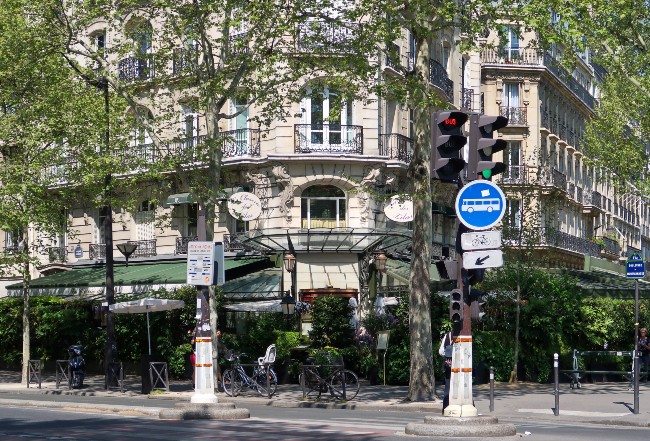 This tiny coffee shop and bakery in the heart of the Latin Quarter is a perfectly placed corner shop, made for watching the world go by. Inside the cozy space, enjoy specialty coffee made from beans produced by small, eco-friendly growers in Ethiopia, India and Brazil, then roasted in France. The menu also includes delicious desserts such as cakes, brownies, and french pastries with homemade whipped cream. If you're a fan of bigger espresso-based coffee drinks (especially the mocha), foam art, and a little bit of chocolate, this one is right for you.
Address: 24 Rue Monge, 5th arrondissement
Hours: Daily from 8 a.m. – 6:30 p.m. Weekends from
9:30 a.m.-6:30 p.m.
View this post on Instagram
This small cafe is a slice of modern Paris, from the Red Hot Chili Peppers playlist to the bright colors and elephant decorations. It's located within a few minutes' walk of the Panthéon, not far from the Saint-Étienne-du-Mont church. The well-priced brunch menu includes a terrific avocado toast. My coffee pick? The large latte adorned with some fancy latte art on top. On the menu you'll also find iced coffee drinks, a matcha latte, homemade iced tea, and herbal mint infusions.
Address: 3 Rue Valette, 5th arrondissement
Hours: Weekdays from 8 a.m.-6 p.m. Weekends from 9 a.m.- 6 p.m.
View this post on Instagram
An allongé à emporter at Dose
Situated on the historical Mouffetard market street, Dose is a popular micro-torréfacteur, or micro roaster, with a counter and café space serving coffees, fresh juices, and homemade pastries. (Dose also offers an online epicerie so you can order products to brew at home, and a second location in the Batignolles district.) Expect quality coffee and a warm welcome. Order an allongé à emporter (a to-go cup of regular coffee) to take with you as you stroll the famous cobbled street, or try a flat white and while away the day here.
Address: 73 rue Mouffetard, 5th arrondissement
Hours: Open from Tuesday- Sunday.
View this post on Instagram
Lead photo credit : Photo by Chevanon Photography from Pexels
More in Americano, Cafe, Cappucino, coffee, Latte, Mocha, paris coffee
---
---