Café Kitsuné, Dupin, Micho: Table Talk in Paris
"What would life be without coffee? But, then, what is life even with coffee?" -attributed to Louis XV
Coffee lovers! Café Kitsuné is expanding its Parisian empire, launching a hip n' happening new address, and coffee roasting space, on rue du Vertbois. In addition to addresses in the 1st arrondissement (Place André Malraux, Palais-Royal Gardens and rue de Rivoli), Kitsuné's new concept coffee shop is where you'll find aromatic fresh espresso, macchiato, Americano, dirty chai, cappuccino, flat white with freshly baked house pastries, juices and ice cream. And, why not purch the merch to match your coffee?
30 rue du Vertbois, 3rd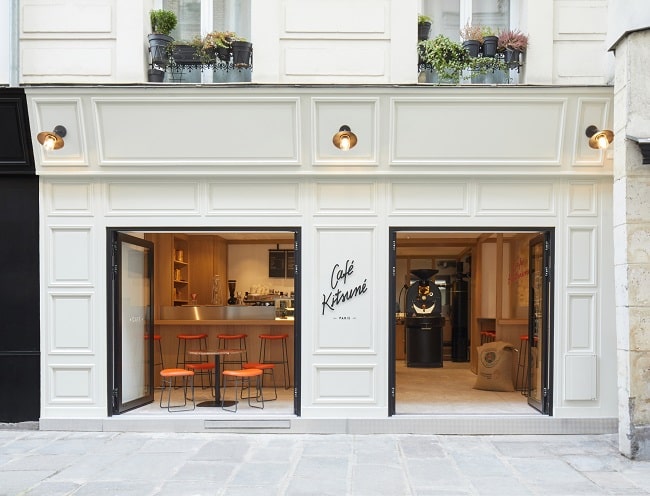 Located in a handsome Haussmannian building, separated into roughly three areas around a charming tree-lined courtyard, Le Patio Opéra usually serves its Corsican and Italian specialities dans le jardin year round. Owner Valerie Sass-Lovici tells us: "We're doing well but the pandemic situation is obviously not simple, nor pleasant. However, we are patient… I hope you are fine too!"
The good news? You can order from the take-out menu and enjoy Le Patio Opéra's dishes at home. Choose either "click & collect" or delivery by scooter. The menu changes every week, with a different main dish every day of the week (€19). Always seasonal, using the freshest products from our producers," Sass-Lovici explains. Match with delicious desserts, wine, prosecco, bubbles or soft drinks.
5, rue Meyerbeer, 9th
Metro: Opera
Tel: 01 40 98 00 92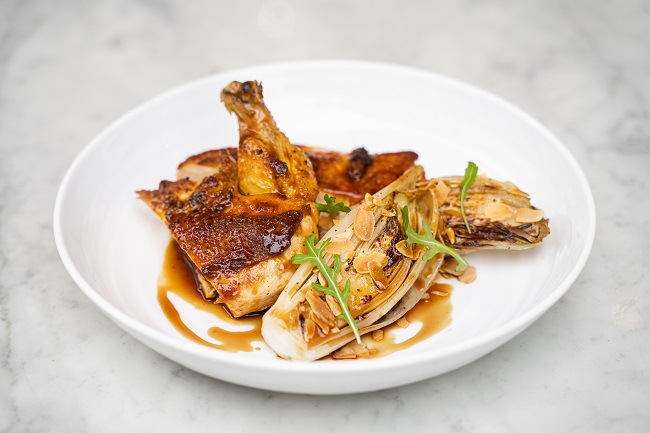 François Pasteau's former left bank L'Epi Dupin  is now in the eco-responsible hands of the hugely talented Nathan Helo, who cheffed at Le Four Seasons George V and chez Rostang at Dessirier. Helo's mission is "locavore," using a maximum of Ile-de-France products and natural wines. The chef values plants, avoids any waste, sources his meat from small farmers and sends out fabulous, sustainably sourced fish and seafood.
Reusable glass jars filled with, say, soupe de poisson, terrine, desserts (from €8)
Apero Box (€40)
Menu Dwich + Chips (€16)
Mac+Cheese (€12)
Order Click n'Collect or via Deliveroo
11, rue Dupin, 6th
Metro: Sevres Babylon
Tel: 01 42 22 64 56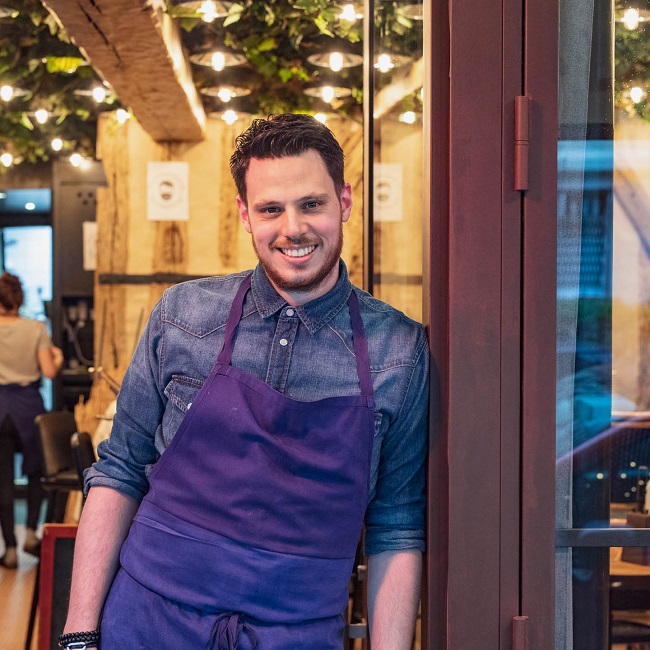 Micho by Julian Sebbag
"With the shuttering of restaurants, I need to continue feeding people," says Julian Sebbag. We've followed the woke and wacky Sebbag at Chez Oim, Créatures, and Tortuga, and now we're excited about – coming soon – "Forest" at the Museum of Modern Art, Paris.
Micho is "the ultimate sandwich making collab" between Sebbag and Babka Zana Bakery. "I'm crazy about Babka Zana, we've always wanted to work together; their breads are orgasmic!" Each Micho recipe has its own flavor of challah, the traditional Jewish plaited "brioche" bread.
Fillings include:
"Stew" (€15) soothing slow cooked beef/sweet potatoes/red cabbage/hazelnuts/parsley/paprika.
"Roast" (€15) Rosemary roasted chicken/fennel/radish, black garlic aioli/soft boiled egg/onion/chives and golden
"Cauliflower" (€12) red onion pickles /dill pesto/mint/pine kernals and Greek Yogurt.
Add sides (€6.50) of Butternut hummus / Labneh with a slice of halla, caramelised onion/cashew nuts.
Or paprika roasted potatoes (€5.50).
Finish on a sweet note – pear and chocolate "Crumble du Futur" or vanilla, pistachio Riz au Lait (€5.50)
Complete your Micho experience with ginger and/or jasmine kombucha (fermented tea, very healthy!) by Vivant  and natural wines such as Vin Nature Rouge 2019 VDP "Dur a Cuir" (€28) or a bright new beer – La Miche – made with leftover unsold artisan breads (€6.50)!
Take away at 1, rue de Port Mahon, 2nd
Or via Uber Eats from Tuesday-Saturday 12pm until 3pm and 6:30 pm – 9:30 pm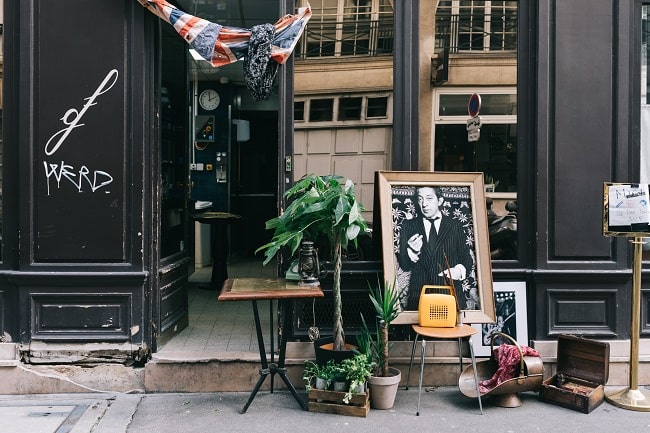 Taco Mesa by Beatriz Gonzalez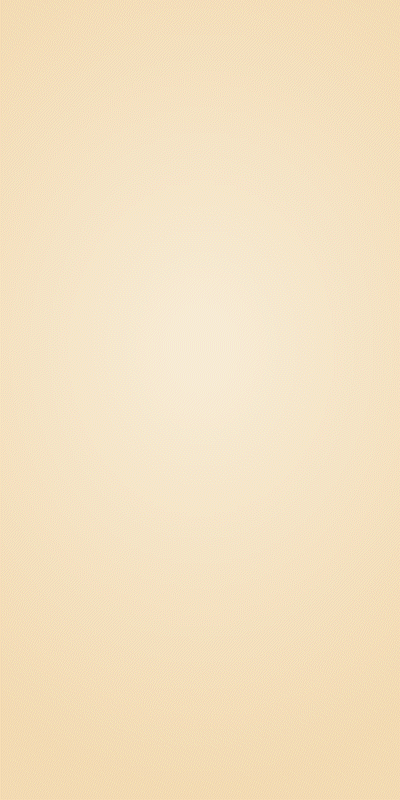 Coming from a family of restaurateurs, Beatriz G grew up in Mexico in the buzzing kitchens of restaurants owned by her parents. Arriving in France at the age of 18, she joined the class of 1999 at L'Institut Paul Bocuse, going on to La Belle Otero at the Hôtel Carlton, Cannes, then Lucas Carton with Alain Senderens and La Grande Cascade in Paris. In 2011, Beatriz and Matthieu Marcant, her husband, opened Neva Cuisine in the 8th. Building on their success, they launched Coretta in the 17th. And now with confinement and curfew, enjoy Taco Mesa, where the attitude is "Street Food." The recipes are colorful, comforting, and tasty. Vamos to rue Cardinet to pick up:
l real guacamole (€8.90)
Sea bream ceviche and leche de tigre (€9.90)
Totopos y salsa (corn tortilla cut into a triangle and fried) (€8.90)
Tacos cochinita pibil (pork cooked at low temperature) (€14.90)
Portobello al pastor tacos (mushroom, grilled pineapple) (€14.90)
Baba au Mezcal, whipped cream with tarragon (€5.50)
Collect at 15b rue Cardinet, 17th
Tel: 06 31 14 04 89
Metro: Brochant
Or order via the Uber Eats app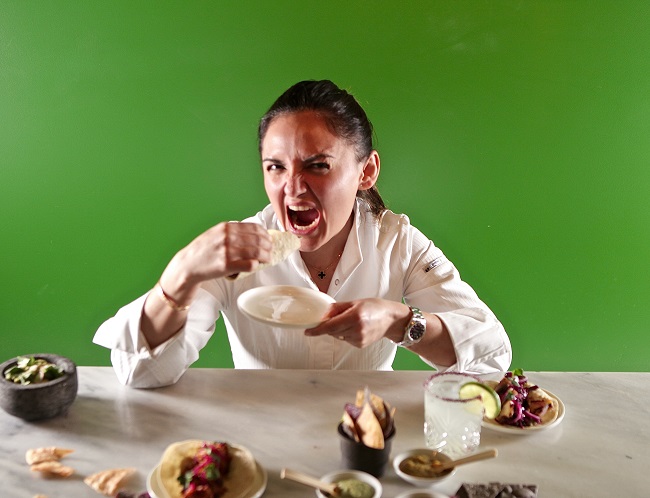 Are you gaga about babas? We are! Here's Philippe Conticini's showstopping, non-alcoholic spin on the classic baba au rhum: The famous pastry chef has come up with a brand new delight called the Baba Misu. Like a tiramisu, the baba's soaked in coffee syrup and Arabica coffee cream comes topped with lashings of delicious whipped mascarpone (€7.20). Available only in individual format at Maison Philippe Conticini boutiques in Paris:
42 Rue de l'Annonciation, 16th
31 Rue Notre-Dame de Nazareth, 3rd
37 Rue de Varenne, 7th
35 Boulevard Haussmann, 9th
Pick up in store or delivery in Paris / nearby suburbs.
In the news: The national treasure that is the crusty French baguette (we always bite the end off as we leave the boulangerie) competes with Paris's iconic rooftops for France's nomination for UNESCO heritage status. Rumor has it President Macron backs the baguette! However, fans of romantic Paris rooftops showcased in paintings by the likes of Cezanne and Van Gogh – and many movies – debate that UNESCO recognition will inspire a new, and much needed, generation of "couvreurs zingueurs" (artisan rooftop workers).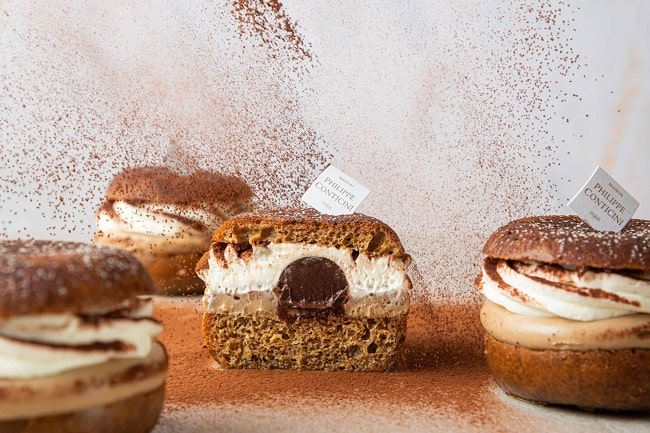 With a new look by Snarkitecture, the former hotel on the Golden Triangle is now a must-visit flagship concept store by lifestyle brand marketing maven Ronnie Fieg. They say: "This store will offer our Kith lines for men, women and children, in addition to multi-brand clothing, shoes and accessories."
It also includes a Kith Treats bar, as well as Sadelle's restaurant created with Major Food Group. Kith Paris opened its doors on Friday, February 26th. To quote the Instagram page: "To ensure the safety and wellbeing of our new Parisian community, we will open by appointment only for the moment. Therefore, we will not allow walk-in customers or unscheduled appointments. To participate in the draw for an appointment, visit the link in our bio."
49 rue Pierre Charron, 8th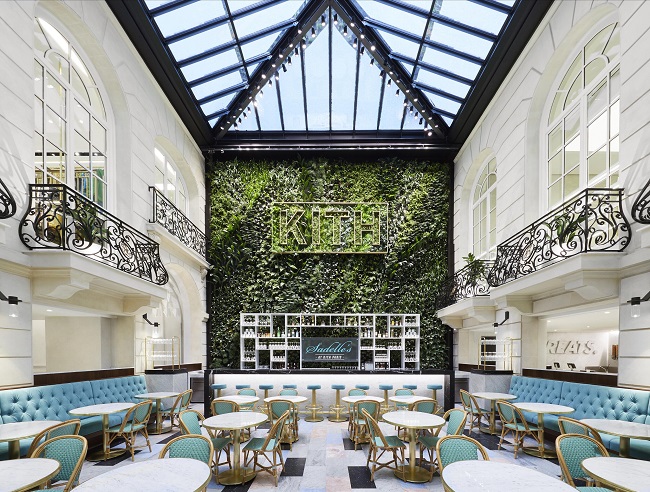 Diary Date: The Jour du Macaron
Saturday March 20th, 2021 is Macaron Day, a sublime springtime celebration of sweetness and indulgence, and the perfect opportunity to give something back. This year's edition is the concept of photographer Stéphane de Bourgies, President of Zazakely Sambatra, Pierre Hermé, the macaron master and artisan chocolate maker, and Vincent Guerlais (President of Relais Desserts), helping Madagascar's children in need. All proceeds from sales (from €9 each) go to the Zazakely Sambatra Association.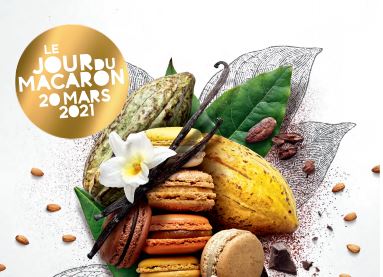 Want to be inspired by more French foodie experiences and enjoy classic French food, wine and recipes? Head to our sister website, Taste of France, here.
Lead photo credit : Café Kitsuné Photo credit © Café Kitsuné
More in Dessert, Drink, Eat, gastronomy, Mains, Takeaway
---
---