BUZZ: Lasserre, Dominique Bouchet & Cantine California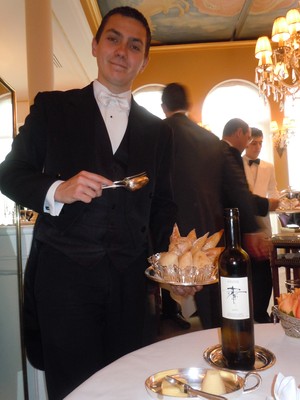 Morilles et asperges blanches au Château Chalon, Macaroni, truffe noire et foie gras de canard, Canette de la Dombes rôtie, Pigeon André Malraux and Crepes Suzette, are the classic dishes of Lasserre, a historic restaurant that could not exist in any other part of the world.
The legendary house is about to celebrate 70 years since René Lasserre acquired a small bistro at 17 avenue Franklin Roosevelt. Ladies are still given a tiny porcelain casserole, a souvenir of their visit to the restaurant with the awesome opening roof (decorated with paintings by Touchargues) the superb attentions of the equipe and the melt in the mouth cuisine.
Lasserre won its first Michelin star in 1949, when its owner was 36. René Lasserre won his third Michelin star in 1962 and lost it, for good, in 1984. He shrugged that off, referring to his talented protégés who also won three stars, among them Gérard Boyer, Guy Savoy, Jacques Lameloise and Marc Haeberlin.
Chef Christophe Moret says: "To-day we've made everything lighter, the focus is very much on crunchy organic vegetables delivered by my secret suppliers. There are variations on themes of the season's finest produce such as, Asparagus vertes et pourpres, served warm, with a light hollandaise truffée; Brittany prawns bathed in ginger-lime flavoured broth; and a crunchy crown of turnips, pumpkin, salsify, parsnip, chicory, Moret suggests you try Légumes de nos maraichers croquants, emulsion vert-tendre paired with a witty Arvine Swiss wine from Martigny-Bourg by vigneron-eleveur Christophe Abbet (18€ by the glass).
Mains include Grenadin de veau du Limousin en papillote excellent with the aromatic Vin de Pays Languedoc Domaine de la Terrasse d'Elise Le Pigeonnier (55€). Bar de ligne cuit à plat, pousse d'epnards truffés and Homard de nos côtes, petit pois à la franҫais, sucs savoureux.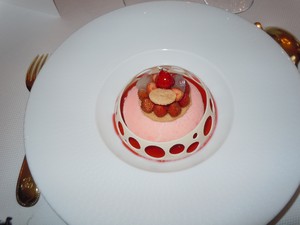 Talented pastry chef Claire Heitzler plays with the classics as in her spin on Mousse lègere au champagne rosé, litchi, longan (similar to litchis) et fraises des bois, surrounded with a crown of white chocolate. Claire pairs this with Muscat de Rivesaltes, Grand Guilhem. "Champagne's too obvious n'est pas?"
Talk to the suave and wine-savvy Antoine Pétrus, Restaurant Director and Chef Sommelier (he was Chef Sommelier from 2004-2006 departed for a passage at Le Crillon, but is back home now). Director General Guillaume Crampon says, "We're very serious about guarding the patrimoine of this elegant mansion, it is evolving to the music of time". (Don't forget the pianist at night!)
From November "Les Classiques Lasserre" will celebrate the 70th anniversary as part of a special menu, an hommage. Expect plump Sole Grand Palais, truffled quenelles, crayfish and spinach, as well as the epic Pigeon Andrè Malraux. And, if restaurant is theatre, who will deny Ms. Heitzler's spin on Crêpes Suzette, flamed at table, a starring role. Can't wait!
René Lasserre passed on to that great restaurant in the sky at the ripe old age of 93, in 2006, his legacy continues.
Happy Birthday Lasserre! Happy Birthday to you! See you there.

Lasserre,
17 Avenue Franklin Roosevelt, 8th
Metro: Champs Elysées Clemenceau,
T: 01 45 63 72 23
Open Lunch Thursday-Friday – Dinner Mon-Sat
Lunch Menu 80€ – Dinner 135/250€
Shut August – Valet Parking
Book early for Tous Au Restaurant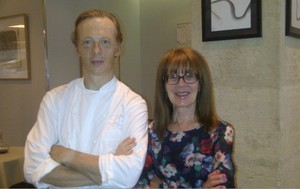 Alert readers will remember that chef Dominique Bouchet is a BUZZ favourite, we've followed his delicious parcours from training with Robuchon, at La Tour d'Argent (where he won 3-Michelin stars and, in 1983, launched La Tour d'Argent, Tokyo) via Le Hotel de Crillon and on to his eponymous DB, in the 8th. And, he received the Légion d'Honneur from Paul Bocuse, in a moving ceremony, for his 50th birthday.
Since launching his own addy DB's added severel other little bits on the side including Little B his take on a posh canteen, with designer trays and market-fresh food.
As Bouchet slaloms from one addy to the other he's hi-jacked by the bold and the beautiful of the tony 8th. "Bonjour chef", they shout from the Porsche they're trying to park, alighting from taxis and limos. "C'est quoi le plat du jour?" "Venez voir", he yells back. And they do, by the dozen.
Sharing the whites with DB is the seriously dedicated and talented Jean-Luc Le Franҫois (ex-Bristol, Ritz, Astor, Relais Louis X111, Prunier, Cafe Moderne and Chef Adjoint to Bouchet au Crillon for six years). "Im launching a restaurant in Tokyo in 2013, as well as building a house there with Yurioko my wife", says Bouchet. "So to have Jean-Luc here means that I can travel tranquilly".
Director of the salle and Chef Sommelier Michel le Meur arrives at DB with a great pedigree from Hiramatsu, La Maison Blanche, Faucher, Le Fouquet's and Relais Louis X111. He'll recommend not only a fine champagne en apéritif, but also sakis. He's got a nice little Bordeaux (red) Little B 2008 Medoc at 40€ and a white Domaine de Grandmaison 2010 Pessac Leognan (56€).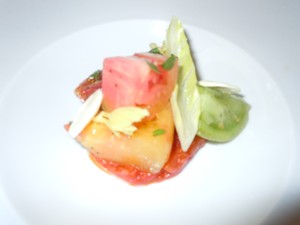 From 5 starters choose Potatoes fondantes, homard étuvee au caviar franҫais, emulsion de jus de carapace or the extraordinary Asperges vertes rôties, oeuf en coque de pain de mie, foie gras poêle, jus brun au jus de morilles (see photo). Rumour has it that DB got the Légion d'Honneur for his Gigot d'agneau de sept heures à la cuillère aux féves de cacao, pomme purée. Or try Gros macaronis de homard sur purée de champignons – coulis de carapace. Cheese from La Fromagerie de Violaine and what better than to finish with a Soufflé chaud au Grand Marnier, pétales de violettes cristallisées.
Great atmosphere, and, as clients leave it's raining. Bouchet's majordome elegantly hands out white umbrellas, and they're only heading for the limo! That's what you call style darling, n'est pas?

Dominique Bouchet,
11 rue Treilhard, 8th
Metro: Miromesnil
Shut: Sat-Sun
Lunch 46€-60€ Dinner 85-120€ 1 starter 18€ – 1 main 28€
7-course Menu Découverte 98€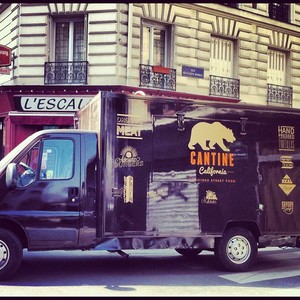 From 26-30th June Jordan Feilders' Food Truck, Cantine California is cooking Nordic"street-food".  Tartare à la Californienne" bio-salade mesclun, brunoise d'avocat, coriandre, et citron verte pressé or filet de saumon de Norvège grillé sur pierre de lave à l'unilaterale, petit légumes grillés à la plancha, réduction soja et gingembre. Each formula (from 11€) includes juice and…..a cupcake!

Subscribe for
FREE

weekly newsletters.
BonjourParis has been a leading France travel and French lifestyle site since 1995.
Readers' Favorites: Top 100 Books, imports & more at our Amazon store
We update our daily selections, including the newest available with an Amazon.com pre-release discount of 30% or more. Find them by starting here at the back of the Travel section, then work backwards page by page in sections that interest you.
Current favorites, including bestselling Roger&Gallet unisex fragrance Extra Vieielle Jean-Marie Farina….please click on an image for details.
Click on this banner to link to Amazon.com & your purchases support our site….merci!
Leave a reply
Your email address will not be published. Required fields are marked *