Artemisia Gentileschi at the Musée Maillol, until 15 July
Visit the Musée Maillol before 15 July and you'll discover one of the most inspiring stories in the history of art. A female painter, commissioned, championed, celebrated and successful…in early 17 century Italy. Gorgeously lit, Gentileschi's canvases are dramatic, powerful masterpieces in which we can see the artist's wit, strength and pride. This exhibition is a wonderful exploration into a seemingly impossible success story, and the triumph of one woman over the social and professional constraints of her time. The Spirit of Cesar in the Body of a Woman Artemisia's father was a successful and much admired painter, Orazio Gentileschi. Orazio trained Artemisia himself in his studio alongside her brothers; already we find ourselves in an unusual set of circumstances for a young post-Renaissance woman. It seems Orazio was no ordinary father; recognising Artemisia's talent he nurtured it to an unusually dedicated degree.  Rejected by the art academies of Rome (and displaying conviction and determination in the attempt) Artemisia continued training under the private tutelage of one of her father's close associates, Agostino Tassi. What followed has made Artemisia and her work a fascinating subject for study and speculation: at the age of 17 Artemisia was raped by Tassi and, believing they would be married, continued a sexual relationship with the artist for nine months. Tassi was in fact married at the time, and when Orazio discovered the relationship he took the unusual decision (once again!) to raise a direct claim against Tassi, writing to the Pope himself to more strongly lay the charges at Tassi's door. Artemisia was consequently subject to a lengthy process of public and private scrutiny, medical examination and brutal questioning which may have even involved torture. Tassi was found guilty and sentenced to a year's exile which he was never made to serve…all hail the 17th century justice system. However, exile or no, the Gentileschi honour was restored by their triumph over Tassi. A Woman's Champion This extraordinary and harrowing episode in Artemisia's life undoubtedly affected the treatment of her subjects and indeed, drew her again and again to particular themes. Canvases depicting female subjects of biblical, historic or mythological significance abound in her work, with Cleopatra, Judith and Mary Magdalene recurring again and again. But it is not only in the subjects themselves that we see Gentileschi's affinity for prominent women; her renderings of the subjects are full of strength, vitality, awe-inspiring. perspective, dramatic lighting and bold, powerful bodies. One of her self portraits, which you will see in the exhibition, depicts Artemisia painting her own portrait. Incredibly, the face she paints is that of a man. Fascinating in its implications this manifesto of character and conviction echoes a wonderful quote from Gentileschi herself, "You will find I have the spirit of Caesar in the body of a woman." Here is a woman who refuses to be bound by convention, who boldly meets the gaze of the onlooker and proclaims her equality. The Art of Revenge One of Artemisia's favoured subjects is particularly suggestive of catharsis and righteous retribution and has caught the attention ofacademics a hundred times over. The story of Judith and Holofernes is one of female cunning and male weakness, in which the women triumph and the man destroyed. Holofernes was an invading general who laid siege to Bethulia, Judith's home. Dressing in her finest clothes Judith and a servant stole out to the enemy camp. Holofernes, enraptured by Judith, but perhaps a little overzealous with the vin rouge, drank until he fell asleep. Judith took this opportunity to cut off Holofernes' head and carry it triumphantly to Bethulia in a basket. Gentileschi returns to this subject again and again. Judith is capable, strong, utterly unperturbed by her brave and brutal mission, and the blood and gore doesn't bother her a jot. In Gentileschi's most famous rendering the beheading itself is depicted (a rare moment to capture), and Gentileschi does not shy away from the gory details. On the contrary, Judith seems to be almost relishing the task. The women's arms are strong and brightly lit against a shadowy background, sleeves are rolled up, faces are grim with determination. Holofernes is awake and struggling vainly, clutching a fistful of the servant's dress in one huge hand – she seems hardly to notice but pins the man down with all her weight, and without compassion. The depiction is breathtakingly stark andbeautiful, and it is impossible to ignore Gentileschi's personal history when faced with such uncompromising female revenge.  Compared with Caravaggio's version, in which Judith seems to gracefully recoil from the unpleasant task at hand, a frown of distaste wrinkling her pale, delicate forehead, Gentileschi's rendering is a tour de force. Above: Gentileschi's Judith & Holofernes, beheading. Left: Caravaggio's Judith and Holofernes               Later career Artemisia's career went from strength to strength as she grew in fame and fortune, acquiring commissions from Cosimo II Medici and Philip IV Spain alongside other prominent figures in Europe. High born women flocked to her studio to have their portraits painted by a female artist. As a woman her success was unprecedented, and she was the first female to be accepted into the Accademia di Arte del Disegno in Florence. Listen and Learn The audio tour for the exhibition is fantastic, and at €5 is well worth it. The text accompanying the exhibition is only in French so do be aware that without the audio guide you'll have only the canvases themselves to work from. I strongly recommend the audio guide as a brilliant companion to the tour. The guide gives Artemisia's work the context and added complexity which makes it so captivating. Recap!Artemisia Gentileschi – now on until the 15 July
Musée Malliol
Tickets can be pre-booked on the website, although I went during the week in the afternoon…
SUBSCRIBE
ALREADY SUBSCRIBED?
BECOME A BONJOUR PARIS MEMBER

Gain full access to our collection of over 5,000 articles and bring the City of Light into your life. Just 60 USD per year.

Find out why you should become a member here.

Sign in

Fill in your credentials below.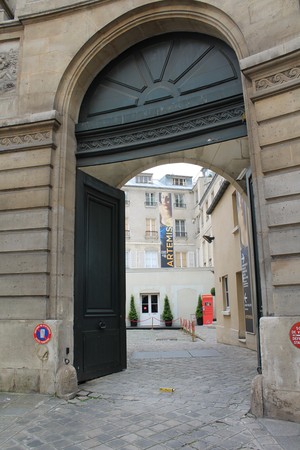 Visit the Musée Maillol before 15 July and you'll discover one of the most inspiring stories in the history of art. A female painter, commissioned, championed, celebrated and successful…in early 17 century Italy. Gorgeously lit, Gentileschi's canvases are dramatic, powerful masterpieces in which we can see the artist's wit, strength and pride. This exhibition is a wonderful exploration into a seemingly impossible success story, and the triumph of one woman over the social and professional constraints of her time.
The Spirit of Cesar in the Body of a Woman
Artemisia's father was a successful and much admired painter, Orazio Gentileschi. Orazio trained Artemisia himself in his studio alongside her brothers; already we find ourselves in an unusual set of circumstances for a young post-Renaissance woman. It seems Orazio was no ordinary father; recognising Artemisia's talent he nurtured it to an unusually dedicated degree.  Rejected by the art academies of Rome (and displaying conviction and determination in the attempt) Artemisia continued training under the private tutelage of one of her father's close associates, Agostino Tassi.
What followed has made Artemisia and her work a fascinating subject for study and speculation: at the age of 17 Artemisia was raped by Tassi and, believing they would be married, continued a sexual relationship with the artist for nine months. Tassi was in fact married at the time, and when Orazio discovered the relationship he took the unusual decision (once again!) to raise a direct claim against Tassi, writing to the Pope himself to more strongly lay the charges at Tassi's door. Artemisia was consequently subject to a lengthy process of public and private scrutiny, medical examination and brutal questioning which may have even involved torture. Tassi was found guilty and sentenced to a year's exile which he was never made to serve…all hail the 17th century justice system. However, exile or no, the Gentileschi honour was restored by their triumph over Tassi.
A Woman's Champion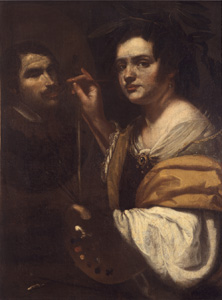 This extraordinary and harrowing episode in Artemisia's life undoubtedly affected the treatment of her subjects and indeed, drew her again and again to particular themes. Canvases depicting female subjects of biblical, historic or mythological significance abound in her work, with Cleopatra, Judith and Mary Magdalene recurring again and again. But it is not only in the subjects themselves that we see Gentileschi's affinity for prominent women; her renderings of the subjects are full of strength, vitality, awe-inspiring.
perspective, dramatic lighting and bold, powerful bodies. One of her self portraits, which you will see in the exhibition, depicts Artemisia painting her own portrait. Incredibly, the face she paints is that of a man. Fascinating in its implications this manifesto of character and conviction echoes a wonderful quote from Gentileschi herself, "You will find I have the spirit of Caesar in the body of a woman." Here is a woman who refuses to be bound by convention, who boldly meets the gaze of the onlooker and proclaims her equality.
The Art of Revenge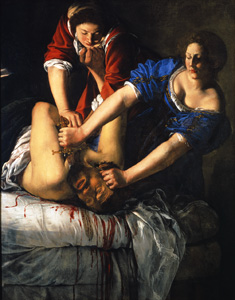 One of Artemisia's favoured subjects is particularly suggestive of catharsis and righteous retribution and has caught the attention ofacademics a hundred times over. The story of Judith and Holofernes is one of female cunning and male weakness, in which the women triumph and the man destroyed. Holofernes was an invading general who laid siege to Bethulia, Judith's home. Dressing in her finest clothes Judith and a servant stole out to the enemy camp. Holofernes, enraptured by Judith, but perhaps a little overzealous with the vin rouge, drank until he fell asleep. Judith took this opportunity to cut off Holofernes' head and carry it triumphantly to Bethulia in a basket.
Gentileschi returns to this subject again and again. Judith is capable, strong, utterly unperturbed by her brave and brutal mission, and the blood and gore doesn't bother her a jot. In Gentileschi's most famous rendering the beheading itself is depicted (a rare moment to capture), and Gentileschi does not shy away from the gory details. On the contrary, Judith seems to be almost relishing the task. The women's arms are strong and brightly lit against a shadowy background, sleeves are rolled up, faces are grim with determination. Holofernes is awake and struggling vainly, clutching a fistful of the servant's dress in one huge hand – she seems hardly to notice but pins the man down with all her weight, and without compassion. The depiction is breathtakingly stark andbeautiful, and it is impossible to ignore Gentileschi's personal history when faced with such uncompromising female revenge.  Compared with Caravaggio's version, in which Judith seems to gracefully recoil from the unpleasant task at hand, a frown of distaste wrinkling her pale, delicate forehead, Gentileschi's rendering is a tour de force.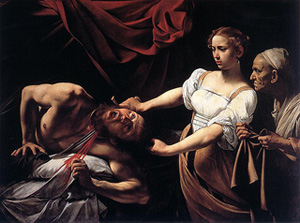 Above: Gentileschi's Judith & Holofernes, beheading.
Left: Caravaggio's Judith and Holofernes
Later career
Artemisia's career went from strength to strength as she grew in fame and fortune, acquiring commissions from Cosimo II Medici and Philip IV Spain alongside other prominent figures in Europe. High born women flocked to her studio to have their portraits painted by a female artist. As a woman her success was unprecedented, and she was the first female to be accepted into the Accademia di Arte del Disegno in Florence.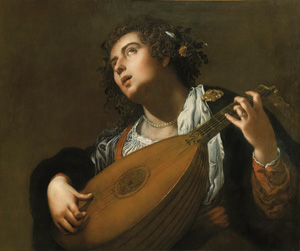 Listen and Learn
The audio tour for the exhibition is fantastic, and at €5 is well worth it. The text accompanying the exhibition is only in French so do be aware that without the audio guide you'll have only the canvases themselves to work from. I strongly recommend the audio guide as a brilliant companion to the tour. The guide gives Artemisia's work the context and added complexity which makes it so captivating.
Recap!
Artemisia Gentileschi – now on until the 15 July
Musée Malliol
Tickets can be pre-booked on the website, although I went during the week in the afternoon and bought my ticket on the door.
61 Rue de Grenelle  75007 Paris
Metro: Rue de Bac
2. Artemisia Gentileschi, Allégorie de la Peinture © Soprintendenza Speciale per il Patrimonio Storico, Artistico ed Etnoantropologico e per il Polo Museale della città di Roma
3. Artemisia Gentileschi, Judith et Holopherne © Fototeca Soprintendenza per il PSAE e per il Polo museale della città di Napoli
4. © Caravaggio – Judith Beheading Holofernes (1599) [CC BY 2.0], via Wikimedia Commons
5. Artemisia Gentileschi, Joueuse de luth © ArteFotografica, Roma

Subscribe for
FREE

weekly newsletters.
BonjourParis has been a leading France travel and French lifestyle site since 1995.
Readers' Favorites: Top 100 Books, imports & more at our Amazon store
We update our daily selections, including the newest available with an Amazon.com pre-release discount of 30% or more. Find them by starting here at the back of the Travel section, then work backwards page by page in sections that interest you.
Current favorites, including bestselling Roger&Gallet unisex fragrance Extra Vieielle Jean-Marie Farina….please click on an image for details.
Click on this banner to link to Amazon.com & your purchases support our site….merci!
More in Museum, Paris art museums, Paris museums
---
---