French Art in Baltimore & Beyond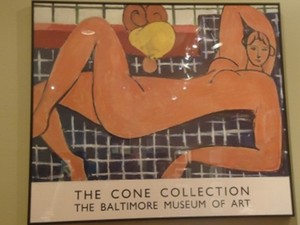 *There were two of them and they were both women and they *
*were sisters. They both went on living…*
*They were certainly very different, very different*
*TWO WOMEN BY GERTRUDE STEIN*
It's one of those quirks of fate that two Jewish, maiden ladies from Baltimore via Jonesborough, Tennessee, should travel to France and begin collecting paintings by some of the most famous artists of their age, such as Cézanne, Picasso, Renoir, Delacroix, Gauguin, Courbet, Pissarro and Matisse. Dr. Claribel and her sister Etta came from a German family that changed their family name from Kahn.
These were little known artists at that time and between the Steins and the Cone sisters, great art found its way to America. Now, the Baltimore Museum has a unique display of greatness. It consists of Art, fabric, sculpture and woodcuts.
Matisse said "when I started to paint, I felt transported into a kind of paradise."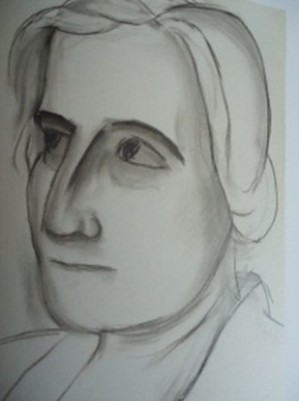 For Gertrude and Michael Stein this was what happened when they collected the great masters. Doctor Claribel and Etta Cone were no different. They would go to the Bateau Lavoire, where Picasso lived, and leave with arms filled with sketches. Through them, Matisse became famous in America.
Gertrude and Etta had a close relationship. The sister of a Claribel had no special training but she did type Gertrude's manuscripts. But this ended when Gertrude met Alice Toklas.  Jealousy drove Gertrude and Etta apart.
But while the pictures were cheap, the figures add up. The question is; where did the money come from?
The sisters were supported by their father and brothers who were in the textile business.  Mostly, they supplied denim to Levi Strauss for his manufacture of the popular blue jeans. They lived well and spent most of their time collecting French Art (painting and sculpture) which was, as I said, given to the Baltimore Museum. That collection has gone on tour and is here in Vancouver for the summer.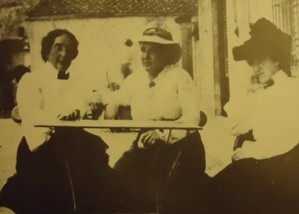 There are many interesting facts about these unusual sisters. Claribel, who graduated first in her class, spent much of WW 1 and since she considered herself a 'neutral' in Munich Germany, she attended concerts, museums, auctions, and lectures. She was reunited with her sister after the war ended.
In the years up to 1929, she purchased a Cézanne painting of Mont Ste. Victoire, Van Gogh's Pair of Boots in 1926 and countless other works of Art. But on that fateful day of September 20th in 1929, after buying Gustave Courbet's, The Shaded Stream at Le Puits Noir, Dr. Claribel Cone died. She left everything to her sister.
Etta was now alone but she did have a big family which certainly helped. Since Gertrude had first introduced her to Matisse back in 1906 she was hooked, mainly after she saw Gertrude's purchase of Matisse's Woman with a Hat. She said she was taken with his special brush strokes.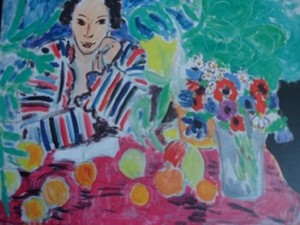 She went on collecting until the end which came in 1949. She left everything to the Baltimore Museum which built the Cone Wing, funded by Etta's $400,000 bequest.
Matisse kept a portrait of Etta in his apartment. His fame was established. He died in France in 1954, three years before the Baltimore Cone Wing was opened.
Picasso died in 1973.
Their legacy lives on and the fact that the collection is on tour brings great art to the eyes and hearts of millions in Europe, Canada and America.
The exhibition in downtown Vancouver will continue through August.
Note: Some pictures from exposition Gertrude Stein, Marc Dachy 1997. Others are from Collecting Matisse and Modern
Masters by Karen Levitow (Yale University Press)

Subscribe for
FREE

weekly newsletters.
BonjourParis has been a leading France travel and French lifestyle site since 1995.
Readers' Favorites: Top 100 Books, imports & more at our Amazon store
We update our daily selections, including the newest available with an Amazon.com pre-release discount of 30% or more. Find them by starting here at the back of the Travel section, then work backwards page by page in sections that interest you.
Current favorites, including bestselling Roger&Gallet unisex fragrance Extra Vieielle Jean-Marie Farina….please click on an image for details.
Click on this banner to link to Amazon.com & your purchases support our site….merci!
Leave a reply
Your email address will not be published. Required fields are marked *