Photography Exhibition: Gare du Nord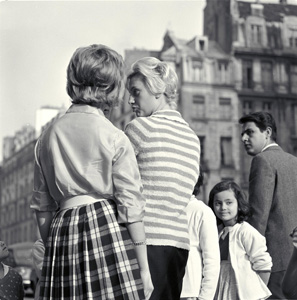 A few blocks away from the metal barriers that rope in the crowds of tourists that conjugate outside Musée D'Orsay, sits the Netherlands Institute on a quiet spot on the Rue de Lille. The site, dedicated to the works of Dutch writers, artists, and photographers, is a wonderful way to spend an hour or two taking in Parisian culture from the eyes of those who moved here to find out just what that phrase really means. The artists achieved this by arriving at Gare du Nord, which until July 29, serves as a photo exhibition at the Institute by the same name. The airy, white gallery provides the visitor with both plenty of comfort and the feeling of time, as it is still a secret to tourists–and many Parisians themselves. Gare du Nord highlights more than 50 photographers who came to Paris in search of inspiration dating from the 1920's to 1960's. The Dutch artists sought to capture a way of life that they saw as being lived more intensely, and through numerous photographs ranging from anonymous life on the street to celebrities portraits, they accomplish just that in this exhibition. The show begins with a series of photos from Francis Kramer whose black and white shots from 1925 feature the somewhat cliché version of Paris street life, with artists painting along the Seine and travelers waiting at Gare du Nord itself. While the more real life tasks of a woman from 1929 doing laundry in the river as her children and dogs splash underneath her feet, is captured by Fons Hellebrekers. The diversity of the Latin Quarter during the 1930's, as well as a toll booth situated outside Place d'Italie from 1935, opens the visitor's eyes to just how much the city has changed, and continues to do so. Photographer Johan van der Keuken arrived in Paris from Holland in 1956 during both France's conflict with Algeria and the ascension of Charles de Gaulle to the presidency. His series titled "Paris Mortel" aims to reflect how the everyday lives of Parisians coincided with these changes. With shots of well-groomed and mustached young men in cafes and women dancing in the streets together in their bobby skirts on Bastille Day, it is clear that life in Paris, as it always has, continues to thrive on a personal level, despite outside political or economic circumstances. The exhibition continues with a portrait of a stern Orson Wells seemingly consuming an entire Parisian street, set next to a very young Brigitte Bardot, who is beautiful shot practicing ballet next to an accompanying wooden bar. Serge Gainsbourg's early muse and singer Juliette Gréco is captured on the street in 1948 in a dignified pose, shoulders held back as her dark hair tries to make its way down the front of her fitting black dress. A series of photos depicting the former markets of Les Halles will make visitors reminiscent of the work of Robert Doisneau, who spent most of his career documenting the hustle and bustle of the marketplace and whose exhibition at the Hotel de Ville this year, kept visitors waiting outside for more than an hour in the cold of February to get a glimpse amongst the crowds. Within the Netherlands Institute, there are no lines and visitors can take their time looking over every detail of the shots from Les Halles, including a photograph of a man-made shack where workers sat on a wooden bench and laid their heads down on an accompanying table for a brief nap. The hard labor that went into the market each day is captured as well by Paul Schuitema's 1939 14-minute film, "Les Halle's de Paris." Accompanied by a frantic orchestral piece that complements the physical energy of the old Les Halles, the short film provides a close look at how the same intense labor of unloading and reloading materials all within a certain time frame had to be completed every single day in order to sustain a livelihood. The small, yet comfortable projection room follows the film on Les Halles with a four-minute short from 1927 titled "Études des mouvements à Paris" by Joris Ivens. The silent film takes its name literally as viewers are shown shots of cars transversing past the Opera Garnier and the Louvre, their tires occasionally sloshing through puddles, while policemen on horseback conduct traffic. The legs of pedestrians walk quickly and with purpose as the city's buses take people to work, all just a few years before The Great Depression hit. The exhibition concludes with a photograph of a parking garage that had collapsed in 1958 on Rue d'Oslo. Cars and metal are entwined and stacked on top of each other in front of a housing block, while workers gaze up at the massive feat that awaits them. There are only four color photos in the exhibition. The first, by Kees Scherer, is of the still-thriving tour bus company, Cityrama's 1960 autobus, complete with a second enclosed level for tourists to overlook the city, protected from the rain. The final three color photos from Sem Presser in 1964, each embrace a different element of summertime. From an ice cream stand outside Place de la Concorde to Parisians basking in the sun in lounge chairs next to the fountain within the Tuileries garden, the visitor will quickly long for that same summer weather to commence…
SUBSCRIBE
ALREADY SUBSCRIBED?
BECOME A BONJOUR PARIS MEMBER

Gain full access to our collection of over 5,000 articles and bring the City of Light into your life. Just 60 USD per year.

Find out why you should become a member here.

Sign in

Fill in your credentials below.
A few blocks away from the metal barriers that rope in the crowds of tourists that conjugate outside Musée D'Orsay, sits the Netherlands Institute on a quiet spot on the Rue de Lille. The site, dedicated to the works of Dutch writers, artists, and photographers, is a wonderful way to spend an hour or two taking in Parisian culture from the eyes of those who moved here to find out just what that phrase really means. The artists achieved this by arriving at Gare du Nord, which until July 29, serves as a photo exhibition at the Institute by the same name.
The airy, white gallery provides the visitor with both plenty of comfort and the feeling of time, as it is still a secret to tourists–and many Parisians themselves. Gare du Nord highlights more than 50 photographers who came to Paris in search of inspiration dating from the 1920's to 1960's. The Dutch artists sought to capture a way of life that they saw as being lived more intensely, and through numerous photographs ranging from anonymous life on the street to celebrities portraits, they accomplish just that in this exhibition.
The show begins with a series of photos from Francis Kramer whose black and white shots from 1925 feature the somewhat cliché version of Paris street life, with artists painting along the Seine and travelers waiting at Gare du Nord itself. While the more real life tasks of a woman from 1929 doing laundry in the river as her children and dogs splash underneath her feet, is captured by Fons Hellebrekers. The diversity of the Latin Quarter during the 1930's, as well as a toll booth situated outside Place d'Italie from 1935, opens the visitor's eyes to just how much the city has changed, and continues to do so.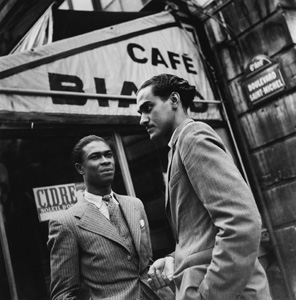 Photographer Johan van der Keuken arrived in Paris from Holland in 1956 during both France's conflict with Algeria and the ascension of Charles de Gaulle to the presidency. His series titled "Paris Mortel" aims to reflect how the everyday lives of Parisians coincided with these changes. With shots of well-groomed and mustached young men in cafes and women dancing in the streets together in their bobby skirts on Bastille Day, it is clear that life in Paris, as it always has, continues to thrive on a personal level, despite outside political or economic circumstances.
The exhibition continues with a portrait of a stern Orson Wells seemingly consuming an entire Parisian street, set next to a very young Brigitte Bardot, who is beautiful shot practicing ballet next to an accompanying wooden bar. Serge Gainsbourg's early muse and singer Juliette Gréco is captured on the street in 1948 in a dignified pose, shoulders held back as her dark hair tries to make its way down the front of her fitting black dress.
A series of photos depicting the former markets of Les Halles will make visitors reminiscent of the work of Robert Doisneau, who spent most of his career documenting the hustle and bustle of the marketplace and whose exhibition at the Hotel de Ville this year, kept visitors waiting outside for more than an hour in the cold of February to get a glimpse amongst the crowds. Within the Netherlands Institute, there are no lines and visitors can take their time looking over every detail of the shots from Les Halles, including a photograph of a man-made shack where workers sat on a wooden bench and laid their heads down on an accompanying table for a brief nap. The hard labor that went into the market each day is captured as well by Paul Schuitema's 1939 14-minute film, "Les Halle's de Paris." Accompanied by a frantic orchestral piece that complements the physical energy of the old Les Halles, the short film provides a close look at how the same intense labor of unloading and reloading materials all within a certain time frame had to be completed every single day in order to sustain a livelihood.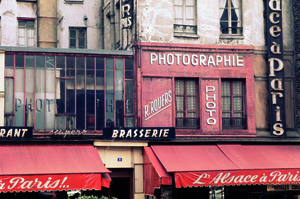 The small, yet comfortable projection room follows the film on Les Halles with a four-minute short from 1927 titled "Études des mouvements à Paris" by Joris Ivens. The silent film takes its name literally as viewers are shown shots of cars transversing past the Opera Garnier and the Louvre, their tires occasionally sloshing through puddles, while policemen on horseback conduct traffic. The legs of pedestrians walk quickly and with purpose as the city's buses take people to work, all just a few years before The Great Depression hit.
The exhibition concludes with a photograph of a parking garage that had collapsed in 1958 on Rue d'Oslo. Cars and metal are entwined and stacked on top of each other in front of a housing block, while workers gaze up at the massive feat that awaits them. There are only four color photos in the exhibition. The first, by Kees Scherer, is of the still-thriving tour bus company, Cityrama's 1960 autobus, complete with a second enclosed level for tourists to overlook the city, protected from the rain. The final three color photos from Sem Presser in 1964, each embrace a different element of summertime. From an ice cream stand outside Place de la Concorde to Parisians basking in the sun in lounge chairs next to the fountain within the Tuileries garden, the visitor will quickly long for that same summer weather to commence in the currently windy and rain-soaked city.
All images courtesy of Institut Néerlandais
1. Maria Austria (1915-1975) Paris , 1960 © Institut Maria Austria, Amsterdam
2. Emmy Andriesse (1914-1953) Etudiants étrangers au Quartier Latin, Paris, 1938. Tous droits réservés
3. Kees Scherer (1920 – 1933) Paris, environ 1960, Tous droits réservés

Subscribe for
FREE

weekly newsletters.
BonjourParis has been a leading France travel and French lifestyle site since 1995.
Readers' Favorites: Top 100 Books, imports & more at our Amazon store
We update our daily selections, including the newest available with an Amazon.com pre-release discount of 30% or more. Find them by starting here at the back of the Travel section, then work backwards page by page in sections that interest you.
Current favorites, including bestselling Roger&Gallet unisex fragrance Extra Vieielle Jean-Marie Farina….please click on an image for details.
Click on this banner to link to Amazon.com & your purchases support our site….merci!
More in exhibition, Exhibitions, France photography, Gare Nord, Paris art exhibits, Paris exhibitions, photography, photography museum, travel photography
---
---