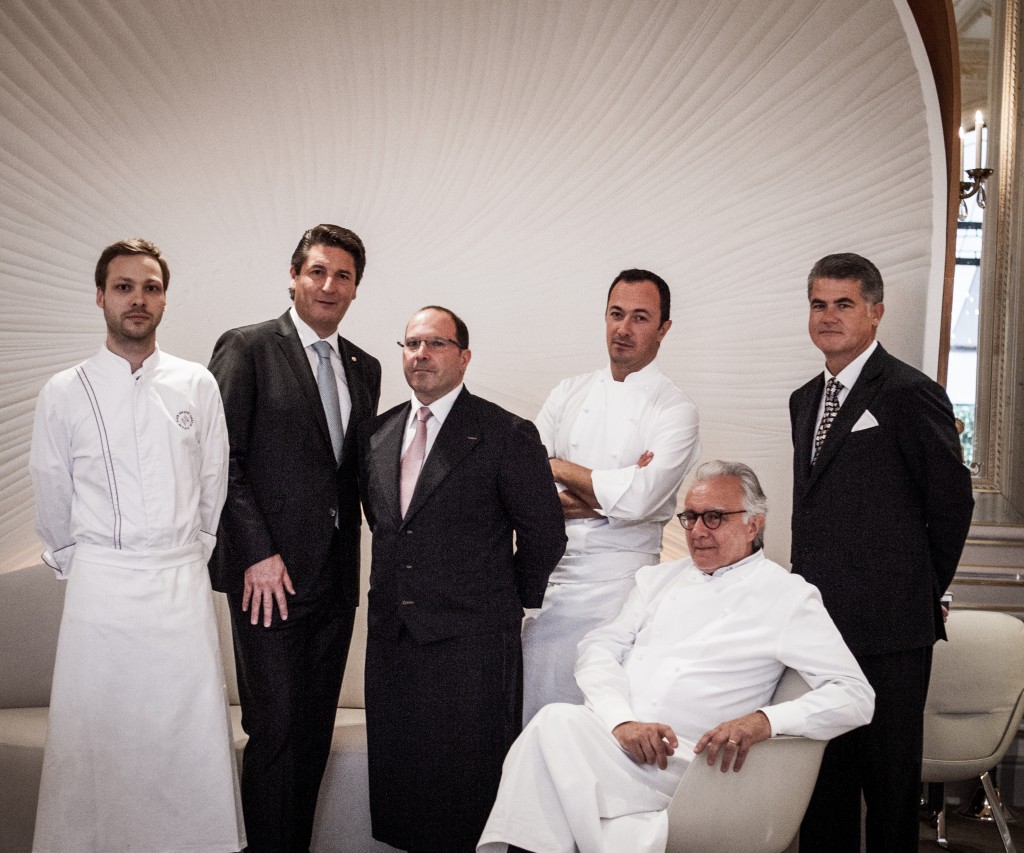 "Talking about French cuisine is also talking about joie de vivre, delicacy, optimism, and pleasure, ideas that are essential to the image of France," says Alain Ducasse. Here are BonjourParis's picks for some of the best addresses for fine dining in the city. Agree or disagree? Do let us know.
Alain Ducasse au Plaza Athénée
At the newly transformed restaurant, Alain Ducasse Au Plaza Athénée, beef takes a back-seat, replaced with "a healthy trilogy" of fish-vegetables-céréales. It's all explained in Naturalité, a beautiful short film. Check it out here: http://vimeo.com/105527421
"Our planet has limited resources, we need to consume more ethically, more fairly, tackle climate change," the chef insists. Most of the vegetables are sourced from the organic gardens at the Palace of Versailles, created by Monsieur Ducasse and Head Gardener Alain Baraton. On the almost no-gluten menu, interpreted by Executive chef Romain Meder, are healthy dishes influenced by Toshio Tanahashi, Japanese Shojin specialist, invited to Paris by Monsieur Ducasse. "It's important to listen to the vegetables, they'll tell you how they want to be prepared," explains Monsieur Tanahashi. Patrick Jouin & Sanju Manku's bold decor features steel/wood/diamanté; and a Cabinet de Curiosités from Monsieur Ducasse's private collection. Out go the tablecloths ! Diners sit at sleek, hand-carved oak tables on handsome leather chairs. Attentive service is headed by George Clooney lookalike Denis Courtiade. An ironic touch, the fish knives have been replaced (thank heaven) by steak knives. "They don't bruise the fish," explains Monsieur Ducasse who just received the prestigious Meilleur Ouvrier de France (MOF) award.
25 avenue Montaigne, 8th. Tel: 01 53 67 65 00. Closed Mon-Tues-Wednesday for lunch. Metro: Alma Marceau. Menu: 380€ (+ wine) A La Carte 200-340€. www.alain-ducasse.com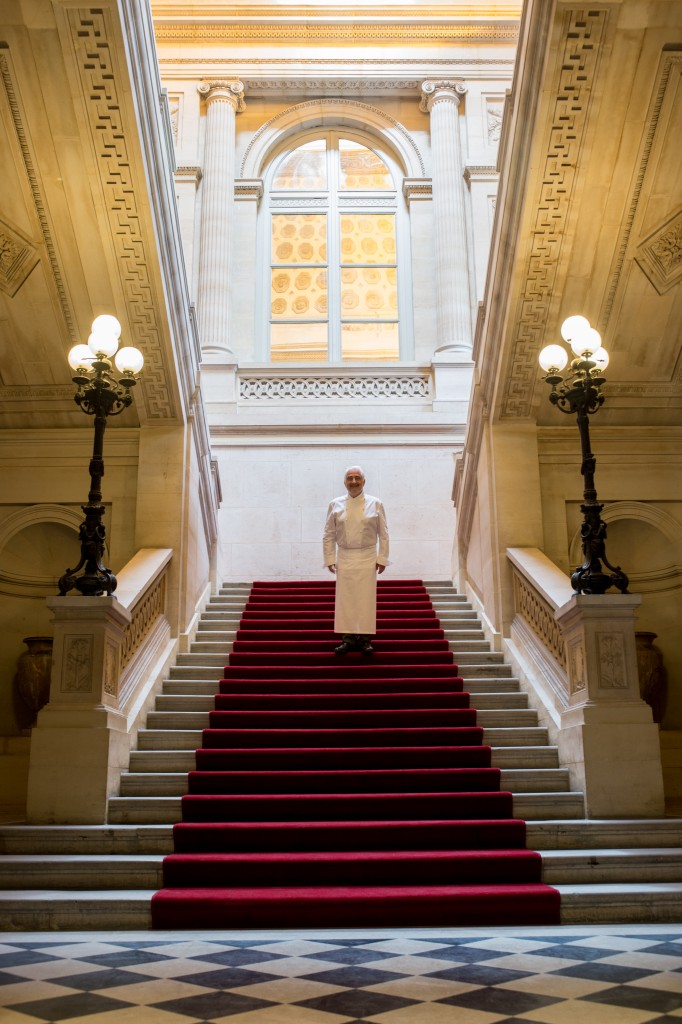 Guy Savoy at L'Hôtel de la Monnaie
In a bold move, Guy Savoy- the celebrated Michelin three-star chef- has moved his eponymous flagship restaurant, together with 30 chefs, across the River Seine to the L'Hôtel de la Monnaie. The décor is by award-winning architect Jean Michel Wilmotte and the contemporary artwork is on loan from French businessman and art collector François Pinault. The listed 18th century building, which formerly housed the Paris Mint workshops, administrative offices, and residential quarters, wraps around a large interior courtyard. At the top of the elegant staircase leading to the restaurant a neon sign reads: "Cooking is the art of instantly transforming produce suffused with history into happiness". From the state-of-the-art kitchens, Savoy sends out new inspirations such as, "Seafood Graffiti", a composition of raw and cooked cockles, mussels, clams and sea almonds. "Saumon Figé", thick slices of marinated salmon, "slow cooked" at table on a block of carbonic ice and Saddle of lamb, "Terre et Mer", (earth and sea) matched with tiny grilled lamb sausages. Some classic signatures remain, including the soothing "Artichoke and Truffle soup": "Oysters au nage glacée", plump aspic jellied oysters, in their shells, a touch of cream and sorrel. Not forgetting cheeses from Marie Quatrehomme or the warm, crumbly, feather-light Millefeuille. Study the glass "wine walls" for suitable vintages, or consult Head Sommelier Sylvain Nicolas. Perhaps he'll suggest, by bottle or glass, Champagne Guy Savoy Blanc de Blancs; Romanée Conti 1996; Barolo 2010 Mauro Molino and, to finish, a perky Poire William. "There's never too much on my plate", says Savoy.
11 quai de Conti, 7th. Tel: 01 43 80 40 61. Metro: Pont Neuf. Closed Saturday lunch, Sunday, Monday. Average Spend 200€ + wine. Menu Couleurs, Textures, Saveurs: 360€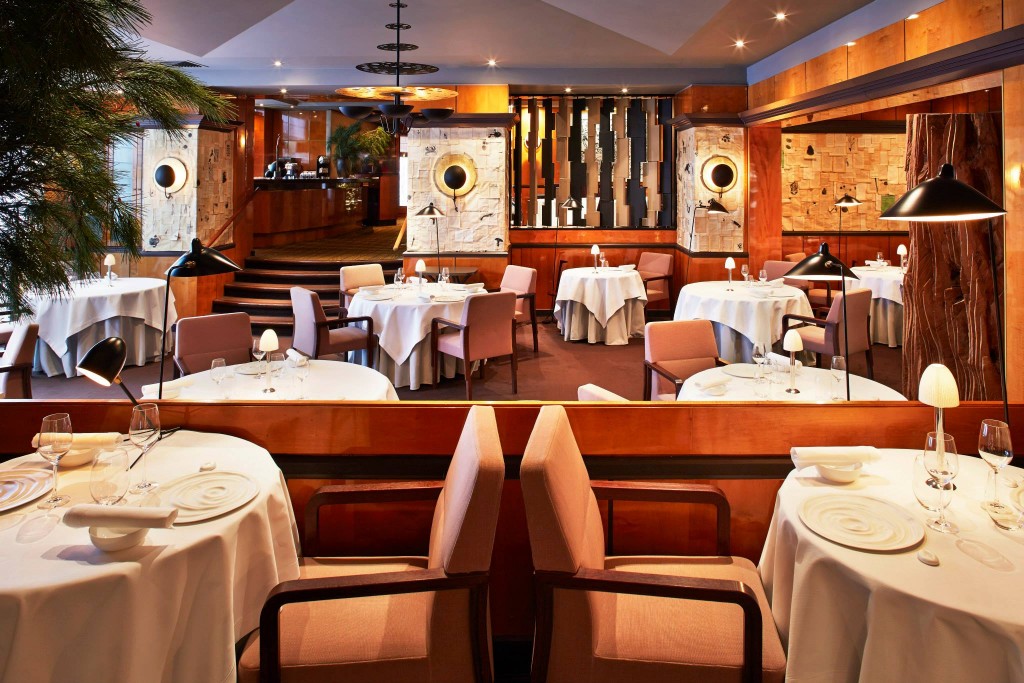 "Write down the dishes, they're never the same twice", suggests the waiter, pouring Saumur Blanc 2004 Domaine du Collier from Antoine Foucault at Pierre Gagnaire's eponymous restaurant off the Champs Elysées. In a white porcelain dish: tender new season's asparagus from Domaine Saint-Vincent, chives, thai grapefruit, parsley root, diced scallops and cubes of asparagus au macvin, which melt sensuously as vegetable bouillon is trickled on. Hot breads are placed on the table, and monkfish served, sprinkled with sweet paprika and a warm pumpkin velouté, foie gras and black gnocchis: nicely paired with Crozes Hermitage 2004. Casseroled sweet onions from Cevennes with a broth of oursins (sea-urchins) are flavoured with garam-marsala, thin slices of cuttlefish, wild mushrooms, Spanish pimento and veal's head follow with Alsace Grand Cru 2004 Muenchberg Pinto Gris. The main course is lamb from the Pyrénées with lard, saffron and a little silver stick bearing its provenance. No cheese trolley; instead it's a skewer of Tomme de Savoie with a velouté of sheep's cheese, mâche with honey, a tiny bouillon of old Dutch gouda, celery. Expect light seasonal products presented as only Gagnaire can, think blending of unexpected tastes and flavours that tingle on the palate. Desserts keep coming, then homemade chocolates. Finally, Gagnaire comes out of his kitchen, grinning and happy. "Cooking is a bridge that joins people together", he reflects.
6 rue Balzac, 8th. Tel: 01 58 36 12 50. Metro: George V. Closed Sat-Sun. Creative Menu: Lunch 150-295€. Dinner 300-350€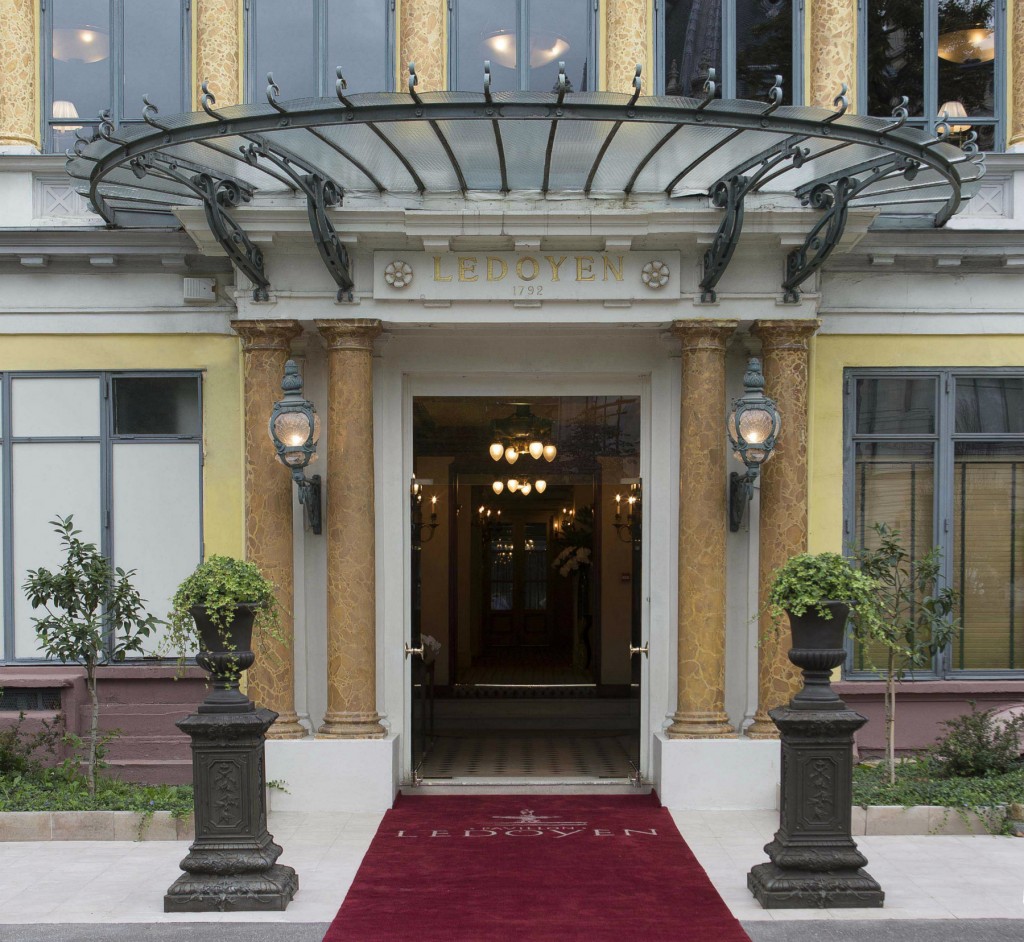 Last Autumn Yannick Alleno took over the kitchens of Pavillon Ledoyen. Freshly decorated, the beautiful mansion overlooks L'Avenue des Champs Elysées, where Napoleon dined with Josephine, and Maupassant, Zola, Flaubert and Coco Chanel were regular guests. The first floor dining room is orchestrated by Frédéric Pedrono with chef-sommelier Vincent Javaux. "The concept is, construct each guest's meal when they have chosen "Le Principal", their main dish core ingredient (Vegetables, Fish or Meat)," explains Monsieur Pedrono. So, if you choose tender roasted turbot, from French waters, with marrow, artichoke Camus au gratin de Parmesan as your main, it may be preceded by, say, a tiny tart of curry spiked champignons de Paris, seasonal vegetables, yellow beetroot jus, pepper oil: followed by Tourteau (crab) calamari, grapefruit chutney, lait d'amande. Follow with mini Soufflé d'Anguille (eel) watercress coulis and Tête de Cêpe en Civet, an amusing spin on classic rabbit stew, without the rabbit! Cheese by Gilles Clayeux and desserts by Belgium pâtissier wiz Damien Cassart include sexy orange pearls that explode in your mouth with a touch of cinnamon and arlette spuma. Don't ignore Cassart's Guinness tart! Each dish is a demonstration of precision and technicity, completely different to anything tasted elsewhere. "How do you do it chef?," I ask. "A lot of work, a lot of love, I'm here 'til I retire, we've only just begun", he winks.
Pavillon Ledoyen, 8th. Tel: 01 53 05 10 01. Metro: Champs Elysées Clemenceau. Closed Saturday lunch & Sunday. Lunch 128-275€ A La Carte Dinner 185-300€ + wine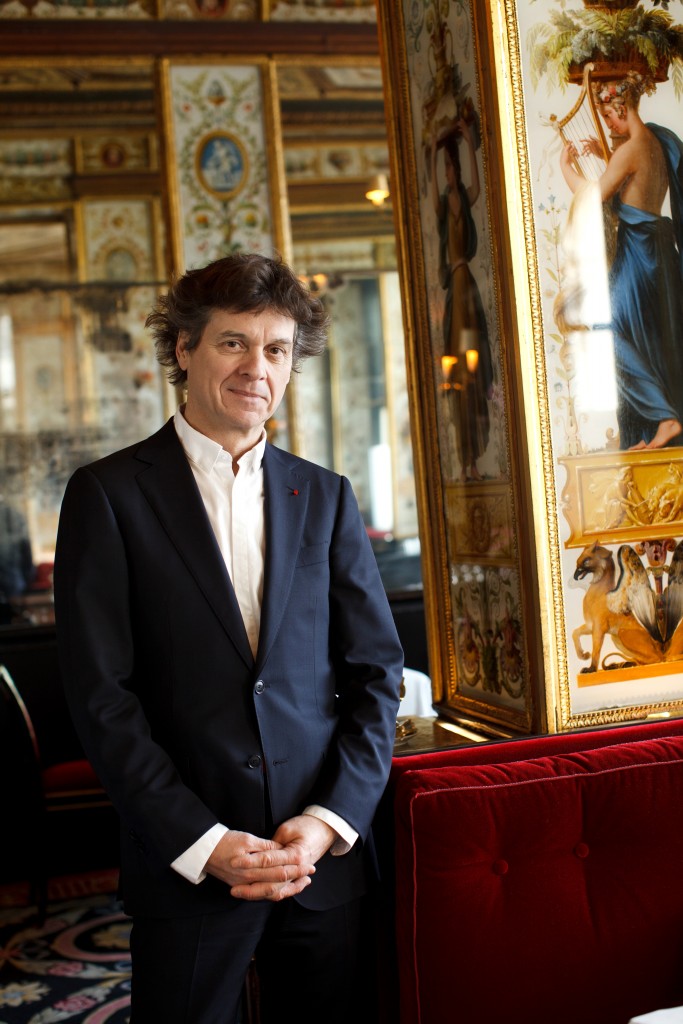 Le Grand Vefour (created 1784) is located in a magnificent Palais Royal building where tables are dedicated, with polished bronze plaques, to legendary former clients such as Napoleon, Victor Hugo, Colette, Maria Callas, and George Sand. In the kitchen, chef Martin and his team work passionately with seasonal vegetables from market-gardener Didier Pil, poultry from Bresse Miéral, veal from André (three generations of butchers and a cattle farm), line-caught fish sourced directly from Brittany and the Mediterranean, cheeses from Fromagerie Boujon, Thonon-les-Bains. Signature dishes include Foie Gras Ravioli, with truffle cream spuma, ordered by one regular client for starter, main and dessert! Also Pigeon Prince Rainier 111; Lièvre (hare) à la Royale; melt in the mouth Ris de Veau (veal sweetbreads), with parsley root and green mango, jus aux épices douces, truffle cream. For dessert, choose the sculpture that is Cube Manjari. Or, Crème Brûlée aux artichokes, vegetable confit, bitter almond sorbet.
Born and raised in the Savoie region, Guy Martin first got into cooking working in a mountain pizza parlour during school holidays, "to earn money to ski," he admits. He learned his craft at Château de Divonne, Divonne-les-Bains, before taking on the challenge of Le Grand Vefour and, since 2011, he is the chef/owner. Of his concept, Martin reflects: "For me, the key element in cooking is the influence of artists and art, that's where I find my color, structure and flavor".
17 rue de Beaujolais, 1st. Metro: Palais Royal. Tel: 01 42 96 56 27. Closed Saturday-Sunday. Lunch 98-298€ Dinner 210-268€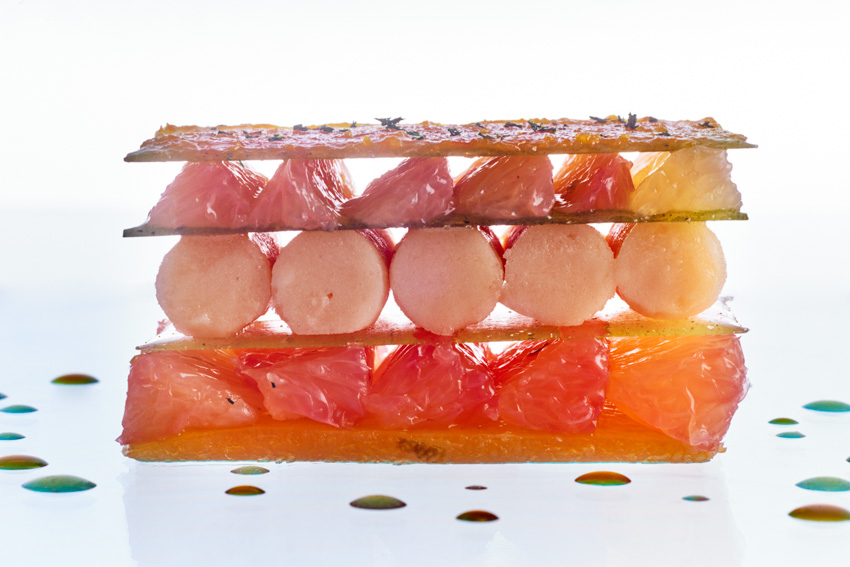 After 12 years and three Michelin stars at Pavillon Ledoyen, chef Christian Le Squer decided it was time for a change of kitchen. So, leaving his pianos to the very capable Yannick Alleno (see above), the 50-something boy from Brittany is now at Le Cinq, Hotel George V. Like a couturier or perfumer, he shapes and assembles products to enhance them and obtain the most exacting savors with perfect coherence. Lesquer defines his cuisine as of "flavors, concentrated and moving," and creates new dishes showcasing "French Haute Cuisine du Palace" to match the opulence of Le Cinq's bling-bling dining room. Lesquer's market driven menu changes with the seasons and may include: Gratinée d'oignons à la Parisienne; Large Dublin Bay Prawns Cooked Two Ways, Citrus Emulsion; Fillet Of braised wild turbot; truffled potatoes; crispy veal sweetbreads, oyster plant, herb jus (see photo). Finish with the astringent pineapple soufflé or crunchy grapefruit, preserved and raw.
In the dining room, Eric Beaumard, Le Cinq General Manager and Vice-Champion 1998 in the World's Best Sommelier Competition, loves to share his passion for fine wines, always happy to share tips on the best vintage to highlight a dish. "Le Cinq's wine cellar holds over 50,000 bottles," chuckles Monsieur Beaumard.
Hôtel Four Seasons George V, 31 Avenue George V, 8th. Metro: George V. Tel: 01 49 52 71 54. Open 7/7. Lunch 145-290€ Dinner 182-307€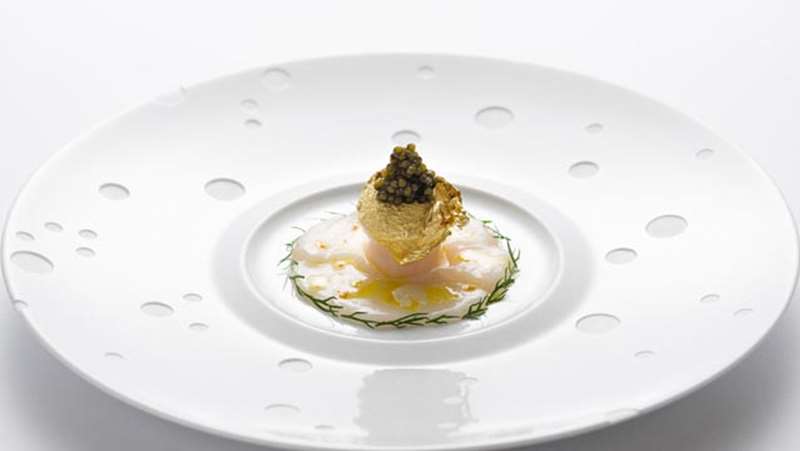 In the tranquil garden setting of Epicure restaurant, taste the truffled macaroni, a signature starter, which goes well with a glass of Côte de Beaune Santenay "Les Gravières". Another fine starter is Tourteau Mayo en gelée d'eau de tomate verte, parfumé a l'estragon, a geometric composition based on Roscoff crab mayo but this crab has edgy attitude. The signature Bresse chicken dish, cooked in a bladder, is brought to the table in its "vessie," then carved in front of you. Mop it up with a fabulous bread selection: chorizo sausage and confit of tomatoes, 6 oats 4 grains, or blue flower. Challans duck is roasted, spiked with spices, a few dates, preserved lemon, and served with puffy golden soufflé potatoes. The cheese is from Marie-Anne Cantin, and desserts are by chef pâtissier Laurent Jeannin. These may include: Chocolat "guanaja" and Pamplemousse rose with Campari sorbet, hibiscus jelly, meringue and fresh almonds. If you ask 3-star Michelin chef Frechon to describe his cuisine, he explains: "It's based on France's culinary culture, which is changing constantly, like language. It's not a cuisine of season, it's a cuisine of products, of terroir, which must be preserved, revised and revisited".
Hôtel Bristol, 112 rue du Faubourg St. Honoré, 8th. Metro: Miromesnil. Tel: 01 53 43 43 40. Open 7/7. Lunch 135-295€ Dinner 185-300€ + wine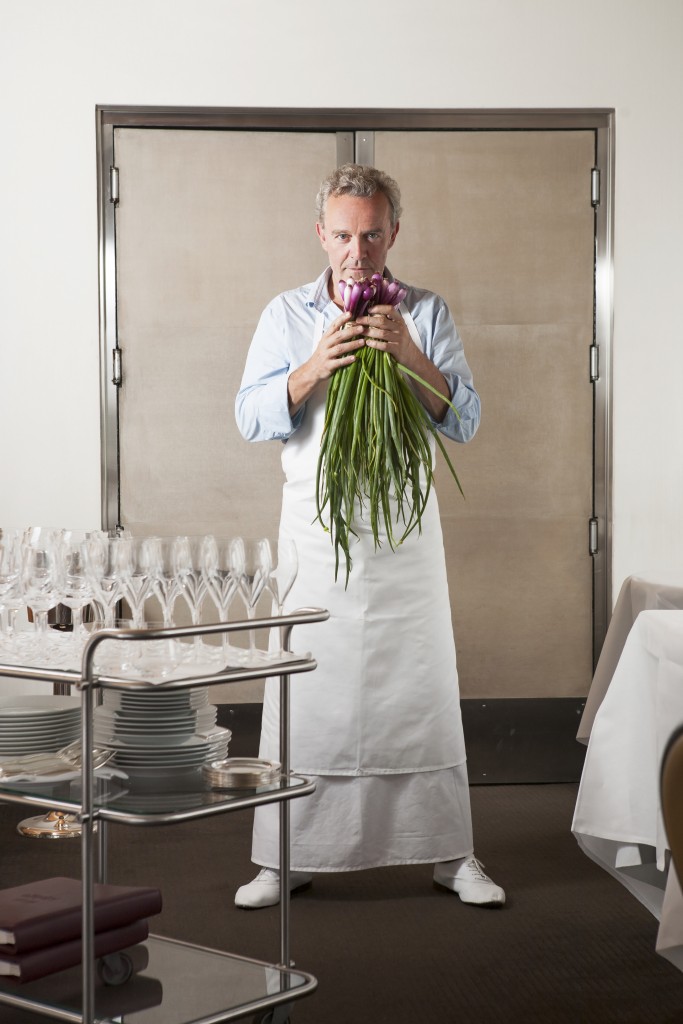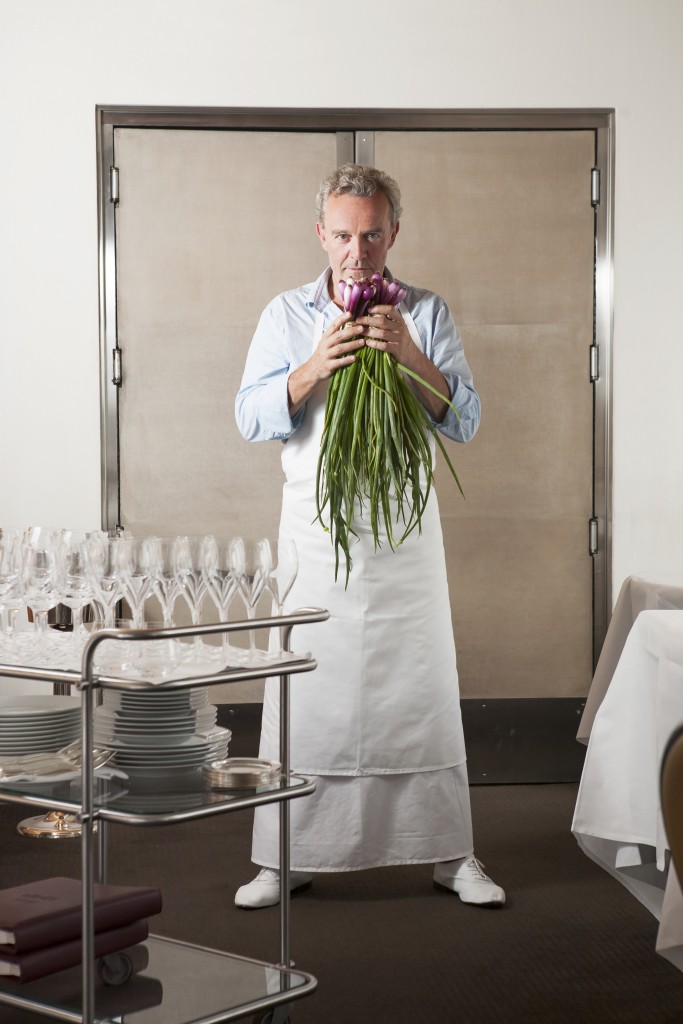 Alain Passard, Maison de Cuisine
Known as "the man who loves vegetables," Alain Passard has given vegetables the starring role on his menus since 2001. Back then he said: "I woke up one morning and didn't want to eat meat; vegetables are so much more exciting, colorful, more perfumed". Fast forward to 2015 and he backs off a bit, saying, "I like cooking too much to forget meat and poultry". Currently, there's organic, fish, game, poultry in the kitchen. Passard slow cooks plump foie gras then serves it wafer thin, with a few grains of sel de Guerande, turnip purée, carmelised orange/lemon, random green leaves. Magic! "Nothing new about this", he admits. "My Grandmother, Louise Passard (whose portrait adorns the wall just outside the kitchen) always cooked on top of the stove, over low heat, she was considered really radical in her day".  Dishes arrive at a fast pace, the server looks as curious as the guests. "It's mostly all new to us, every day", they shrug when asked for an ingredient or description. "Passard has deconstructed his classic roots and created a cuisine unique to him", says philosopher Fabien Negre. "Sometimes we sit talking food here until 2 in the morning. Then the chef leaves to go and check out his country potager or to Rungis market on his Triumph motorbike", he reveals. "Heaven knows when he sleeps!"
84 rue de Varenne, 7th. Metro: Varenne. Tel: 01 45 51 47 33. Closed Saturday-Sunday. Lunch 140€ Dinner 195-310€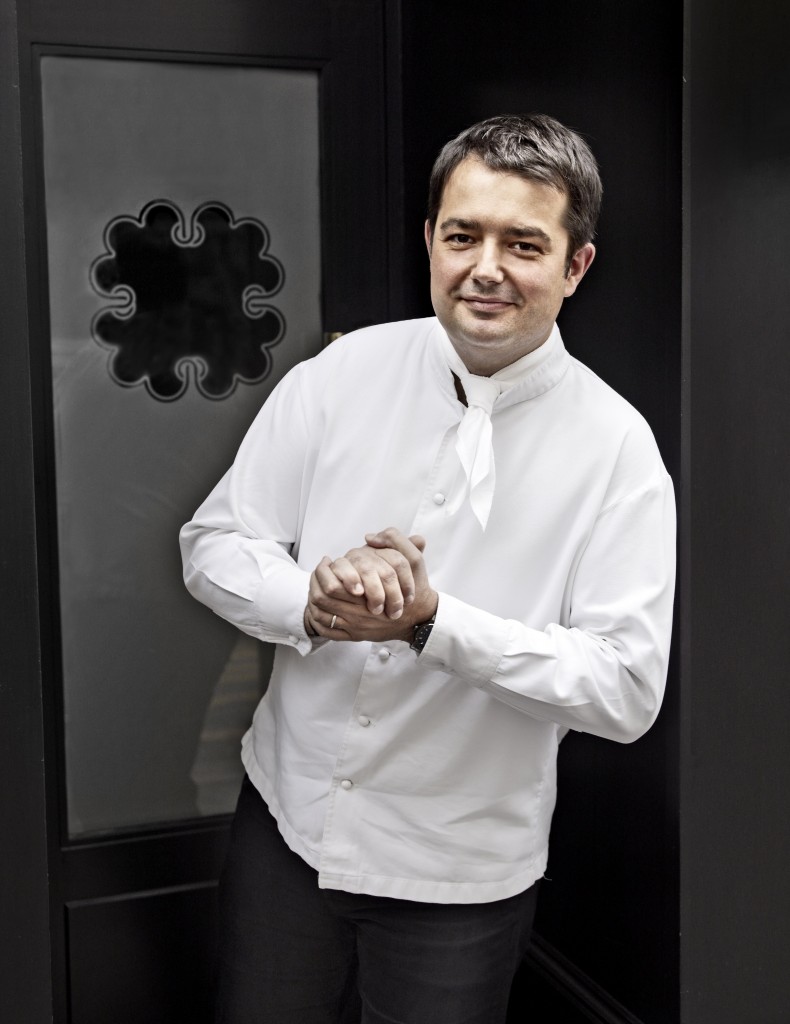 Jean François Piege at Hôtel Thoumieux
Jean-François Piège's eponymous space is in the same building as Brasserie Thoumieux; with a separate front door, reached by a staircase, it's as though you're visiting a friend's chic apartment. Cutting-edge decor is by architect India Mahdavi. And, reached via a second staircase, Thoumieux Hôtel, comprised of 17 designer rooms with marble bathrooms and breakfast by/with Piège! There is no menu; you'll read that "Les Règles du Jeu" are today's market finds. Begin with a farandole of snacks (grignotages), jambon-beurre, moules frites, miniature vegetables from Joel Thièbault. Liquid deep-fried gobstoppers which pop, pop, pop, in the mouth. Go on to Diver scallops, blue lobster, Brittany turbot, beef "from here and there". La Cour d'Armoise chicken with a reduction of vieux Xérès vinegar, au parmesan and white truffles. Choose either 1, 2 or 3 "ingredients". Piège interprets your choice; when it's served he comes to the table, all starched whites and testosterone, with the appropriate sauce. Cheese is from Xavier, the Toulouse affineur. And dessert could be apple soufflé: a puff of sweet pizza dough, apples and cream. Or, Ferrero Rocher, version Piège. Drink Vin Naturel white Burgundy from Jean Marie-Berrix. The elegant Mathieu Foureau takes charge of the dining room and the atmosphere's charged with excitement. "I've invented nothing, I just do it my way", reflects Piège. "Here I'm chez moi. You'll come and enjoy some excellent wines (1,600 references) and simple cuisine made with products from the best suppliers in France".
79 rue St. Dominique, Metro: La Tour Maubourg. Tel: 01 47 05 79 79. Closed: Saturday-Sunday. Lunch 99€ Dinner 154-264€ wine included
Christian Constant at Le Violon d'Ingres
Christian Constant is a French Michelin star chef (ex-The Ritz & The Crillon as Head Chef). Born in South-Western France, his cooking is a reflection of that area. He found fame and stars at the Hôtel Le Crillon, but, wanting to diversify, left to launch his own less formal left-bank restaurant "Le Violon d'Ingres". From there he opened two more restaurants in the same street, "Les Cocottes" where everything is cooked in Staub casserole pots. And Cafe Constant, a buzzing brasserie. So the French press re-named the street "rue Constant". Recently he returned to his roots and transformed Le Bibent, a legendary, listed, but crumbling Toulouse brasserie, to its former glory as well as launching Bistrot Constant, near Montauban. Constant, the daddy of them all, has founded a family, been awarded the Legion d'Honneur, and formed a legion of chefs who have gone on to earn stars and accolades, such as Eric Frechon (see above). They are known as "Generation Constant". At this restaurant, look for: Green asparagus from the Alpilles with puff pastry, hollandaise sauce and Three Farm ham; Sea bream carpaccio, lemon caviar, diced garden vegetables; Spider crab jelly with creamy rock crab and herb infusion; Pan seared foie gras, gingerbread, acacia honey roasted baby carrots; Wood pigeon with grilled wild mushrooms. There's excellent cheese, wine and dessert, Vanilla soufflé, salty caramel sauce. "Constant's dishes reveal the soul of an authentic chef, combining tradition with modernity", say Guide Michelin.
135 rue St. Dominique, 7th. Metro: Ecole Militaire. Tel: 01 45 55 15 05. Open 7/7. Lunch menu (starter, main, dessert) 39 euros or 34 euros for main plus dessert. Lunch menu on the weekend: 57 euros. Dinner tasting menu is 95 euros for 6 dishes.