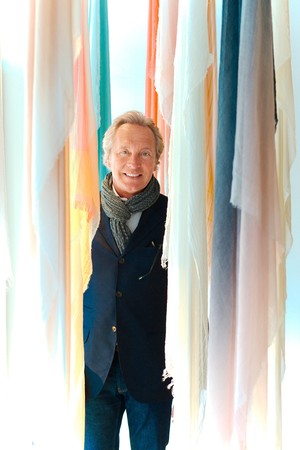 Belgian born Edouard Vermeulen was the designer chosen by Queen Maxima of the Netherlands for her coronation. His clients include several members of the Belgian royal family, Swedish royalty, the Netherlands, Denmark and Luxembourg.
From Ypres in West-Flanders, his colourful stylish and sophisticated pieces are available in his boutiques in Brussels, Antwerp, Knokke, Paris and Maastricht. As well as Natan Couture, there's: Natan Collection, Natan Edition 5, Natan Edouard Vermeulen, Natan+ and Natan Accessories. Vermeulen was originally an interior decorator who graduated from St. Luc Brussels School of Architecture and Design. He showed his first runway collection in 1984.
What are you most proud of in terms of your own achievements?
To have always been true to myself
What is your hidden talent?
Decoration
Where were you born?
At Ypres in Flanders
If you could share a coffee, or a bottle of wine, with a Parisian from the past or present who would it be?
Stéphane Bern, journalist, TV presenter, expert on European and global nobility and royalty.
Is there a local personality you admire?
Cyril Karaoglan for his joie de vivre.
What do you like best about Paris?
Walking in the Tuileries Gardens, early in the morning when there's nobody around and it's calm.
What is the one essential item a Parisian should own?
A Pass Navigo for the métro
An article you can't live without?
I am not a materialistic type but I can't see myself living without electric light
Your favourite address for lunch in Paris?
L'Avenue by Costes
Best Address for coffee or aperitifs in Paris?
Le Flore like Hemingway, Picasso, Sartre & Co.
Where do you buy your clothes?
Wherever I see something I like
Where do you buy your groceries?
I don't. I eat out all the time and I hardly ever cook.
Which is your favourite Paris neighbourhood?
L'Avenue Montaigne during the week. Le Marais district on weekends.
The most fun thing to do in Paris?
Walk !
What's the tourist thing that you'd love to do in Paris, but never have?
Criss-cross the Seine and the hidden streets of Paris avoiding all the shops, maybe just stopping at Les Bouquinistes on the Quais of the Seine.
What the most touristy thing you've done in Paris?
Le Louvre
The best "Life Lesson" you've learned?
That we have the capacity to create and shape our future.
One thing you'd change if you ruled the world?
Selfishness
One thing you wish Parisians would stop complaing about?
The traffic, the traffic jams and the difficulty getting taxis.
You have just 25€ left – how will you spend it?
I'd invite a friend to share a glass of wine
Your favourite book?
The Secret by Rhonda Byrne. "The" self-help book based on the law of attraction, it claims that positive thinking can create life-changing results.
All time favourite movie?
A Single Man from the novel by Christopher Isherwood, directed by Tom Ford, starring Colin Firth.
Aside from Paris, which is your favourite city?
Capri for the sweet life and New York for the museums
Is there an annual event such as a gala, festival or exhibition that you wait for with impatience every year?
The Paris Fashion Shows
Where is your most favourite place to take out of town visitors to Paris?
To dinner at Le Voltaire, 27 Quai Voltaire in the 7th arrondissement.