Highlights of Autumn/Winter 2023 Fashion Week in Paris
It's that time of the year again! It's Fashion Week in Paris. The City of Light was extra-alive thanks to "PFW," as designers, fashionistas, and press flocked to the city to see the latest offerings from fashion houses. Streets were flooded with fashionable people wearing stylish things and living their best life – despite the cold temperatures in Paris.
Fashion houses wow-ed with their displays of ready-to-wear pieces for autumn/winter 2023 (because fashion is always a step ahead; it's always future-thinking). Of course, there were all the heavy hitters out in a full display. Dior brought its A-game, as to be expected. At Chanel, creative director Virginie Viard reimagined traditional pieces from the Chanel canon – like classic black looks, jackets, and chain bags.
Victoria Beckham's eponymous label brought color and life to the season; it was her second show in Paris. Beckham knocked it out of the park with a blend of creativity and functional fashion. And Louis Vuitton's show focused on French fashion and cultivating an effortless chicness. While Stella McCartney's show at Société Hippique Nationale De L'Ecole Militaire was one to remember: It featured not just models and clothes, but also real, live horses!

At Mame Kurogouchi, a womenswear label from Japanese designer Maiko Kurogouchi which was founded in 2010, autumnal and wintery vibes were on display in the Palais du Tokyo which was packed to the gills with stylish press, buyers, and fashion lovers.
Mame Kurogouchi's latest collection focused on subdued colors, like browns, grays, and blacks, with the occasional pops of color. Functional items like cross-body bags and long flowing scarves, coupled with color bursts like eye makeup, created a beautiful blend of sophisticated fun.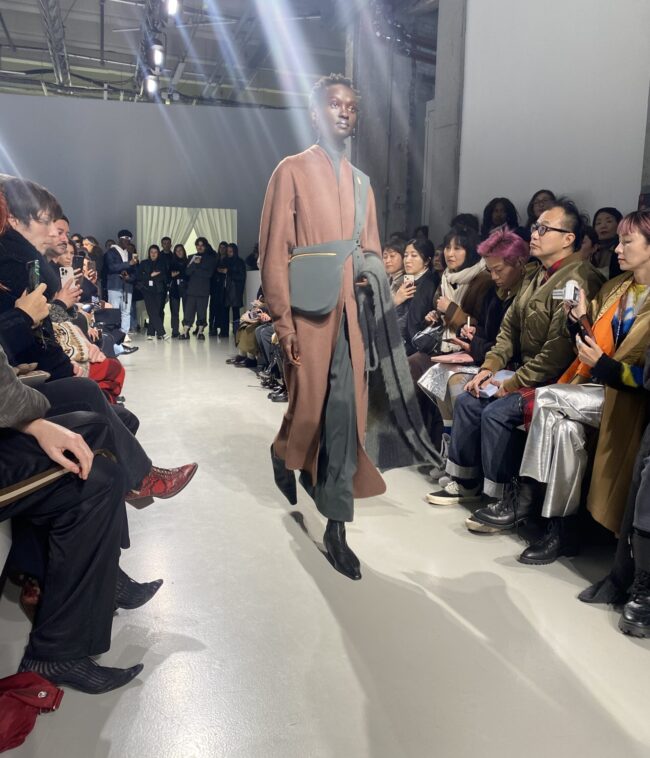 Designer Kurogouchi has a talent for mixing function with sleek lines, as pictured on the model wearing black outwear with a gorgeous flowing cream-colored scarf, adding texture to an otherwise simple look. More pops of color on the eyes add fun and lightness to a cold season.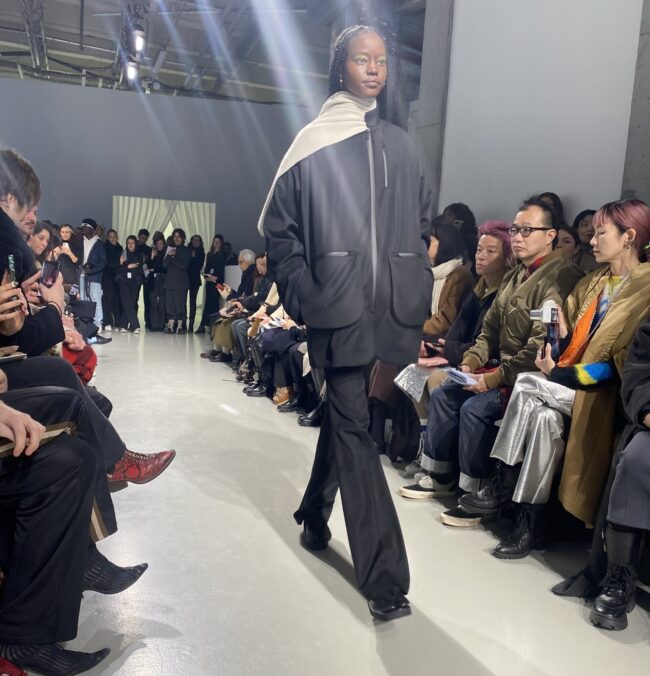 Even cold weather looks can be dressed up a bit, and this look is proof of that. Mame Kurogouchi's stunning sweater dress, with colors like rust orange, blue-gray, and gold, breathed life into a cozy sweater dress that could be just as easily worn to a party as it could be worn to an office job. Laid-back, stylish comfort never looked so good.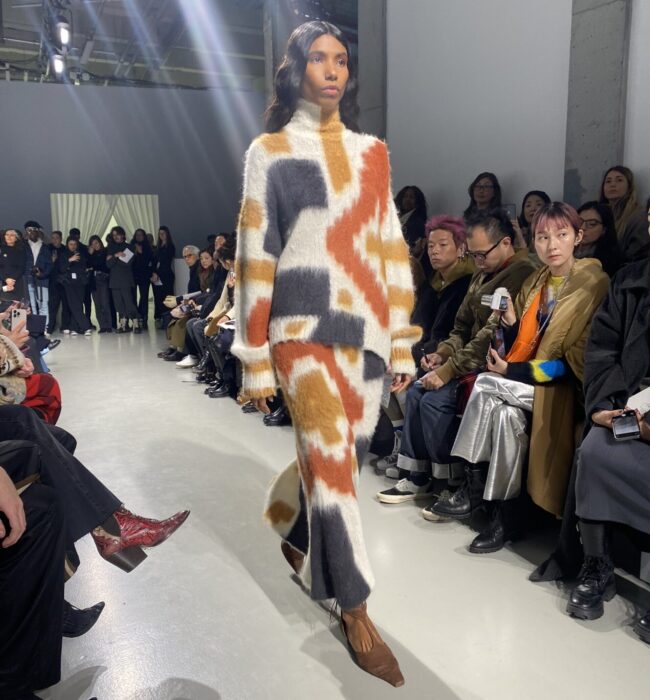 Cross-body bags and fanny packs were a surefire staple of the show, as another one was seen here on this model's look (although it nearly blended into her skirt entirely). The beautiful olive-color print with faded roses evoked a garden-like quality to this inspired look, featuring a wintery suede sandal.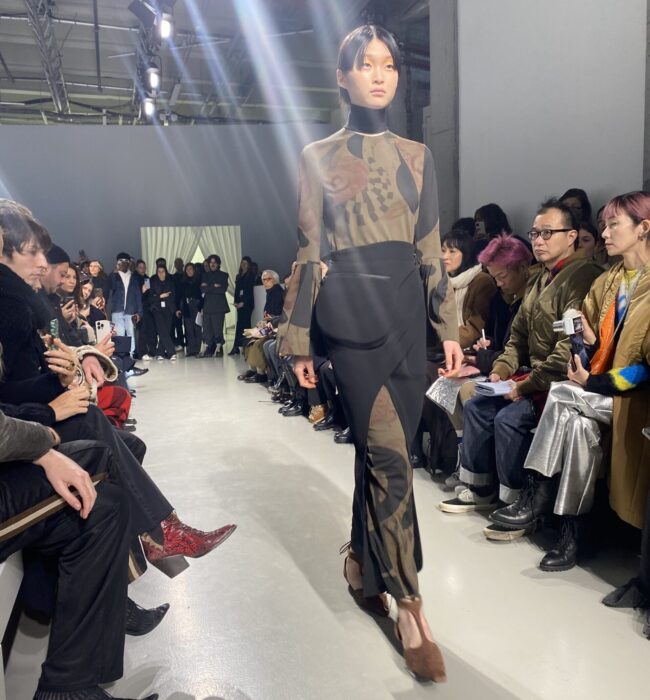 A crepe-y black satin dress with a high-neck offered glamor on top and business on the bottom, with heavy black boots. Models during the show had free-flowing hair, along with some strands pulled across their faces, giving a fresh-from-a-windstorm vibe that made me smile, yet also offered a beautiful sense of movement and vitality to the show.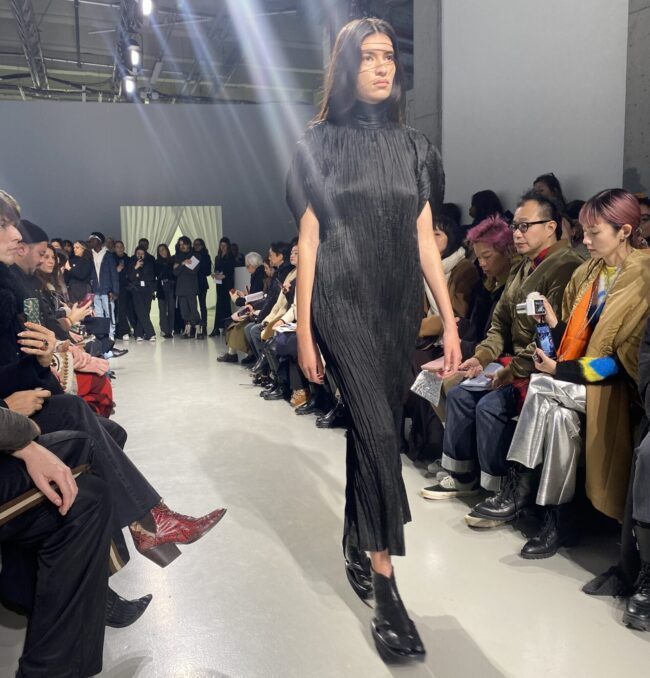 One of the few light-colored looks from the Mame Kurogouchi show was this full-length lavender dress with a square neck cut and extra-long sleeves. Night dress or winter party attire? You be the judge. The model's fire-engine-red flowing hair, paired with the lavender color, called to heart and mind a certain Disney princess who lives under the sea.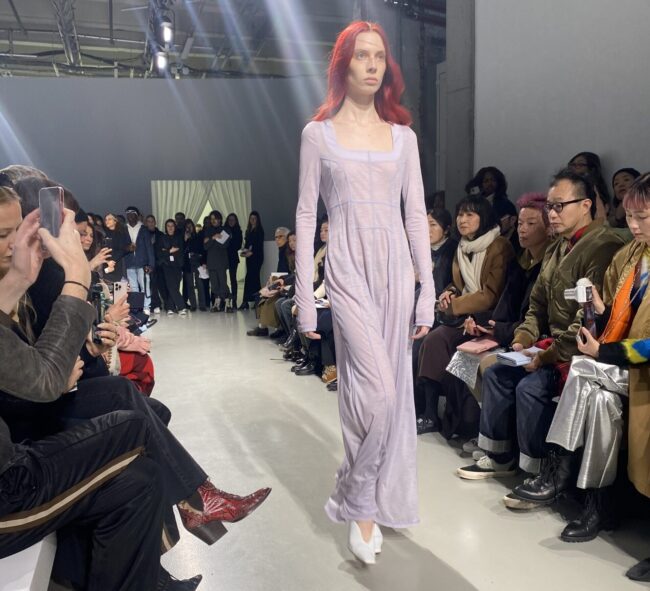 Crop tops are here to stay – for the moment, anyway. Another look from the show featured an inspired take on the crop-top, with a flowing blouson shirt and wide-legged, roomy black pants. Black boots complemented the look, as did a fresh pop of rust orange on the model's eyelids.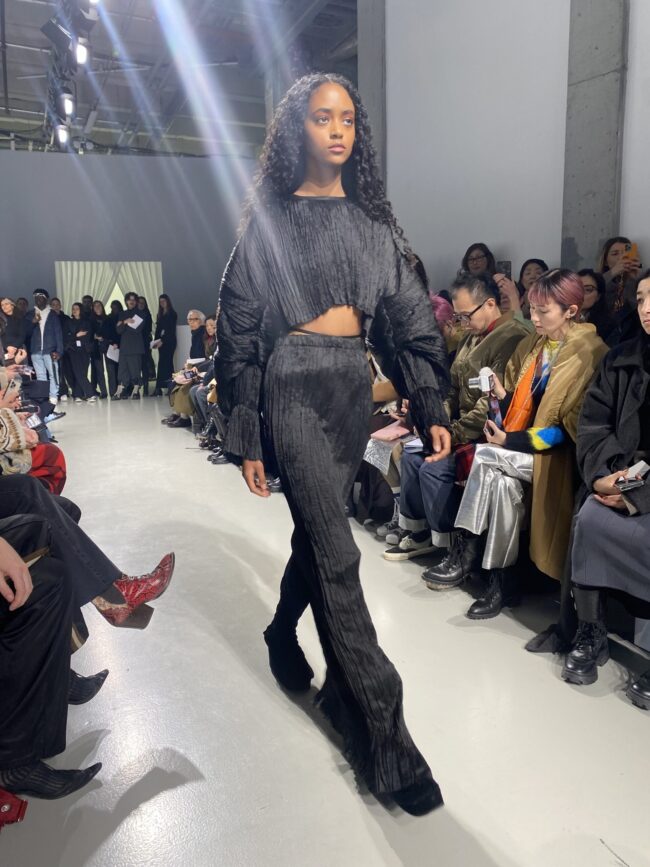 Meanwhile, at the Weinsanto show in the Marais, ballet dancer-turned-designer Victor Weinsanto brought a rainbow-worthy array of color and life to the runway, along with cheeky jokes and playfulness. For instance, one model wore only a giant, oversized-black sweater, perhaps poking fun at the absurdity and over-the-top-ness of some fashion shows.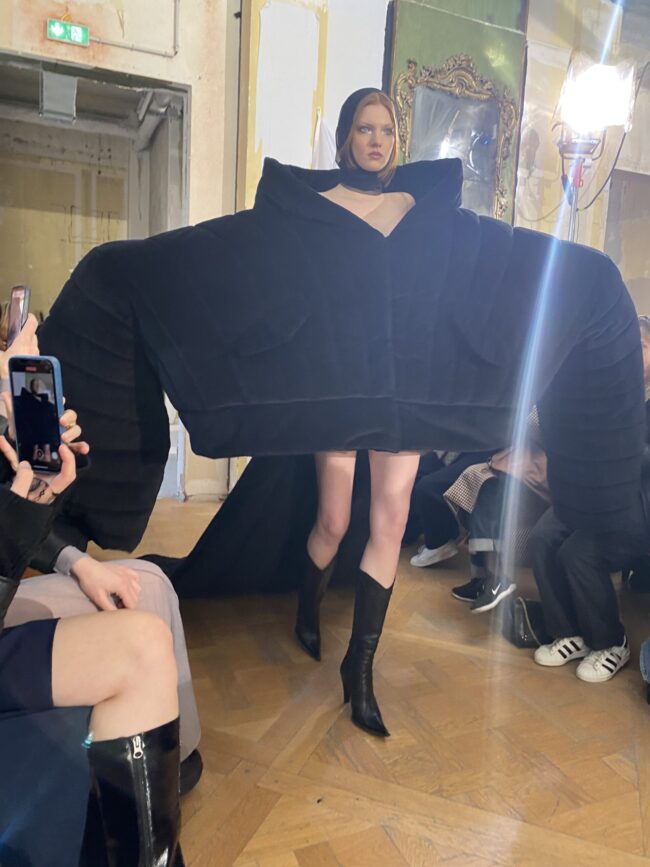 Weinsanto, who launched his namesake label in 2020, is known for using non-model models, who are friends and muses of all ages, shapes, and sizes. I love to see this kind of diversity in fashion, especially embracing fashion for all ages. Style and beauty don't have an expiration date; it's refreshing to find designers like Weinsanto who celebrate that fact.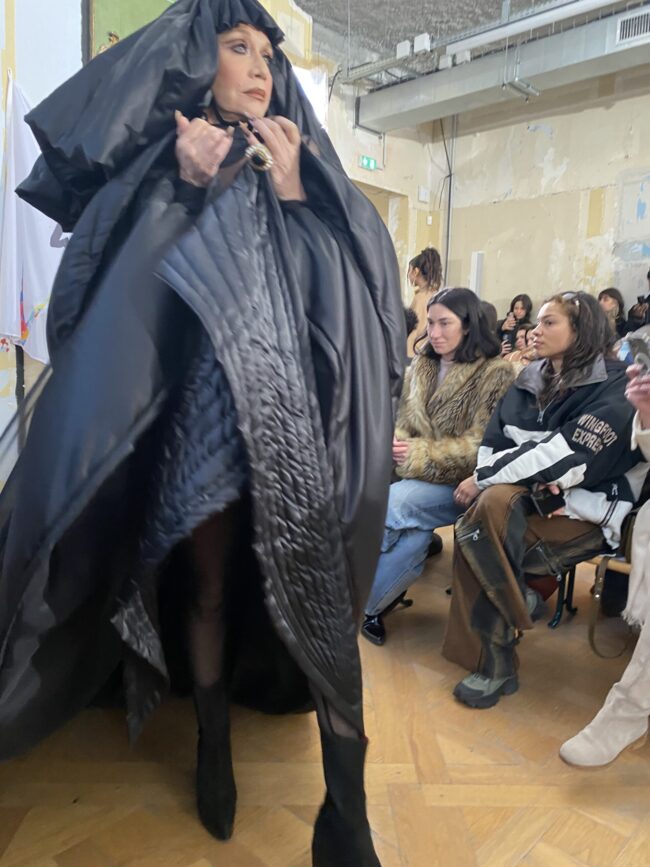 Showstopper numbers like this one are the reason we all come to fashion week! Fashion lovers, editors, fashion journalists, and buyers want to be awed, delighted, and excited. An explosion of color, an exaggerated headpiece, a mini-dress cut with a dramatic plunge – these elements combine to create a Paris Fashion Week look that'll be remembered long after everyone has already gone home. Fashion is not just about style; it's also about thinking outside the box and reinventing yourself in fun ways. This Weinsanto look was a home run for reinvention, fun, and fantastical style.
Lead photo credit : Photo credit: salomon10/ Flickr
More in Chanel, Mame Kurogouchi, Palais de Tokyo, Paris Fashion Week, PFW, Stella McCartney, Victoria Beckham, Weinsanto
---
---