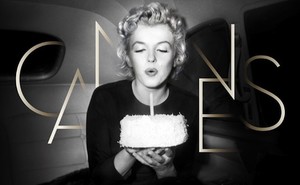 The Cannes Film Festival started with a bang and a scandal last week, when a syndicate of female filmmakers known as  La Barbe (The Beard) released a searing open letter decrying the festival judges for not including even one film directed by a woman in the 22 entries for the fest's top prize, the Palme d'Or.
Signed by Baise Moi director Virginie Despentes among others, the letter pokes fun, describing how "Men love depth in women, but only in their cleavage," but is also very forthright with its argument, pointing out the fact that only one lady director has been the recipient of the award in the festival's storied history, namely Jane Campion for The Piano. The letter goes on, "This selection [of films] sends a strong signal to the profession and the public around the world. Whatever we do, we must not let young girls believe they could one day have the nerve to direct films and climb the steps of the festival palace other than on the arm of a prince charmant." The cause has gone international, with even a petition to sign on Change.org.
As for a response from representatives at Cannes, selection committee chairman Thierry Fremaux was quick to defend the legendary film festival, calling attention to the fact that that half of those in the group to nominate films this year were women, and going on to mention something that most know all too well: "When it comes to cinema there is no doubt that the role of women must be increased. But this problem does not just exist in the month of May during Cannes, it's all year and always…. Accusing the festival serves no purpose."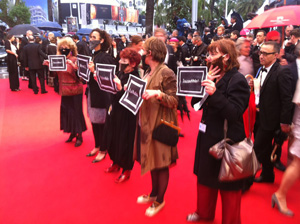 Whether the issue here is indicative of a larger problem (it surely is; as a study released by study The Center for the Study of Women in Television and Film at San Diego State University reports, women in Hollywood are still having a very tough time both behind and in front of the camera), it remains clear that women's role, especially at a festival like Cannes, is to look gorgeous and little else. Even two of the most notable female directors who are attending this year, namely Angelina Jolie (for In the Land of Blood and Honey) and Madonna (for W.E.), are first and foremost stars who are bankable for their famous figures and faces as opposed to the films they direct. Of course there are clear and resounding exceptions, like Kathryn Bigelow winning an Oscar for The Hurt Locker or Jennifer Lawrence's fiercely powerful turn as Katniss Everdeen in the international blockbuster The Hunger Games, but it remains nonetheless evident that Hollywood and the film world at large has always preferred its women as frail and beautiful things; one need only to look above the red carpet at this year's celebrated Cannes icon, that hallmark of delicate feminine beauty herself, Marilyn Monroe.
photo courtesy of La Barbe

Subscribe for
FREE

weekly newsletters.
BonjourParis has been a leading France travel and French lifestyle site since 1995.
Readers' Favorites: Top 100 Books, imports & more at our Amazon store
We update our daily selections, including the newest available with an Amazon.com pre-release discount of 30% or more. Find them by starting here at the back of the Travel section, then work backwards page by page in sections that interest you.
Current favorites, including bestselling Roger&Gallet unisex fragrance Extra Vieielle Jean-Marie Farina….please click on an image for details.
Click on this banner to link to Amazon.com & your purchases support our site….merci!