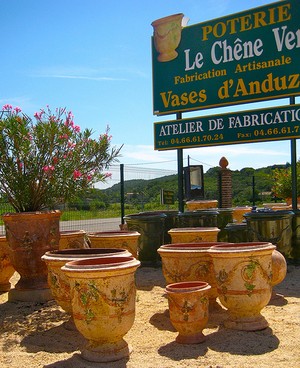 Since the fifth century, Anduze has been called "the land of potters" and Le Chêne Vert is carrying on this tradition. My mother owns a few stately Anduze vases, which she purchased from
Poterie Le Chêne Vert
(Green Oak Pottery). The owner, Monsieur Fourbet, even accomodated her request for a custom-made birdbath and gave it to her as a gift. The miniature ornament still sits in the entwined branches of an olive tree, impervious to the weather. When my mother returned last summer, she discovered that M. Fourbet had died from cancer. This recent loss explained the forlorn, but still gracious countenance of his daughter, Mary Fourbet-Lourd, who now runs the pottery establishment. She — like her brother, Yannick — is dedicated to preserving the family heritage; it is also one of the last institutions to turn clay by hand. Anduze only has a population of about 3000, but it skyrockets during the summer: tourists and campers flock to this city embedded in the Cevennes cliffs while sunbathers and stone-skippers plant themselves on its beaches. This Languedoc town is world-famous for its inverted bell-shaped pots, perfect for lemon and orange trees. Function and form are perfectly intertwined in Le Chêne Vert's pottery, from its tagines to its amphorae and kitchen sets. Le Chêne Vert is only a few minutes away from this hubbub. It's hard to miss with its rows of robust vases, each one as heavy as a Camargue horse. Inside, the shelves are lined with every type of crockery from lacquered casseroles to glazed tajines and platters. It also comes in a wide array of finishes and colors; Le Chêne Vert prides itself on its tailor-made colours like "Antica gray," which mimics the more neutral colors of the landscape. This 14-person company is responsible for creating a multitude of objects — olive jars, tea sets and chairs — but is most renowned for its Anduze vases, which line the boulevards of Nice and Montpellier. Indeed, the Château de Versailles is also a client and has spared no expense in
outfitting the Grand Trianon with 40 of its vases
. This regal vase has its humble beginning in the on-site workshop. The "hand-thrown" technique has three steps: first, a lump of plaster is shaped into plastic molds; then, the clay is smoothed and leveled at the base; finally, it is  hand-stamped with the date and the traditional garland. Some vases are adorned with lions' heads; others are embellished with cherubs or cornucopia. The stamp of Le Chêne Vert is based on a 15th century coin that depicted a sun with a crown on it. There are two stamps that lend the vase its authenticity: the Le Chêne Vert stamp inspired by the shape of a 12th-century gold coin, Écu au soleil, and the words "De Anduzia". (And if these stamps do not suffice, then authenticity certificates can be — and have been — issued.) Once the vase has sufficiently dried, it is dipped in white liquid clay, glazed and fired in a kiln at 1000 degrees Celsius. The finishing touches are what lend the "Antica" vases their fame: Copper oxide and manganese glaze the vase providing verdant, chestnut and yellow streaks. And the "hand-thrown" technique ensures that no two are alike in shape, color and dimension — another guarantee of proof. Le Chêne Vert even uses the ancient technique of rope threading to construct their pottery. Rope is interlaced with a stiff wooden frame to create the shape of the vase and then clay is molded to the frame. Once finished, both the frame and rope are removed and the pot is left to dry naturally. After Marie helped us pack another Anduze pot into the truck of our car, we returned to pick up the few eggcup sets I had set aside. Marie wrapped them carefully in tissue paper and handed them to me, but refused to accept payment. "Un cadeau," she said. *  A pitstop at
La Ferme de Cornadel Restaurant
gave us the sustenance we needed to tackle the gardens of
La Bambouseraie de Prafrance
, only two kilometers outside of Anduze. Contemporary artists have been invited to create artwork that harmonizes with La Bambouseraie's surroundings, like these origami-like lily pads. Like Le Chêne Vert, La Bambouseraie is a testament to preserving a family legacy. The bamboo gardens were the brainchild of Eugène Mazel, who purchased the 34-hectare Prafrance estate in 1855, but it is the Nègre family that opened the gardens up to the public. In 1902, Gaston Nègre became the owner and passed it on to his son Maurice.  When Maurice was tragically killed 12 years later, Gaston's wife Janice took up the reins; today, her daughter Muriel manages the gardens. At the gateway, there is a gift shop (La Bamboutique), vending machines, a Toutou bar (water bowl for your thirsty canine) — and a defibrillator, which is either a searing indictment of vending machine fodder or a reminder that the summer heat and the gardens' size are not for the faint of heart. In truth, the park can be enjoyed at a languid pace. Once you enter the park, you can appreciate the scale of what has been accomplished — a feeling echoed by airy Sequoia trees. This public park not only has 300 bamboo species, but also a Japanese-style garden, a maze and Mazel's original greenhouses. An elevated bamboo house is useful for protection against floods and snakes and a portion of the space can be used for storage. The sun-dappled bamboo groves are prismatic in hues of pale brown, red and black. In a replica of a Laotian village, the bamboo's variable uses are vaunted as the foundation of a house, in cabinetry or…
SUBSCRIBE
ALREADY SUBSCRIBED?
BECOME A BONJOUR PARIS MEMBER

Gain full access to our collection of over 5,000 articles and bring the City of Light into your life. Just 60 USD per year.

Find out why you should become a member here.

Sign in

Fill in your credentials below.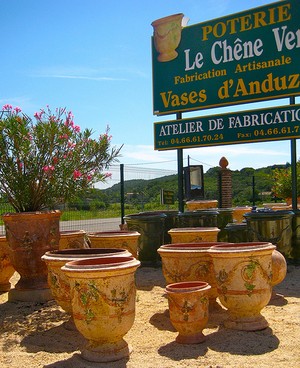 Since the fifth century, Anduze has been called "the land of potters" and Le Chêne Vert is carrying on this tradition.
My mother owns a few stately Anduze vases, which she purchased from Poterie Le Chêne Vert (Green Oak Pottery). The owner, Monsieur Fourbet, even accomodated her request for a custom-made birdbath and gave it to her as a gift. The miniature ornament still sits in the entwined branches of an olive tree, impervious to the weather.
When my mother returned last summer, she discovered that M. Fourbet had died from cancer. This recent loss explained the forlorn, but still gracious countenance of his daughter, Mary Fourbet-Lourd, who now runs the pottery establishment. She — like her brother, Yannick — is dedicated to preserving the family heritage; it is also one of the last institutions to turn clay by hand.
Anduze only has a population of about 3000, but it skyrockets during the summer: tourists and campers flock to this city embedded in the Cevennes cliffs while sunbathers and stone-skippers plant themselves on its beaches. This Languedoc town is world-famous for its inverted bell-shaped pots, perfect for lemon and orange trees.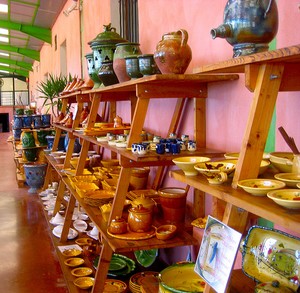 Function and form are perfectly intertwined in Le Chêne Vert's pottery, from its tagines to its amphorae and kitchen sets.
Le Chêne Vert is only a few minutes away from this hubbub. It's hard to miss with its rows of robust vases, each one as heavy as a Camargue horse. Inside, the shelves are lined with every type of crockery from lacquered casseroles to glazed tajines and platters. It also comes in a wide array of finishes and colors; Le Chêne Vert prides itself on its tailor-made colours like "Antica gray," which mimics the more neutral colors of the landscape.
This 14-person company is responsible for creating a multitude of objects — olive jars, tea sets and chairs — but is most renowned for its Anduze vases, which line the boulevards of Nice and Montpellier. Indeed, the Château de Versailles is also a client and has spared no expense in outfitting the Grand Trianon with 40 of its vases.
This regal vase has its humble beginning in the on-site workshop. The "hand-thrown" technique has three steps: first, a lump of plaster is shaped into plastic molds; then, the clay is smoothed and leveled at the base; finally, it is  hand-stamped with the date and the traditional garland. Some vases are adorned with lions' heads; others are embellished with cherubs or cornucopia.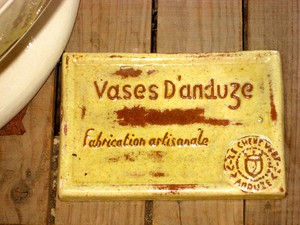 The stamp of Le Chêne Vert is based on a 15th century coin that depicted a sun with a crown on it.
There are two stamps that lend the vase its authenticity: the Le Chêne Vert stamp inspired by the shape of a 12th-century gold coin, Écu au soleil, and the words "De Anduzia". (And if these stamps do not suffice, then authenticity certificates can be — and have been — issued.)
Once the vase has sufficiently dried, it is dipped in white liquid clay, glazed and fired in a kiln at 1000 degrees Celsius. The finishing touches are what lend the "Antica" vases their fame: Copper oxide and manganese glaze the vase providing verdant, chestnut and yellow streaks. And the "hand-thrown" technique ensures that no two are alike in shape, color and dimension — another guarantee of proof.
Le Chêne Vert even uses the ancient technique of rope threading to construct their pottery. Rope is interlaced with a stiff wooden frame to create the shape of the vase and then clay is molded to the frame. Once finished, both the frame and rope are removed and the pot is left to dry naturally.
After Marie helped us pack another Anduze pot into the truck of our car, we returned to pick up the few eggcup sets I had set aside. Marie wrapped them carefully in tissue paper and handed them to me, but refused to accept payment.
"Un cadeau," she said.
*  A pitstop at La Ferme de Cornadel Restaurant gave us the sustenance we needed to tackle the gardens of La Bambouseraie de Prafrance, only two kilometers outside of Anduze.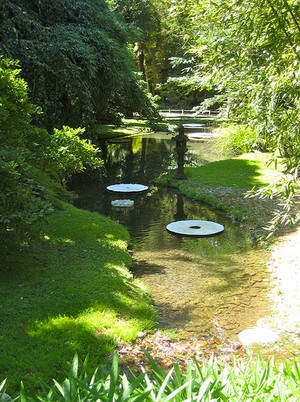 Contemporary artists have been invited to create artwork that harmonizes with La Bambouseraie's surroundings, like these origami-like lily pads.
Like Le Chêne Vert, La Bambouseraie is a testament to preserving a family legacy. The bamboo gardens were the brainchild of Eugène Mazel, who purchased the 34-hectare Prafrance estate in 1855, but it is the Nègre family that opened the gardens up to the public. In 1902, Gaston Nègre became the owner and passed it on to his son Maurice.  When Maurice was tragically killed 12 years later, Gaston's wife Janice took up the reins; today, her daughter Muriel manages the gardens.
At the gateway, there is a gift shop (La Bamboutique), vending machines, a Toutou bar (water bowl for your thirsty canine) — and a defibrillator, which is either a searing indictment of vending machine fodder or a reminder that the summer heat and the gardens' size are not for the faint of heart. In truth, the park can be enjoyed at a languid pace.
Once you enter the park, you can appreciate the scale of what has been accomplished — a feeling echoed by airy Sequoia trees. This public park not only has 300 bamboo species, but also a Japanese-style garden, a maze and Mazel's original greenhouses.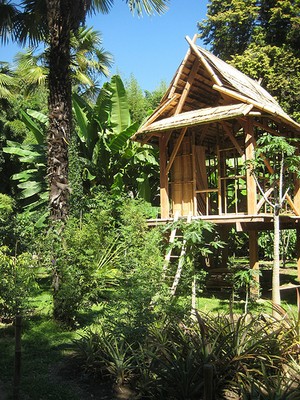 An elevated bamboo house is useful for protection against floods and snakes and a portion of the space can be used for storage.
The sun-dappled bamboo groves are prismatic in hues of pale brown, red and black. In a replica of a Laotian village, the bamboo's variable uses are vaunted as the foundation of a house, in cabinetry or as textiles. (But keep an eye on the ground for the chickens with feathered feet: they are an unexpected delight, but can be rather hostile.) Hibiscus, camellias and wisteria adorn the many nooks and crannies of the park, which are perfect for repose.
The park's serenity is thanks in part to Muriel's desire to shun advertising. ("We are more interested in respecting nature than running after profit.") Perhaps, she was concerned that the ambience — that sense of being transported from Southern France to Southeast Asia — might not survive the onslaught of such commercialism.
By the same token, La Bambouseraie only survives through capitalism (bookended as it is by shops and bankrolled by entrance fees). You realize how ephemeral this tranquility is when you reach the nursery at the end of the park. A turnstile spins beneath a sign that says "Sortie definitive" (definitive exit) — it mercilessly deposits you onto the pavement and back within reach of the Midi sun.
PRACTICAL INFO
By car, Anduze is 25 minutes south of Alès, 45 minutes west of Nîmes and about an hour north of Montpellier.
From Paris:
By train:
For train schedules within France, visit Voyages-sncf. I recommend taking the train from Paris to Nîmes (about 3.5 hours) or take the TGV from Paris to Nîmes (about 2 hours).
For bus information, visit Autocars Telleschi/Cartreize or call 04-42-28-40-22.
When you arrive in Nîmes, consider driving to Saint-Jean-du-Gard where you can take the Cevennes steam train to Anduze; it has a pitstop at La Bambouseraie.
Route d'Alès (D910) à Boisset & Gaujac
30140 Anduze
Tel.: 33 (0) 4 66 61 70 24
Summer hours: Monday to Saturday: 9am to noon; 2pm to 7pm; Sunday and bank holidays: 10:00 a.m. – noon; 2:00 p.m. to 7:00 p.m.
Winter hours: Monday to Saturday: 10:00 a.m. – noon; 2:00 p.m. to 6:00 p.m.; Sunday and bank holidays: 2:00 p.m. to 7:00 p.m.
Free visit to workshop: every Wednesday from 2:00 p.m. to 4:30 p.m.
A park visit is approximately 1.5 hours.
La Bambouseraie,
Domaine de Prafrance 30140 –
Générargues (à 2 kms d'Anduze)
Tel.: 33 (0) 4 66 61 70 47
Opening hours:
Open 7 days a week from March 1 to November 15
From March 1 – 20: 9:30 a.m. to 6:00 p.m.
From March 21 – September 30: 9:30 a.m. to 7:00 p.m.
From October 1 – November 1: 9:30 a.m. to 6:00 p.m.
From November 1 – 15: 9:30 a.m. to 5:00 p.m.
2011 entry fees beginning at 8.60 Euros.
Route de Générargues
30140 Anduze (Gard)

Tel.: 33 (0) 4 66 61 79 4
Open daily Apr 26 to Sept 30
All photo credits: Cara Waterfall

Subscribe for
FREE

weekly newsletters.
BonjourParis has been a leading France travel and French lifestyle site since 1995.
Readers' Favorites: Top 100 Books, imports & more at our Amazon store
We update our daily selections, including the newest available with an Amazon.com pre-release discount of 30% or more. Find them by starting here at the back of the Travel section, then work backwards page by page in sections that interest you.
Current favorites, including bestselling Roger&Gallet unisex fragrance Extra Vieielle Jean-Marie Farina….please click on an image for details.
Click on this banner to link to Amazon.com & your purchases support our site….merci!
More in anduze, day trips from Paris, daytrip, pottery
---
---