Mains Brunes Sur La Ville : It Can't Happen Here—Or Can It?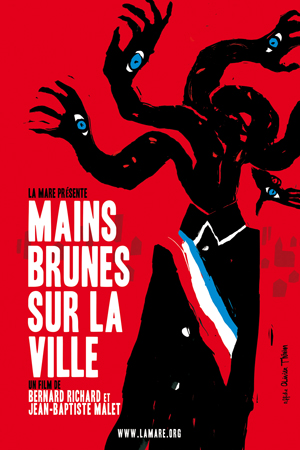 Many people were startled after the first round of French presidential elections, when Marine Le Pen of the extreme-right Front National won nearly 20% of the vote. Marine Le Pen has managed the feat of projecting a strong personality while seeming to moderate her party's views and eliminate the anti-Semitism that stained it for years. Can she succeed in legitimizing her party as Gianfranco Fini did with the Italian neo-fascists? According to one French observer, her task will be eased as the FN's old guard (many linked with groups that collaborated during WWII) die off. What might government under the Front National really be like? Grass-roots activists have set out to give a chilling description in the engrossing new documentary Mains Brunes Sur La Ville (literally Brown—as in brownshirts—Hands on the City).
In the 1990s, France was shocked when three cities in the south, Orange, Marignane, and Vitrolles fell to the extreme right. Jean-Marie Le Pen was in his prime, aided by his smooth-talking right hand, Bruno Megret. Le Pen and Megret ultimately had a falling out, and two of the cities were lost by the party. However, Orange remained under FN rule, and was joined by the smaller neighboring town of Bollène. (The mayor of Bollène is the wife of the mayor of Orange.) What's more, after several years under Jacques and Marie-Claude Bompard, the towns seem to be firmly in the grip of the party.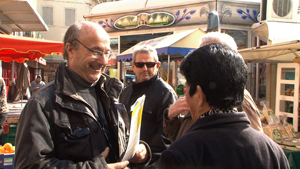 The activist directors Bernard Richard and Jean-Baptiste Malet seek to explore the reasons—and the consequences— and to spur some sort of reaction. The movie is divided into several thematic topics, examining the role of the Algerian war (many pieds noirs, French Algerians, settled in the south after that country's independence), economics, demographics (senior citizens vs. the young), law and order, and more. There are interviews with politicians on the left and right, as well as ordinary citizens, interlarded with statistics and history lessons.
While the documentary is interesting and informative, it also has a preaching-to-the-converted quality. Americans are used to this sort of thing from Michael Moore on the left and Fox News on the right. Seeing the same techniques from an outside perspective, we are more aware of the distortions. The use of an old-fashioned voice-of-reason narrator, instead of a cheeky guy in a baseball cap, is reassuring but also arouses skepticism. Although the directors are, like Moore, skillful at structuring a complex subject, they lack Moore's humor and gift for finding dramatic footage. Mains Brunes is much more a film of talking heads.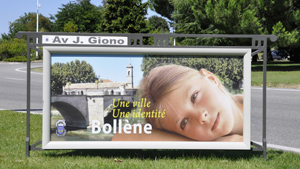 So we see older residents and family types affirming that they feel safer under the FN, which has increased the number of municipal policemen (statistics seem to bear this out). Young men of North African descent then complain about being constantly harassed. We're not furnished with convincing anecdotal accounts on either side, no Trayvon Martin incidents, no cell-phone footage of bad behaviour. It comes down to he said-she said.
On the subject of social services, the FN municipalities have increased services for seniors, including sponsored parties and other activities. These practices are condemned by leftist politicians as clientelisme (pork-barrel patronage in US terms), and indeed the troisième âge vote in large numbers for the extreme right. The same politicians criticize budget cuts to cultural centers for the young and other social programs. We sympathize, but wonder why aid to the aged isn't considered benevolent—and why the filmmakers ignore the fact that the cultural centers tend to be run by individuals with leftist leanings. An unintended lesson is how politicization can reduce debate to denominating pots and kettles.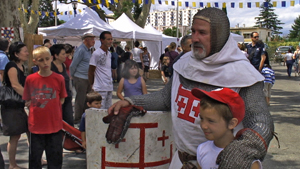 The skewed technique can be seen in the interviews. Interviews with Jacques Bompard, his wife Marie-Claude, as well as other Front National officials, are combative on both sides.  This may be the fault of the subjects, who are not known for their easy-going nature. But it also seems due to the Michael Moore-type advocacy approach (including "ambushing" subjects at public gatherings). The advocacy is legitimate, but the result is verbal fireworks without much insight. On the other hand, when interviewing leftist politicians, from the Parti Socialiste and Parti Communiste Française, the filmmakers let the subjects speak without any prodding. Again insight is lacking, though we ironically do get a sense of the French left's moralistic complacency.
The makers of Mains Brunes Sur La Ville are to be applauded for venturing where other filmmakers and journalists have not cared to go. They take up a number of the underlying reasons for the surprising success of the Front National (at least in one region), at a time when the extreme right is making gains, and not only in France. But watching the film also reminded me of the time I asked a progressive-minded friend what he thought of the latest Michael Moore opus, and he replied: "Snew Xof." Perplexed, I asked him what he meant. "Snew Xof," he repeated. "Fox News spelled backwards."
The film is distributed in France by La Mare Aux Canards and will be available on DVD in September.
Images courtesy of La Mare Production.

Subscribe for
FREE

weekly newsletters.
BonjourParis has been a leading France travel and French lifestyle site since 1995.
Readers' Favorites: Top 100 Books, imports & more at our Amazon store
We update our daily selections, including the newest available with an Amazon.com pre-release discount of 30% or more. Find them by starting here at the back of the Travel section, then work backwards page by page in sections that interest you.
Current favorites, including bestselling Roger&Gallet unisex fragrance Extra Vieielle Jean-Marie Farina….please click on an image for details.
Click on this banner to link to Amazon.com & your purchases support our site….merci!
Leave a reply
Your email address will not be published. Required fields are marked *