76th Cannes Film Festival Ignites La Croisette
La Croisette is bursting with life as the 76th annual Cannes Film Festival kicked off on Tuesday, May 16. This week marks the beginning of the esteemed international film festival in its storied southern France location along the French Riviera.
Movie stars from around the globe are touching down at the Nice Côte d'Azur airport and making their way to the festival. Thousands of members of the international press from all over the world are collecting their badges at the Gare Maritime office, ready to see film after film for the foreseeable future. (Most journalists see two to three films per day during the nearly two-week-long film festival.)
Director of the 2022 Palme d'Or winner, Triangle of Sadness, Ruben Östlund is serving as the head of the 2023 Cannes jury. Among this year's Cannes jurors is actress Brie Larson. Larson made headlines this week with her comments about the new Johnny Depp film premiering at Cannes, Jeanne du Barry. Larson said she's unsure if she will see the movie, saying, "I don't know how I'll feel about it." (Depp's highly publicized legal issues with ex-partner Amber Heard, which included abuse allegations, have left the public – and members of the industry, like Larson – with polarizing feelings towards Depp.)
Longtime Cannes festival chief Thierry Fremaux has been engaging with the press in the lead-up to the festival, including addressing various controversies, like the inclusion of Depp's film in the festival program. On a smaller scale, there have been frustrations among members of the press about the digital ticketing system which, in the first few days of opening, presented technical issues for journalists trying to secure tickets to screenings.
Fremaux noted how there's a large number of U.S. films at Cannes this year, which include Indiana Jones and the Dial of Destiny, the animated Pixar film Elemental, and Todd Haynes' May December starring Natalie Portman. One of the hottest tickets at Cannes this year is the new Martin Scorsese film, Killers of the Flower Moon, starring frequent Scorsese collaborator Leonardo DiCaprio. Wes Anderson's new film Asteroid City from Focus Features also has good buzz surrounding it; its all-star cast includes Tom Hanks, Margot Robbie, Tilda Swinton, Jeff Goldblum, and more.
Black Flies, starring Sean Penn and Mike Tyson, is another talked-about title as the fest. Pedro Almodóvar's Strange Way of Life has people in Cannes giddy at the prospect of another great Almodóvar film. The film, which was shot in the south of Spain, is the second English-language film from the Spanish director, following The Human Voice (2020). Strange Way of Life stars Pedro Pascal and Ethan Hawke. (Hawke's daughter, Maya Hawke, is among the star-studded cast of Wes Anderson's Asteroid City.)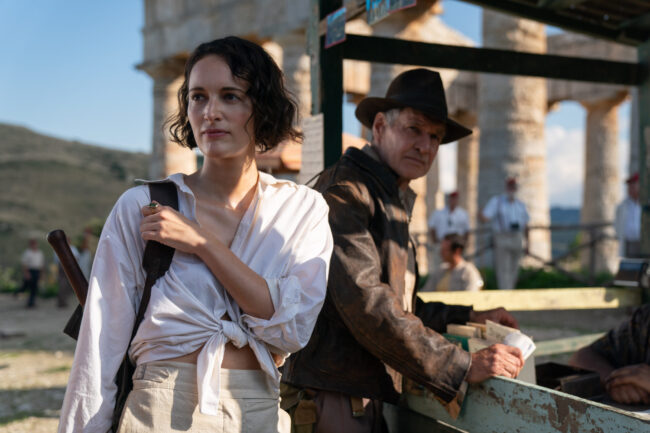 The New York Times dubbed the new Almodóvar film as a "gay Western" movie, and Variety calls it a "gay cowboy" film. Before the film's debut, it's easy to draw comparisons to the Oscar-winning 2005 Ang Lee film Brokeback Mountain, in which the late Heath Ledger and Jake Gyllenhaal play lovers and cowboys. Like Strange Way of Life, Brokeback Mountain's premiere was at an international film festival (the Venice Film Festival).
The new Indiana Jones movie, starring Harrison Ford and Phoebe Waller-Bridge, is also a hot ticket in town. The 80-year-old star continues to kick some serious butt in his career and shows no signs of slowing. In an industry rife with ageism and sexism, it's deeply heartening to see stars in the later decades of their lives continue to work and helm large, big-budget films.
Michelle Yeoh, who won an Oscar this year for her starring role in Everything Everywhere All At Once, is being honored with the Kering Women in Motion Award this year. Last year, Kering honored Viola Davis with the award. Every year since 2015, the Kering Women in Motion Award is presented to an iconic female actress who has made an indelible mark on the film industry. Malaysian-born Michelle Yeoh has ascended to the ranks of A-list star during her decades working in the international film industry. This year, she became the first Asian actress to win an Oscar for Best Actress. Previous winners of the Kering Women in Motion Award include Jane Fonda, Geena Davis, Isabelle Huppert, Salma Hayek, and more.
There's been a lot of speculation about how the ongoing Writers Guild of America (WGA) strike may affect proceedings at Cannes and how the strike may impact business plans at the Cannes market. WGA writers are striking because they are fighting for residuals from streaming platforms, better pay for their work, longer employment contracts, and – as is necessitated by this 2023 age of AI – technology safeguards around AI in the writing industry.
The 76th Cannes Film Festival kicked off this week, and already it's full of drama, intrigue, villains, heroes, and a triumphant queen (Michelle Yeoh). Like a film plot, the festival will unfold in both expected and unexpected ways, leaving us all wanting more. But when the festival comes to a close at the end of May, we'll have to wait until the sequel comes out, in May 2024, for more Cannes magic.
Lead photo credit : Courtesy of the Festival de Cannes press office
More in Cannes, Cannes Film Festival 2023
---
---