Frenchie To Go, Bonnie, Louise Bourrat: Paris Food News
"Anyone who's a chef, who loves food, ultimately knows all that matters is: Is it good? Does it give pleasure?" -Anthony Bourdain (1956-2018)
There's never a dull moment on the Paris food scene. Here's the latest, spring-flavored round-up of restaurant news for our food-loving readers.
Some restaurants just call you back, don't they? We wanted to catch up with Jules Monnet, the former assistant film director (No Limit, Les Yeux Fermé, Jack London- Une Aventure Américain etc.) who gave in to his passion and opened his chic bistro/bar about 18 months ago. The bright space, punctuated with modern art, just off rue Saint Dominique, was formerly Nicolas Valanchon's "FL" (BTW, Valanchon's now creating in Amiens here).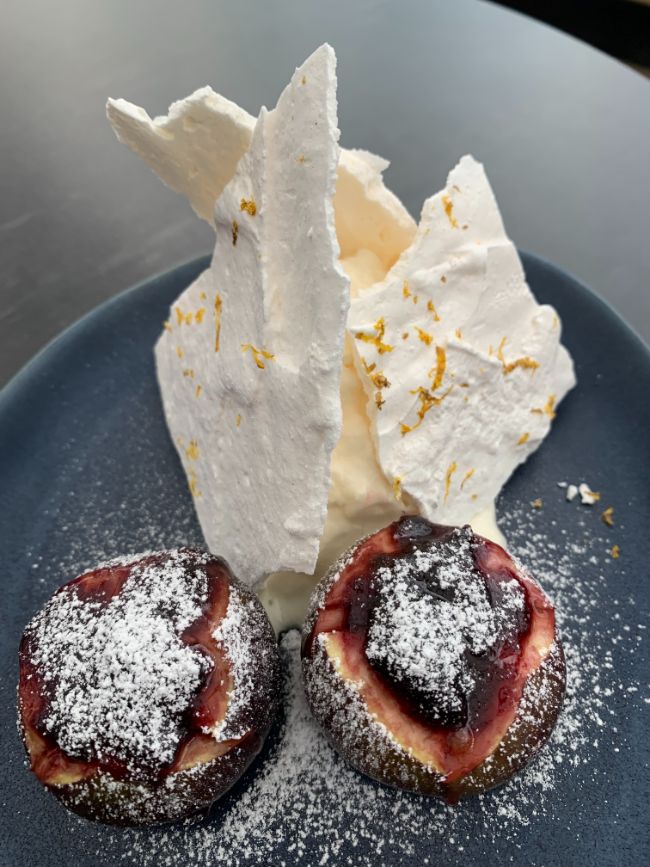 From the tiny open kitchen, Monnet produces contemporary dishes bringing epicureans back time after time.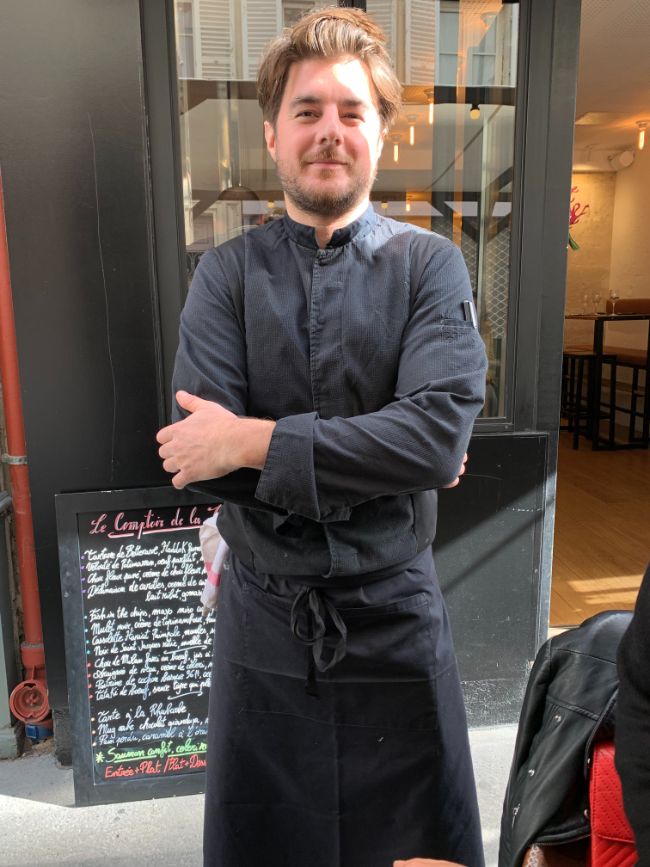 Drink to "Traboule" (secret passageways in Lyon) with a glass of biodynamic red La Colline en Flamme (2021, Romain Paire, €9) or the mildly acidic white La Vallée de Aigle (2021, Domaine Serre Romani/Grenache, €10), made with gris et blanc Macabeu grapes, and study the exciting blackboard menu which changes daily.
View this post on Instagram
For the fish "in" the chips (€13), Monnet's interpretation includes a miso mayo and a touch of black curry – and it works. There's also pollack ravioli (€11); scallops, watercress cream, smoked herring caviar, begonia sprout (€13); monochrome de butternut (€8); sashimi of mackerel (€11). "They're dishes for sharing," suggests Monnet. Delicious desserts include lemony pavlova with Chantilly cream (€8) and the chocolate mug cake (€8). Attention – addictive!
View this post on Instagram
We're happy to return again and again – Monnet's an artist in the kitchen and quality for the price is incredible. See you there!
1bis rue Augereau, 7th
Metro: Ecole Militaire
Tel: +33 (0)1 43 19 02 08
Open 7/7
There's an exciting, peaceful, croissant revolution taking place at The Ritz, Paris. "Why do croissants always have to be a crescent shape?" asks pastry chef François Perret.
View this post on Instagram
We discuss the fact that, legend has it, following her arrival in France, Marie Antoinette was homesick for her native Austria. So, after her marriage to King Louis XVI in 1770, as you would in her situation, the young woman imported the Austrian kipfel, a crescent shaped pastry, to the French court.
Another legend credits 19th-century Austrian baker August Zang with bringing the kipfel to his Parisian boulangerie and the flaky delight became instantly popular, and evolved into the croissant as we know it today. Read Jim Chevallier's fascinating book, August Zang and the French Croissant: How Viennoiserie Came to France.
Now, hurry to Le Comptoir where the delightful Perret, Ritz Paris's head pastry chef since 2015, is the mastermind behind the neo pastries, luxurious lunchtime sandwiches and check out the delicious nouveau style croissants. Somebody tell Chevallier!

"I designed the croissants (plain and chocolate) to be picked up so they're easier to manage. The concept offers my customers convenience – finger food," explains the chef. Marvelous! I took mine on the train and loved the envious looks of fellow passengers. (From €4)
38 rue Cambon, 1st
Metro: Madeleine
Tel: +33 (0)1 43 16 30 26
10 years after launching his then unique Frenchie To Go concept (FTG), Greg Marchand announces the mid June closing. "It's time to rethink this brand concept", says the ever curious Marchand. There's still time to nip over to rue de Nil for your Reuben sandwich fix. Yum! See you there!
9, rue de Nil, 2nd
Tel: +33 (0)1 42 21 96 92
Metro: Sentier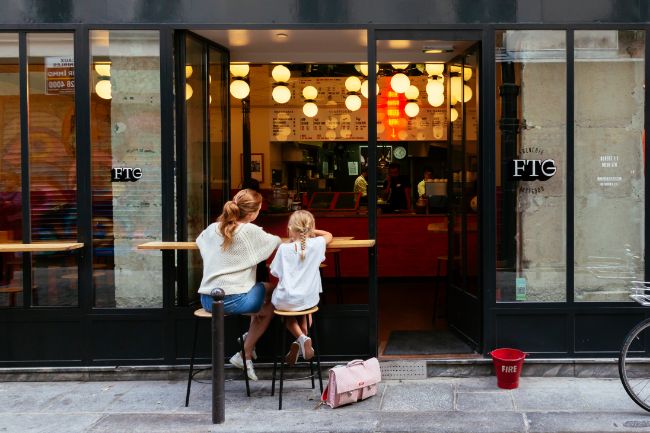 Perched on top of the newish SO/Paris Hotel, Bonnie is a Paris Society venture, launched with a nod and a wink to the 60s of Bonnie & Clyde, Bardot and Gainsbourg. This exciting restaurant/brasserie bar/club has spectacular Paris views. Designers Notaire have gone wild with the 15th/16th floor restaurant open for breakfast, lunch, dinner.
And, Olafur Eliasson and Sebastian Behmann's mirrored ceiling turns the world upside down – you see double! The effect of this blending merges the panoramic view, blurring the inside/outside boundaries. Astonishing!
On the menu (Paris Society never divulge chef's names!):
Lobster Rolls (€28)
Truffled Croque Monsieur (€18)
White Asparagus, sauce Maltaise (€26)
Marinated Sea Bream, lime (€22)
Snails, parsley butter (€18)
César Salad (for the ladies who lunch €34)
Angus Ribeye, French fries, Bearnaise (€52)
Cheesecake Bonnie (€14)
Pecan Pie (€16)
Red Fruit Sundae (€18)
10 rue Agrippa d'Aubigné, 4th
Tel: +33 (0)1 78 90 74 74
Metro: Sully Morland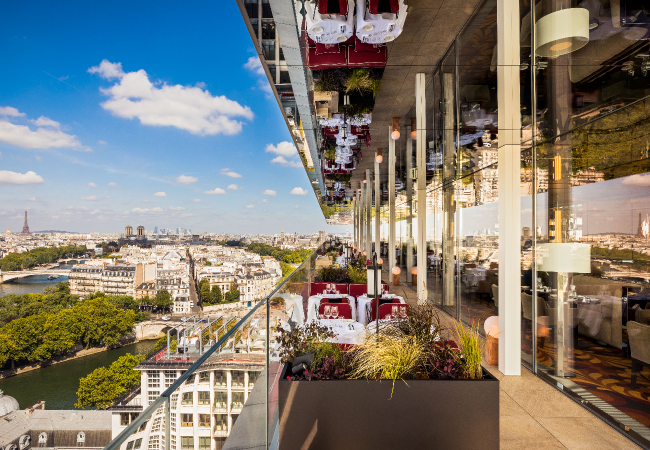 For the second year, Le Drugstore Publicis celebrates Roland Garros, beckoning you onto the shady terrace to enjoy the iconic tennis tournament.
From May 22nd – June 11th, the Champs Elysées is the place to be for foodies and sports enthusiasts. Match-inspired cocktails and desserts are definite tie break and trophy winners! The tennis season begins on Drugstore's center court with healthy sports snacks and cocktails: €16€ (with alcohol) and €12 (sans alcohol). Desserts: €12.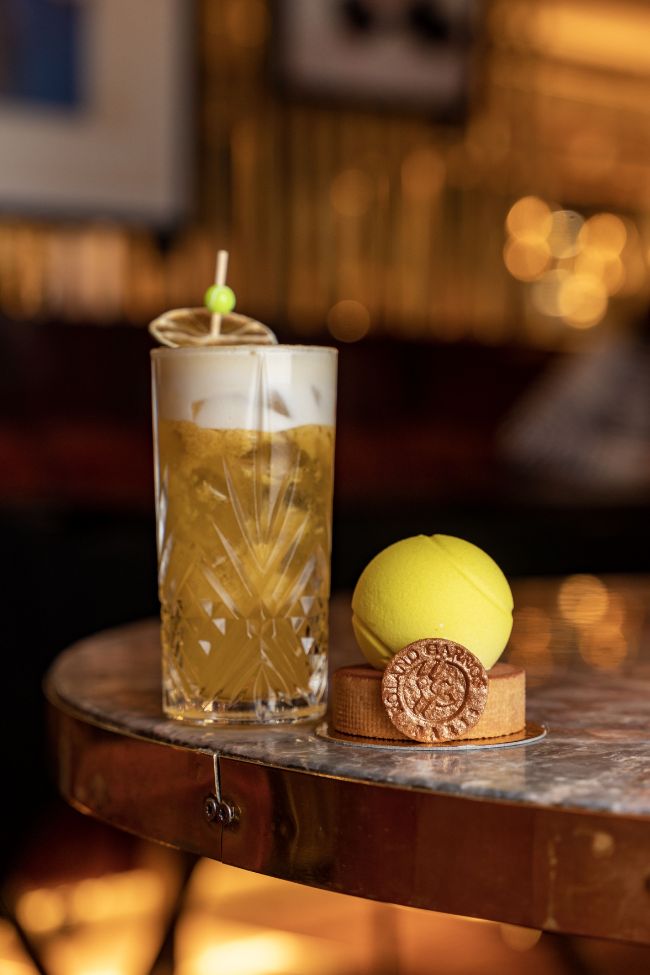 Le Drugstore's chef conseil Eric Frechon tells us of an exciting new culinary duo, cheffe Alice Kamioka and pastry cheffe Léna Thiam. Alice was formerly at the Le Bristol, Le Saint-James (16th) and Le George V with Christian le Squer, and Léna you know from Fabrice le Bourdat's Blé Sucré, in the 12th, near Le Marché d'Aligre. The duo plan seasonal Mediterranean cuisine. Serve it! Smash it! Eat it!
133, avenue des Champs Elysées, 8th
Metro: Charles De Gaulle/Etoile
Tel: +33 (0)1 44 43 7764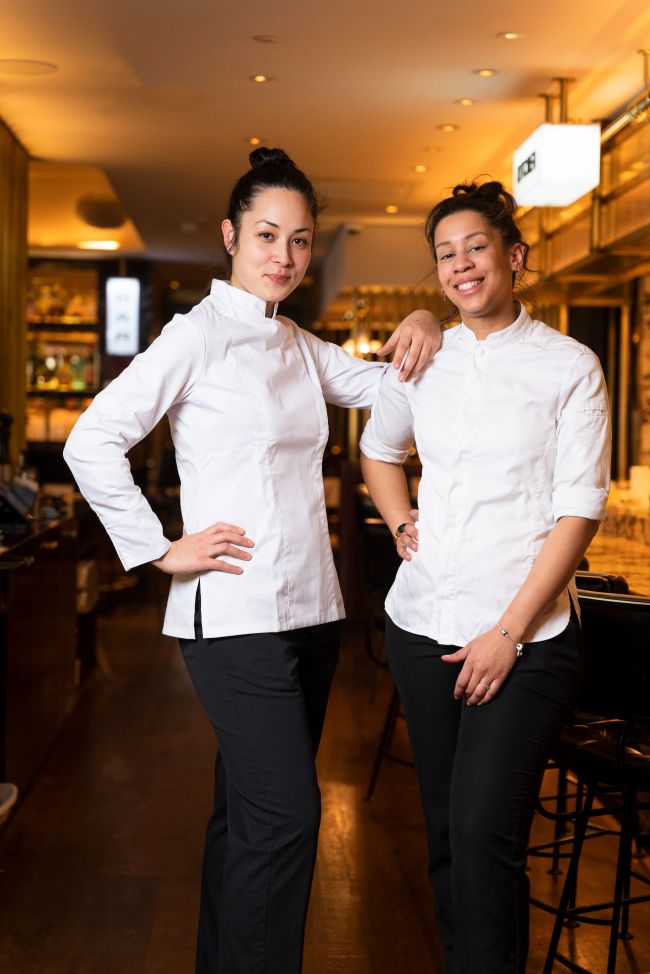 A unique pop-up restaurant by this 160-year-"young" maison with young cheffe Louise Bourrat, winner of Top Chef (France) 2022.
"I adore the Marie-Antoinette style, the velvet and fringed lampshades, leopard-print upholstery," says the cheffe. "It's a mix of The Great Gatsby, Alice in Wonderland and Sofia Coppola's Marie-Antoinette, n'est ce pas?"
Why not reserve for a unique tasting experience? In two stages, Louise Bourrat's floral inspired menu until September – followed with autumnal savors and flavors until the end of October 2023.
Evenings begin with exciting cocktails in the iconic tea room, continue in the restaurant with exciting gourmet dinners. Royale!
Les Soirées Royales de Louise Bourrat :
Tuesday – Saturday from 7:30-10:30pm
Tasting Menu 5 dishes €85 (with wine pairings +€38)
Cocktails €16
Bouchées Royales €18
Ladurée Paris Royale
16, rue Royale 8th
Tel: 01 42 60 21 79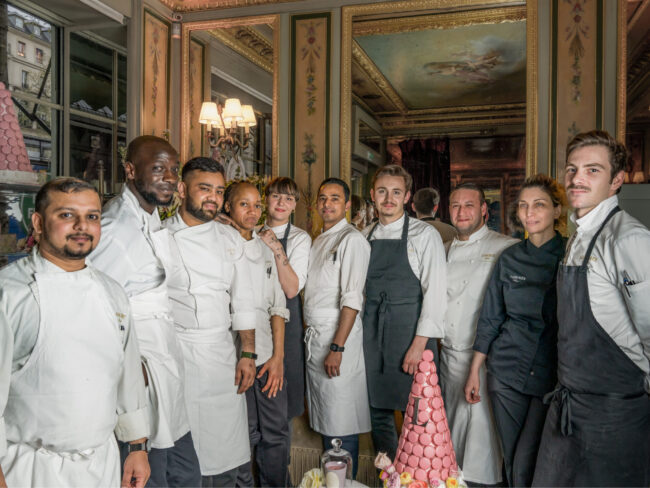 Lead photo credit : Bonnie. Photo credit: Romain Ricard.
---
---