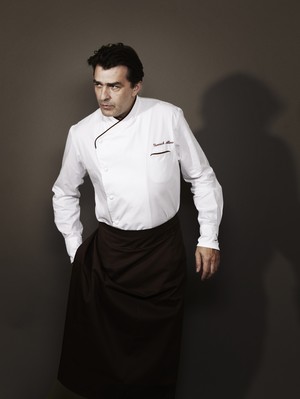 Yannick Alléno, Three Michelin Star chef, is a member of the elite circle of the world's greatest chefs.  His work on Cuisine Moderne is about to break the rules of French cuisine and to take a stand for liberty and culinary creativity.
Born in Puteaux (near to Paris) into a family of chefs, Alléno immediately took to the kitchen. After training at some of the top restaurants, by 2003, he became head chef at Hôtel Meurice. By 2007, only four years later, he was awarded his third Michelin star.
What are you most proud of (in terms of your own achievements)?
I started my career at 15 years old so I have many memories and many wonderful moments. But if I had to select one it would be the day I was elected "Chef of the year" by my peers in 2008.
What's your secret talent?
My secret talent, I have no idea! but I can tell you that I am doing what I like every day and if I had to change something, I would not change a thing. The secret would maybe be: Hard work and creativity.
If you could share a coffee or bottle of wine with a fellow Parisian from past or present, who would it be?
It would be a Nespresso coffee, the Grand Cru Nespresso Indriya, with a spicy taste coming directly from India. Or of course a bottle of Château Yquem for a perfect meal with friends! And the two people I would most want to share my time with are my two sons.
Is there a local person you admire?
I admire many people and many chefs. But if I have to quote someone it would be Paul Bocuse, who still has a very contemporary vision of French gastronomy.
What's your favorite thing about Paris?
The diversity of its restaurants. There is always a new place to discover.
What's the one thing that every Parisian should own?
Humor.
An item you can't live without?
My Phone. It is my link with my chefs and my family. They can contact me anytime.
Favorite place to go for lunch?
Terroir Parisien of course!
Favorite place for dinner?
Akrame restaurant in Paris. He is very talented and I like his vision of the cuisine.
Best place for coffee or drinks?
The terrace of the Park Hyatt Vendôme is my favorite place to enjoy a coffee or a glass of wine. It is trendy and I enjoy the atmosphere there.
Where do you like to shop for clothes?
I do not have a particular place to shop. I enjoy wearing different brands. It really depends on my mood.
Where do you shop for produce/groceries?
I like going to the markets on Sundays – any market actually.  I also enjoy discovering new markets when I am abroad to discover new products.
Your favorite neighborhood?
I like the Montmartre area which is typically Parisian.
Most fun thing to do in Paris?
There are so many things to do in Paris, restaurants, pubs, museums… The funnest thing is to walk around the streets without knowing where you're going and you will be surprised more than once! Paris is amazing.
What's the "touristy" thing you'd secretly like to do in Paris but haven't?
I'd like to visit the catacombs of Paris. It must be full of surprises and history as well.
What's the most "touristy" thing you've done in Paris?
I've been up to the top of the Eiffel Tower. An amazing memory.
Best life lesson you've learned?
Work hard and you will succeed.
Three words to live by?
Creativity, work, family.
One thing you could change about the world?
I do not have the pretention to change anything but of course if I had magical powers, I would erase the hunger in the world.
One thing you wish Parisians would stop whining about?
We French people, always complain about everything. Not only Parisians. Stop whining, it is too difficult!
You've only got 25 euros left – how would you spend them?
I would probably buy something to eat for dinner. Cheese and Wine, one of my favorite dishes!
Favorite book?
"Lettres à un jeune poète" from Rainer Maria Rilke. This book is full of advice on work, creativity and life. I like to sometimes open it and float around the pages.
All-time favorite movie?
All the Quentin Tarantino movies are my favorite. They are so surprising.
Favorite city to visit (aside from Paris)?
I have the chance to travel a lot with my job and I love it. I am always very impressed with Shanghai.
Is there an annual event like a festival, gala or an exhibit that you look forward to every year?
Les Bocuses d'or in Lyon at SIRHA. It takes place once every two years. The best chefs of the world are represented there. It is an event not to be missed and I really like  spending a good amount of time there. It is for me a good memory as well…
What's the one place you HAVE to take an out-of-town guest to in Paris?
I would definitely take my guest to visit the art Galleries. I am a big fan of contemporary art.