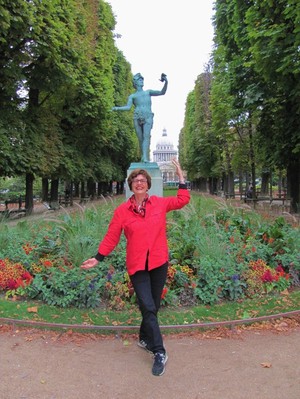 Where can you see the daily spectacle of George Sand, Charles Baudelaire and Frédéric Chopin – not to mention Harriet Welty-Rochefort – striking significant poses as if resurrected from the dead?
Easy: in the Luxembourg Garden. Stone effigies of Sand, Baudelaire and Chopin lurk amid the gorgeous greenery of the garden's meandering paths, and I for one pay homage to these Romantic idols several times a week. Splayed out behind the palatial French Senate building the Luxembourg is my favorite park in Paris. That's saying a lot in this city of fabulous gardens.  Apparently it's also one of Welty-Rochefort's preferred haunts.
That's why we met recently at Café Rostand facing the park, to sip strong coffee, take a stroll, discuss books, views on life in France, and share neighborhood secrets: the great places to eat, drink, shop or soak up culture in nearby streets.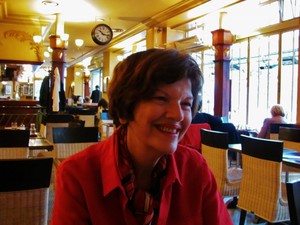 Admittedly the coffee at Le Rostand may not be extra – "great" in French slang – but the atmosphere is. The café is in a way the old-fashioned, caffeine-driven gateway to the garden.  You can hear the ticks from the big round clock hanging from the ceiling: there's no Wi-Fi, no corporate spiel, and no rush. In fact the service is refreshingly un-subservient.
As we darted between road warriors across the Rue Médicis into the garden I asked Harriet about her latest book, "Joie de Vivre: Secrets of Wining, Dining and Romancing Like the French," published in October. I'd thoroughly enjoyed it, and was curious to get the skinny about her definition of this elusive notion. Was joie de vivre a lust for life, the pursuit of happiness, or just rhetorical French flair to cover a penchant for curmudgeonly behavior?
"All of the above," Harriet quipped.
What surprised me most about the book was Harriet's ability to find joie de vivre everywhere, even in conflict and argument. The French, I had to agree, love a snarling session, especially shouting and waving their hands. To an American that might be a prelude to a fist fight. Here it's usually gleeful. To be passive and inappropriately polite is a sign of weakness, just as extreme optimism indicates stupidity or ignorance.
The most enlightening element of this opus seems to me the way Harriet spots the little differences between America and France and what's important in life. She found a ready example. With the Panthéon behind us we paused to watch joggers loping by in designer sportswear. "It's sure not New York," Harriet laughed – she does a lot of that. "They don't kill themselves the way they do racing around the reservoir in Manhattan," she added. "You'll see them in Le Rostand, resting, reading the papers, enjoying life. There's no guilt."
This was particularly pertinent: ideas about time, priorities and guilt are utterly different on opposite sides of the Atlantic. Harriet reminded me that in my book, "Paris, Paris: Journey into the City of Light" the chapter about the Luxembourg Garden details how Parisians – and visitors – happily spend entire days lounging. Watching ducks in a pool or the mossy Médicis Fountain can be nearly as instructive as reading a history book.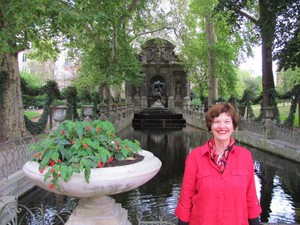 Speaking of fountains, Harriet concurred that a great place to eat nearby is Les Fontaines, a simple corner restaurant favored by provincial French: you won't see many American tourists there, wolfing veal kidneys in mustard sauce washed down with Beaujolais on tap. So, joie de vivre is also about a gutsy gusto for inner organs? Sensuality and hedonism go hand in glove.
Paris reflects this. The Luxembourg neighborhood is dotted with great spots: Bonpoint HQ (in Rue de Tournon) for children's clothing (Harriet, now a grandmother, loves it); the Musée Zadkine for an artist's studio setting; Saint Sulpice for a vast church, splashing fountain and another favorite café. And poetry!
Baudelaire may be the star poet inside the garden, but on nearby Rue Férou, where Ernest Hemingway lived, the words of Arthur Rimbaud – he of "The Drunken Boat" – are writ large, literally. An entire wall is given over to his "Le Bateau Ivre."
We paused to read it and glance at the Café de la Mairie, where Rimbaud first declaimed it, down on Place Saint Sulpice.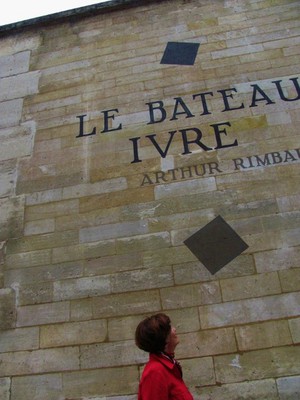 A group of French teenagers gathered and, between puffs on cigarettes, hammed it up as they declaimed and insouciantly jostled us out of the way. A French couple breached the scrum, arguing happily, but the kids didn't seem fazed. We retreated in polite American style. I thought of a chapter in Harriet's book titled "Having Fun While You Disagree." The thing is, the kids and couple weren't rude to each other or us. They were simply indulging that peculiarly Parisian joie de vivre.
Harriet Welty Rochefort's Joie de Vivre: Secrets of Wining, Dining, and Romancing LIke the French was recently published by St. Martin's Press and is available via Amazon.
Author and private walking-tour guide David Downie's latest book is the critically acclaimed "Paris, Paris: Journey into the City of Light," soon to be an audiobook. His next adventure-memoir, published in April 2013, is "Paris to the Pyrenees: A Skeptic Pilgrim Walks the Way of Saint James." His websites are davidddownie.com, parisparistours.com, wanderingfrance.com/blog/paris and wanderingliguria.com, dedicated to the Italian Riviera.
Photos by the author