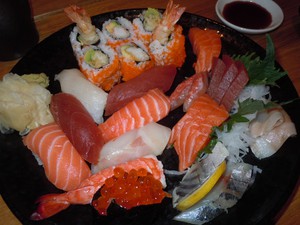 Kinugawa translates as "angry demon river". Tales are told concerning the history of the river; "whose gently flowing waters would temporarily swell, rough up, rage violently like furious demons". Sounds like most of the chefs we've ever met, yes? Alors, the elegant restaurant of the same name is located on a side-street, off rue de Rivoli, named for chef Kyoichi Kinugawa.
The eponymous and late great chef Kinugawa, who died in 2005, was chef at Hôtel Nikko before setting up his restaurant where "le tout Paris" adored his Kyseki cuisine, his Kyoto inspired dishes, desserts by a then unknown patissier, Jean Paul-Hevin.
Now, the fabulous destiny of Kinugawa continues with new owners, Groupe Black Code.  "We have given the restaurant a minimal look, created by Patrick Gilles and Dorothy Boissier, who've respected traditional Japanese culture, at the same time creating an "East meets West" signature while writing new codes", explains Black Code's Romain Costa and yes, miso marinated Black Cod (e) features on the menu!
Director du salle Laurent Hullo, ex-Plaza Athénée's Galerie, patiently explains the extensive menu created by chef/sushi-master Toyofumi Ozuru and his team. Want a speedy lunch? Order Bento Box with a generous taste of everything. "It's all served at the same time, you can be on your way within an hour", promises Hullo. I tried it, he's right!
Check out the Sushi, Sashimi, Maki, California. The freshest fish cooked fusion style, or how about seafood paella. Wagyu beef, Wakadori Teriyaki. It's a delicious journey, a chic zen trip, and five minutes from the Louvre.
"After a couple of days in Paris when I need to lay off the butter and goose fat, I head to Kinugawa for a Japanese lunch. After a lovely bowl of miso soup, some beautiful sashimi and a seaweed salad, I am ready to partake in all things French once more", reveals Gwynth Paltrow.
If it's good enough for Gwynie…..
Kinugawa,
9 rue du Mont Thabor, 1st,
M: Tuileries,
T: 01 42 60 65 07
Izakaya Menu – 55€
Tasting menu – 85€
Lunch formulas from 32€
Dinner from 55€
Shut: Sunday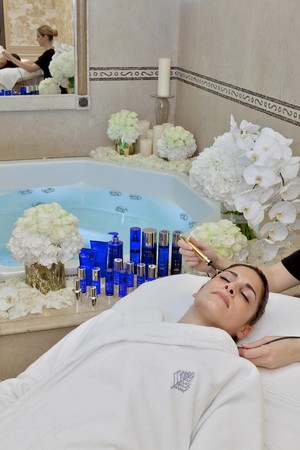 Four Seasons George V Spa is worth watching, they often launch cutting edge, innovative products/treatments, in a quest to keep us ever young, remember 60 is the new 40, and at George V spa, here's the rub, you could keep it that way for ever.
Last week Gregor Mattlis, CEO and co-owner, was in town from Montreaux to explain Swiss Perfection.  Iris based products for which "28" is the key. Why? "Because the skin renews itself every 28 days", explains Mattlis, a young looking dude who's father created Clinique La Prairie. "I'm not that young", he insists. "I use the products!".
He also explains that to-day's clients, male and female, want a facial treatment in 60-minutes that's fast and effective. "But why use iris flowers?" "After lengthy research we discovered that this sturdy plant, which grows in abundance on Lac Leman, has cellules close to the skin, a perfect replacement for the formerly used animal cells", he explains.
"The active iris cellular intensive face care of Swiss Perfection re-balances the skin's PH, targets wrinkles and dark spots, I'm so excited about this", says Spa Manager Verena Lasvigne-Fox."Please, tell your readers to make an appointment and discuss this revolution with us at the spa".
So get down there, even if it's only for the hot ginger stinger infusion, the inspiration of Jeff Leatham's floral décor and because you may see Federer popping in to stock up with products, rumour has it he's a fan.
Four Seasons Hotel George V,
Swiss Perfection Cellular Anti-Ageing Treatments,
31 Avenue George V, 8th
And also at La Prairie, Montreaux.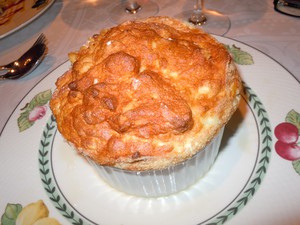 Remember La Galvacher that "home, home on the range" beef brasserie on avenue des Ternes? A useful addy, great fave of Henri Giscard d'Estaing who's Club Med offices are nearby. Well. Galvacher's gone to grass and there's an exciting new canteen in its' place.
Le Petit Marguery, Rive Droite. Of course, you know and love the Port Royal addy, setting for "Au Petit Marguery", the 1995 film, directed by Laurent Benguigui, A delicious rom-com about the last dinner at a shuttering restaurant.
The back story is 1800 when Nicolas Marguery created his eponymous restaurant where the sell-out daily special was Sole Marguery. Both the Rive Droite and Gauche establishments are now owned by Pascal Mousset, brilliant restaurateur, Le Restaurant du Sénat, Chez Franҫoise, La Marée, Bastide Odéon etc.
You'll recognise director du salle Glen Markussen, ex-Port Royal, and some of the staff, if you want to see true brasserie service in action, it's right here and right up there with the finest.
The first floor is a maze of private rooms decorated in charming old brasserie style, Alphonse Mucha prints, sexy red banquettes, big mirrors and conviviality.
On the ground floor, tables are well spaced, the semi-open kitchen orchestrated by Stéphane Mangin.  Serious game features on his Autumn menus featuring an eyewatering selection of wild boar, baby deer, wild duck, hare, grouse and grey partridge. There's also Frog's legs, flambé of Brittany lobster, heavenly tȇtes de veau and the classic long cooked lièvres à la royale du Sénateur Couteaux. To finish soufflé Grand Marnier, signature dessert of a belle maison (see photo).
Marguery Rive Droite is buzzing, ze place to be. And, BTW, the gregarious Glen Markussen let slip that Henri G de E still eats here! Whoops, don't tell.
Au Petit Marguery,
64 avenue des Ternes, 17th
M: Ternes
T: 01 45 74 16 66
Valet Parking from 17.30
Open 7/7
Menu Bon Conscience 18.50€
Menu Bistro 23-26€
A La Carte 30-35€
Laurent André, Executive Chef at Le Royal Monceau-Raffles, Paris, creates a savoury Xmas for his bûche. Coté cuisine, the dynamic Jura born chef's colorful, elegant and generous dishes showcase his bright personality.  "Behind vegetables, a perfect cut of beef, a line-caught fish, there's a culture, a breeder, a farmer, a fisherman: a story. Good cuisine, authentic cuisine, comes from them." he says.
So, chef André's bûche is, as you'd expect totally unique. "It's sweet/savoury to awaken the taste buds.  I've used pain d'épices, foie gras, black truffles. It's perfect as amuse bouche or dessert, or both! Wash it down with a ten year old port", he suggests.
Bûche salée signed Laurent André
Order 48 hours ahead
99€ enough for six.
T: 01 42 99 98 80

Subscribe for
FREE

weekly newsletters.
BonjourParis has been a leading France travel and French lifestyle site since 1995.
Readers' Favorites: Top 100 Books, imports & more at our Amazon store
We update our daily selections, including the newest available with an Amazon.com pre-release discount of 30% or more. Find them by starting here at the back of the Travel section, then work backwards page by page in sections that interest you.
Current favorites, including bestselling Roger&Gallet unisex fragrance Extra Vieielle Jean-Marie Farina….please click on an image for details.
Click on this banner to link to Amazon.com & your purchases support our site….merci!