La Défense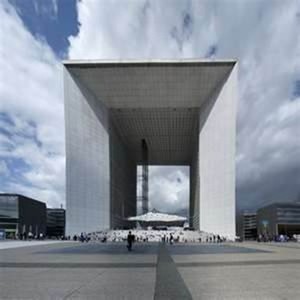 Travel west along the east-west axis and as you cross the river, you can see the great Arche, whose 300 foot rooftop offers a wonderful vantage point for viewing the area.  That axis runs in a perfect straight line from the Louvre's Arc du Carrousel to la Défense.
The idea sprouted in 1950 and construction began in the early 1960s. It was a prize winner at a competition set out by PM Mitterand, with the winner being a Danish Architect. It is 300,000 tons and 110 meters by 70 meters, containing offices and a large exhibition hall. It's the international business center of Paris.
Now it is considered a symbol on the inhumanity of modern architecture. By the 1980s it was surrounded by a giant Quatre-Temps shopping center and an IMAX theater.  It looks like an empty cube, large enough to house the Notre Dame Cathedral.  The face is made of Carrara marble.  The defense is dedicated to the soldiers who fell for France during the Franco Prussian war. It used to be west of the city but with the expansion of Paris, it is incorporated as one of the great places to work or visit in this great city.  It's relatively easy to get there but if you'd rather get a hotel in the area there are many including, Hilton, Mercure, Sofitel, Citadines. Ibis, Novotel and Pullman. There are over 40 restaurants available.
Admission to the cube is 9 euros for adults, 7:70 for students and free for under six years.
Napoleon's Tomb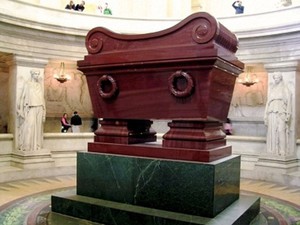 If history or cemeteries interest you, the tomb of Napoleon will be memorable. Entombed with the marble walls of a raised tomb in 1840, one can see it from below or above. No matter what you say about his illustrious career, people from all countries have come to stand in one of the circles around the tomb and remember their history. For many, he was a hero and his name and battles still conjure up memory of a brave man. There are even streets named after his victories.
Napoleon lived from 1769 to 1821 and for a man of 51, he accomplished so much including the legal Civil Code. He was born in Ajaccio, Corsica and was Emperor from 1804 to 1815.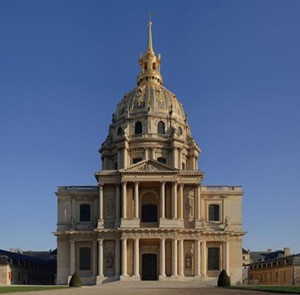 The golden dome of the building is one of the highest decorated domes in Paris.
On an earlier visit to Paris, I took a hotel nearby and spent a number of afternoons in this incredible building. All around the Emperor are graves of his son, his brother Joseph, Vaubin the builder of fortifications and the allied Commander in WW1 Marshall Foch.
Nearby at the Musée de l'Armée is a display of destructive weapons from many wars and countries. Here, one can see uniforms, swards, battle axes, blunderbusses and even suits of armor. Included is the bugle that was used on armistice day Nov. 11th 1918.
Auguste Rodin's Studio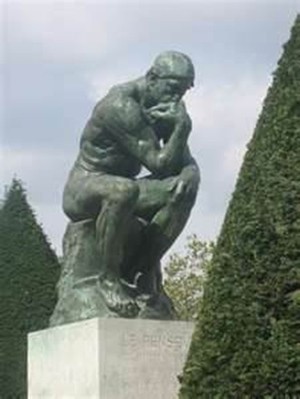 His name conjures up visions of The Kiss, The Thinker and many other works of a creative genius. One can even see his great bust of Balzac on a street near the Boul. Montparnasse. There are stories of his student, his home and his life. That great home, not far from Les Invalides is open to the public. In one day, you can visit Art and historical nostalgia. And to top it all off, you can get to it all via the corridor of gold statue on the Alexander 111 bridge, built in the early 20th century.
One cannot think of Rodin without remembering his assistant Camille Claudelle who worked at his side and created some of the great works of the period.
She, unfortunately died in a mental Hospital in 1943.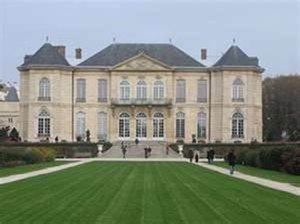 The home and studio are located at 79 rue de Varenne and open for viewing from 10 am to 5:45 (last entry at 5:15). Many statues are outside, in the garden. Closed Monday.
For more information, call 33 (0) 44 18 6110
Bring along a camera.  You'll want to preserve the images of these wonderful locations.