The New Art Show in Paris That Takes Place in the Dark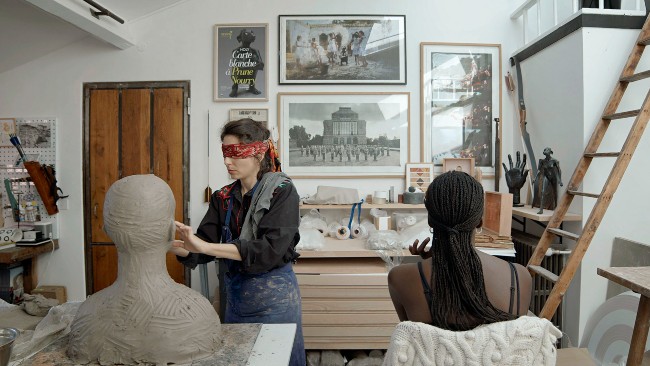 A new exhibition in Paris sets out to challenge stereotypes around the visually impaired in the most visceral of ways
Plunged into total darkness, I wrestle with the rising panic as I reach out, tentatively, into an invisible abyss. But then my fingertips settle on what they are seeking: a mane of stone hair, some cold cheekbones and a long, gentle arch of a neck… It's as if the people before me have been frozen in time – and I'm at once reminded of the petrified statues in the castle courtyard of Narnia's White Witch.
As it turns out, there is no witchcraft at play here, but there is certainly an enchanting beauty to these enigmatic sculptures – and one that is made all the more powerful because they can only be seen through the mind's eye. Furthermore, the story behind their creation makes them even more extraordinary.
In the lead-up to this landmark exhibition, Paris-born artist Prune Nourry invited eight visually impaired people to pose in her studio. Blindfolded, and without ever seeing them herself, she then created a bust of each model, simply through touching and listening. Now, immersed in the darkness, visitors are invited to share the experience, by discovering the sculptures with their hands.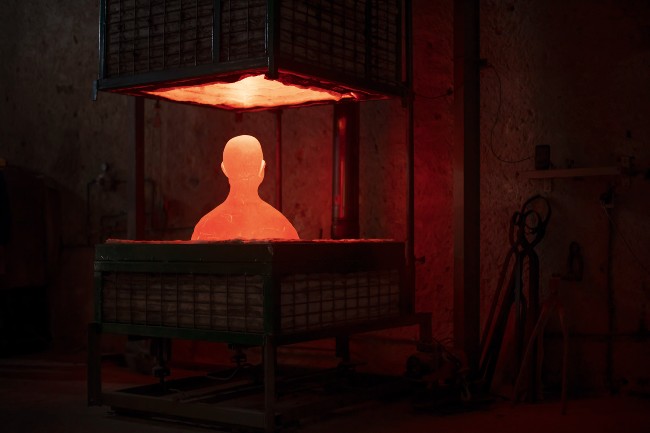 "Reactions so far have been quite varied, which is what I was almost hoping for," says Nourry, who divides her time between Paris and New York. "Some visitors have loved being taken out of their comfort zone, and appreciated being immersed for a short time in the universe of those who are visually impaired.
"On the contrary, some other visitors were a bit worried before entering the room, saying it took them a couple of minutes to become used to the total darkness and appreciate the experience."
No stranger to groundbreaking work, the 36-year-old has previously made waves in the art world with a swathe of acclaimed installations. As well as challenging gender stereotypes with her army of life-size Terracotta Daughters, inspired by the abandoned young girls of China, she also won acclaim for her exhibition, Catharsis, documenting her battle with breast cancer through art.
Then, earlier this year, she was invited to exhibit at the Bon Marché department store in Paris. There, she created a monumental installation, Amazone Érogène, featuring 888 flying arrows in tribute to Amazonian women warriors.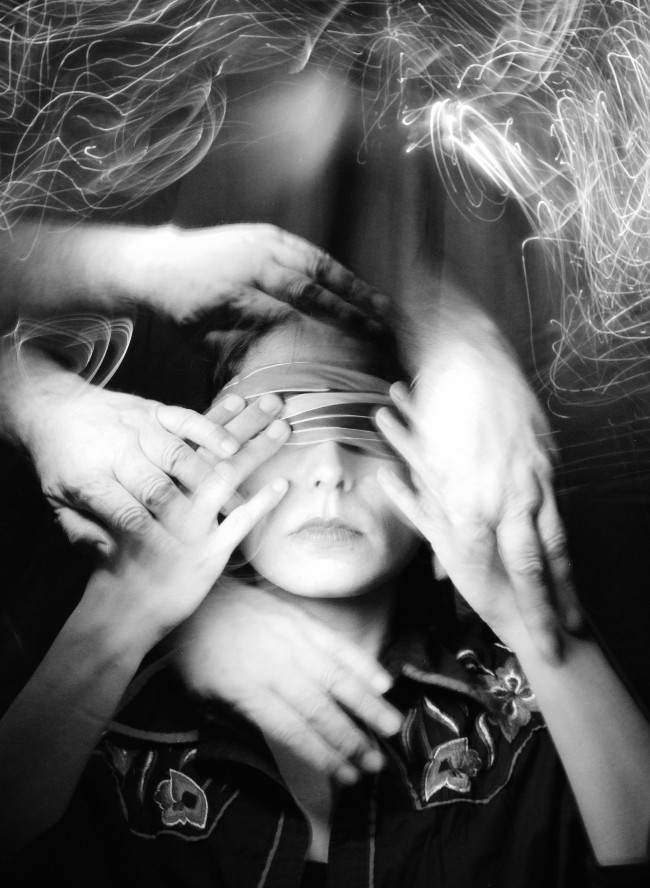 Now, for her latest exhibition, Projet Phenix, Nourry takes us deep into the world of the visually impaired. Keen to capture the most diverse range of experiences possible, she deliberately sought out models from different backgrounds, ages and cultures. Some of those featured have been blind since birth – others lost their sight through an accident or illness. What unites them all, however, is that they have each succeeded in overcoming their disability though their work.
"Like a phoenix rising from the ashes, each of the participants – from the musician to the chiropractor to the artist – has managed to transform their disability into something positive," says Nourry. "So, to portray them, I decided to use the ancient Japanese technique of 'Raku', in which the clay sculpture is immersed in ash as soon as it comes out of the kiln. In the same way as the mythical bird is reborn from his ashes, each portrait becomes a metaphor for rebirth."
In terms of the practicalities, phones are strictly banned and bags have to be deposited in a locker at the entrance. Then, once through the swathes of thick black-out curtains, the route is marked out by tactile paths and a guide rope running along one wall. To help visitors to orientate themselves, recordings of conversations between the artist and her models are played above each artwork – and mediators, who are themselves visually impaired, are on hand to help if needed.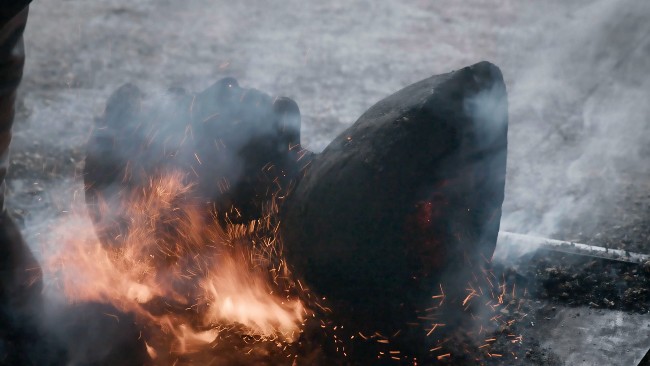 Halfway through the exhibition, visitors can pause to watch a short documentary – complete with audio description – telling the story behind the sculptures. Here, the walls are adorned with embossed works of the models' hands, inspired by the books for the blind and visually impaired at the Centre des Monuments Nationaux. Naturally, the descriptions are also in Braille.
 
Of course, one of the other interesting aspects of the show, with its emphasis on touch, is its resonance in the wake of the pandemic. As well as the tactile nature of the sculptures themselves, there is the very real chance of accidentally bumping into a fellow visitor. Given that we have spent the last couple of years going out of our way to avoid touch altogether, there is a life-affirming intimacy to the whole experience – ably supported by lashings of alcoholic gel.
 
"When my models started coming to the studio, some of them told me, with tears in their eyes that they hadn't been touched for more than a year because of COVID," says Nourry. "This is something that has been hard for many people, but for those with visual impairment, it has been terrible – because touch is sometimes their only relation to the world. So, this has made everything even more poignant."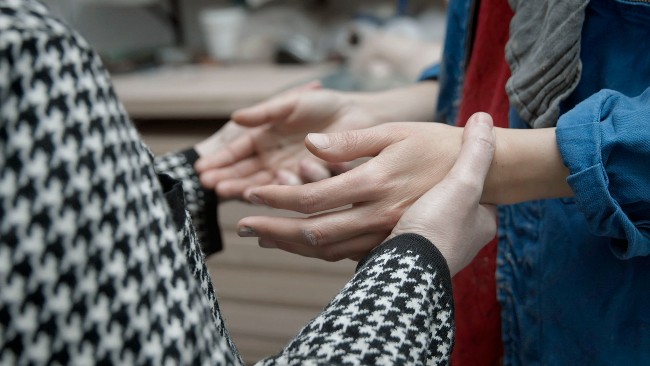 In keeping with the theme of overcoming adversity, Prune Nourry's new book about her experience with breast cancer has just been released to coincide with the exhibition. Entitled Aux Amazones, this inspiring testimony of her illness also features a preface by the actress and activist Angelina Jolie. What is more, 20,000 copies of the book are being given away for free to hospitals, institutions and social workers – financed by the sale of the 888 arrows from the Amazone Érogène installation.
"I think the one theme that runs throughout all my work is the notion of balance in its broadest sense – and that constant search for equilibrium," says Nourry. "So, that can be related to the body, healing and mental health; the demographic imbalance due to gender selection; or the ecosystem and the interdependence between living species."
Back in the pitch dark, after some initial vertigo, I seem to have finally regained my own sense of balance – and, tracing my fingers over the smooth, cool features of the last sculpture, it feels for a moment as if I can almost see the face before me. Then, suddenly, I remember something that one of the participants says in the documentary: "Being blind doesn't mean not being able to see – it just means seeing with the rest of your senses."
Projet Phenix runs at Galerie Templon until October 23. For more information, visit www.templon.com
Lead photo credit : Excerpt from the short-film by Vincent Lorca and of Prune Nourry, 2021, ADAGP / Courtesy Prune Nourry et Templon, Paris – Brussels.
More in Prune Nourry
---
---
Comments