Prune Nourry: L'Amazone Erogène at Le Bon Marché
This January, Le Bon Marché Rive Gauche once again celebrates the Mois du Blanc through art, with Prune Nourry's L'Amazone Erogène.
The Mois du Blanc was a cunning 19th-century marketing innovation by Aristide Boucicaut, the founder of Le Bon Marché. The businessman knew he had to find a new idea to encourage customers back into the store after their Christmas shopping spree, and he decided that promoting homewares was the right way to do it. Cue in the White Month, a monthlong promotional event focusing on linens (which at that time were essentially white).
It was a resounding success, and the Mois du Blanc has remained a staple of French shopping traditions, from smaller, specialized shops, to the largest department stores.
But because discounts on bedsheets and tablecloths can hardly be said to have the wow factor today's shoppers require, in 2016 Le Bon Marché decided to add an artsy twist to the event, giving carte blanche (quite literally, as the result has to be a white work of art) for a site-specific installation to one renowned contemporary artist each January. Ai Weiwei, Chiharu Shiota, Leandro Erlich, Joana Vasconcelos and Studio Nendo all accepted the challenge. This year it is Prune Nourry's turn.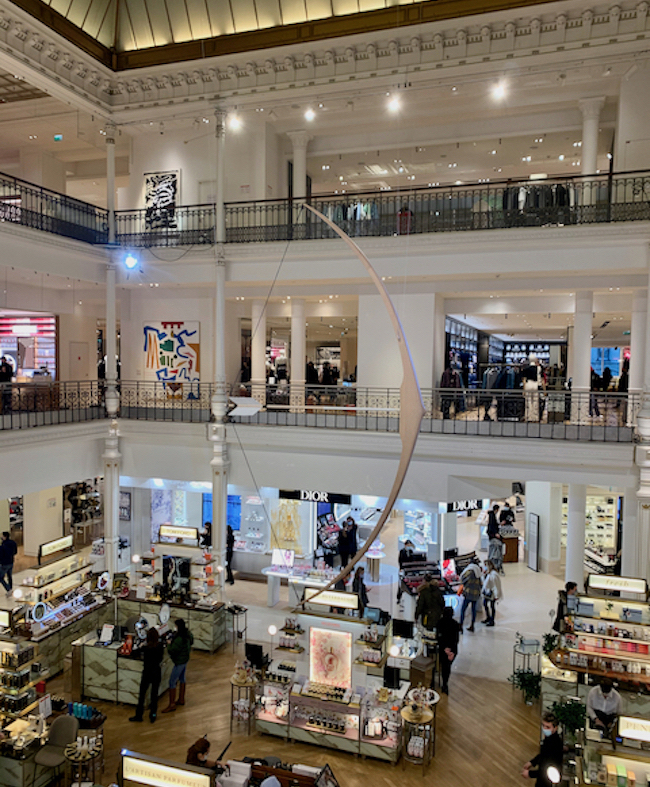 Born in Paris, Prune attended Ecole Boulle, where she specialised in wood sculpture. An interesting choice, considering the school is renowned for churning out designers more than sculptors, but Prune's ascent on the international art market has been meteoric. Her previous work (which soon evolved beyond sculpture and into installation and performance) has focused on the place of women in society and on fertility. Fascinated by Asian philosophy, Prune has explored the dichotomy between the celebration of fertility which is at the center of Asian religious beliefs and how little women are valued in countries like India and China.
The inspiration behind L'Amazone Erogène, however, is far more personal. In 2016, at just 31, Prune was diagnosed with breast cancer. As a way to get to grips with her illness, she decided to look at it as an artistic endeavor. It was a way to come to terms with her predicament, but also as a way to reappropriate her self, as her body was subjected to invasive procedures over which she had little control. She filmed every step of her treatment, and turned it into a documentary, Serendipity, presented in 2019.
In the movie, Prune cut off her long braid, anticipating that her hair would fall off because of chemotherapy, under the watchful gaze of one of her good genies, the film-maker Agnès Varda. The scar of Prune's mastectomy, and the strength displayed by the young woman throughout her ordeal, reminded Varda of the myth of the Amazons. These mythical creatures, fearless women warriors, would cut their breast off so that it would not hinder their ability as archers. The nickname stuck, and inspired the work currently on display.
Nourry found healing in her art. And, looking at her Amazone Erogène, towering above the displays of Le Bon Marché on a busy Saturday afternoon, I cannot but feel that, four years since her encounter with cancer, the artist is feeling whole again.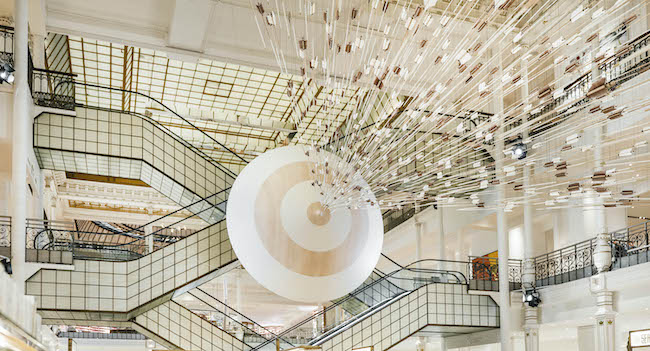 The installation consists of more than 3000 wooden arrows, launched by a 5-meter tall wooden arc and targeting a breast. The projectiles invade the shop windows, and spill over into the atrium. They form a white cloud above the shop floor, the monumental breast floating against the background of the escalators designed by Andrée Putman.
Writer Daniel Pennac, another of Nourry's good genies, has penned a letter as way of introduction to the show. He too praises the artist's strength, with a fatherly affection that pushes him to address her as "My little and gigantic Prune." Moved by her documentary Serendipity, he radiates joy, not pity, in his missive: To him, she is not the warrior scarred by her illness but a fertile goddess. The breast morphs into an egg, and the spears into the male seed.
I do not know whether it is the whiteness of the work, or the soothing smoothness of the wood, but when I look at the cloud of arrows, gently floating above the shop floor, vibrating in tune with the footsteps of the customers, I do not see affliction; I see hope. The hope of a woman who has fought a battle and come out to tell her story. She may not know whether she has won the war, but, in the here and now, it does not really seem to matter.
Prune Nourry, "L'Amazone Erogène" is on view at Le Bon Marché, 24 rue de Sèvres, 75007 Paris, until February 21st, 2021.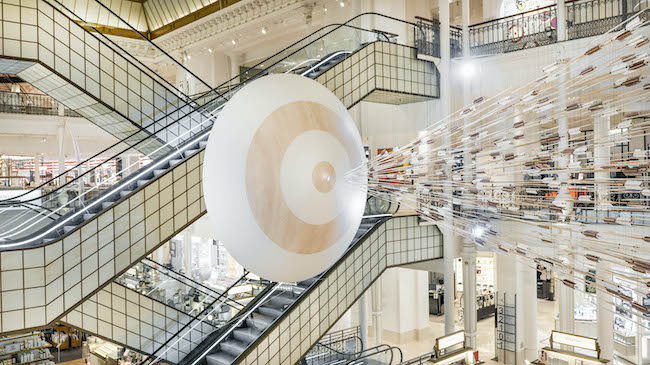 Lead photo credit : L'Amazone Érogène, 2020. Photo © Le Bon Marché Rive Gauche
More in installation, sculptures
---
---