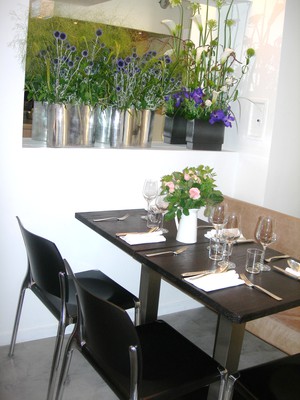 Well he's done it – it's open. Two years of incredible red tape and Daniel Rose and Marie-Aude Mery launched Spring this week. Located in a former skateboard boutique, the building dates back to the 17th century when it was used by market traders to store charcuterie subsequently sold at Les Halles Market, round the corner. This area was "the belly of Paris" and really still is with restaurants like Spring and just opposite Spring Boutique. The epicerie-cave opened last November because, after selling Table 28, the boy needed a hook to hang his casseroles while anticipating the new launch. Unless you've been on the moon you've already scoffed the designer hot-dogs, wines, olive oils, Paris honey, fruit, veg and cheese.
The new Spring Restaurant & Wine Bar, designed by Argentinian architect Paola Chauvigny, is on three levels and mixes the original handsome stone bricks with steel, glass, a slash of royal blue artwork on the staircase; read edgy.
Enter and there's the open kitchen with a counter if you want to watch every detail of Daniel and his butch chefs + Marie-Aude prepping. arguing, cooking, or there's basic tables and chairs and aromatic flower and herb offerings. The atmosphere buzzes with excitement and unanswered questions, such as "how do we get the coffee and the credit card machine to work, could the same engineer fix both?
The almost-finished mezzanine will become a meeting place to sip a glass of wine, eat some charcuterie. The basement wine cellar feels just the right side of damp, the better to preserve the 500 references already in place. "We'll have tastings down here", says Sofian Nait-Bouda, Spring's sommelier.
The lunch menu is simple, "we want to continue service as long as possible," says Daniel. "It's Spring Bouillon, my hommage to Paris restaurants of the 19th century, called "Bouillons".
It's a healthy soothing flavour, think Mother's Friday night chicken soup, but mum never added vegetables by Joel Thibault. Rose adds Normandie chicken and raw and cooked crunchy vegetables by the veg maven of France. "The idea is to build lunch around the bouillon", explains Daniel.
So you'll add tender pigeon, strictly veg for the veggies, Melon and Lomito Iberique, Salade d'Aubergines et Anguille Fumé, Crevettes Sautées au Fenouil, jus de Têtes de Crevette, Foie Gras Confiture de Citron, Thon et Quasi de Veau Anchoiade. The anchoiade is a perfect paste  of green olives, anchovy and garlic; it should be bottled to take home. Desserts include a wicked Clafoutis aux Abricots, deconstructed Tarte au Citron Spring and Framboises, Apricot Pit infusion, Verveine.
Dinner is served as a tasting of whatever inspires Rose and the butch chefs + Marie Aude, continuing his food philosophy since he began at Table 28. Say, ris de veau dans une bisque de homard avec aubergine et poêlée de girolles. Refuse to leave until you've tasted the Olive Oil Ganache. From the wines why not begin with Prosecco-Sorella Branca (34€) and continue with a white Vire-Clesse Bongran 2005 (54€) or the red Pic St. Loup "Les Calades" 2004 (45€). Finish with a little Sauternes? Yquem 1995 (530€).
6 rue Bailleul, 1st
Tel: 01 45 96 05 72
Metro: Louvre-Rivoli
Shut Monday
Average Spend
Lunch 42 + wine
Dinner Menu du Marché 64€ (en plusieurs services)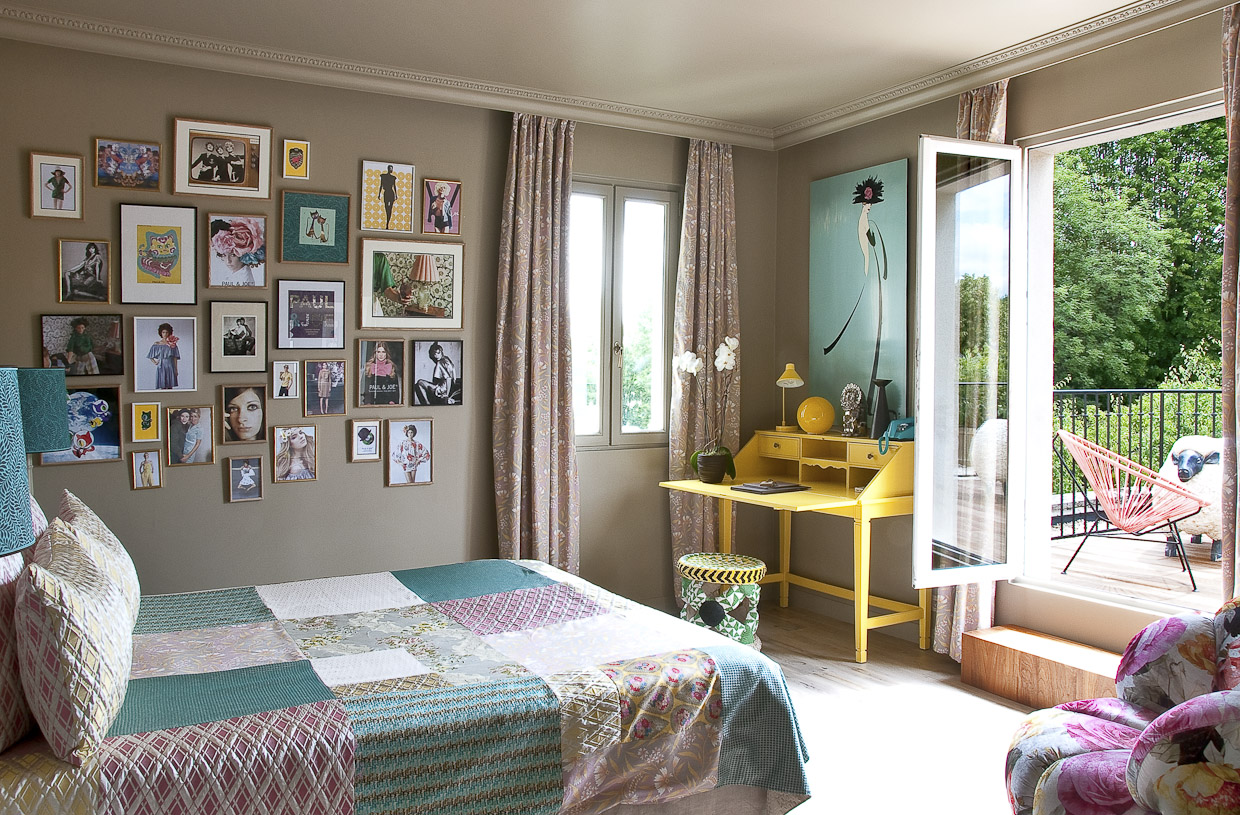 Paul & Joe are the two sons of Sophie Albou, talented creator of brand Paul&Joe. The look goes from birth onwards and is the absolute look of effortless Gallic chic, you know the Boyfriend Jeans, the beautiful sweaters, shirts and must-have accessories. It's a total look which now takes in beauty products and Paul&Joe Maison. So what could be more appropriate than a décor concept to redecorate a junior suite at the hip Les Etangs de Corot?
"Always looking for new challenges, I accepted owner Alice Tourbier's invitation as a way of realizing a dream: decorating an exceptional living space, based on my personal vision. Mixing different styles that bring together the four corners of the world, combining different fabrics, vintage and flea-market finds with a touch of Japanese manga and unique custom-made objects", explains Ms Albou. Working closely with Alice Tourbier, the two women are thrilled with the result. The spacious French ash-wood 100% eco-friendly terrace means the Paul&Joe experience can be lived inside and out, guests enjoy the "Corot" lake views and eat breakfast or dinner (created specially for them by Executive chef Benoit Bordier) on their own private terrace where two resin sheep graze peacefully.
55 rue de Versailles – 92410 Ville d'Avray,
T: 01 41 15 37 00
Paul&Joe Package
One night in the Paul&Joe Junior Suite + breakfast for 2,
Tasting menu dinner for 2 at Les Pailottes and a special Paul&Joe
gift 530€ Room only 320€
Still time:
To Gagnez Notre Maison and enter the lottery to win Stephane Iglicki's country house located one hour from Paris, 15 minutes from Chartres (nice Cathedral).
Iglicki finds himself a bit strapped for cash so the first 20,000 punters paying their 30€ will be entered in the draw. Results to be announced May 2011.
If you're coming to France (or for that matter anywhere) you can reserve your hotel here. To rent a car, Bonjour Paris recommends Auto Europe.