Returning to My Passion with "Twice Deceived"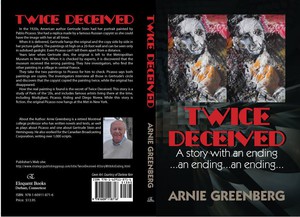 The first time I saw Picasso's 1906 portrait of Gertrude Stein was at the Metropolitan Museum in New York. There was something exotic and unique about it, and I was captured by that uniqueness. I returned to my studies and began delving into Picasso, Gertrude Stein, their lives and the lives of those around them. Over the years I became so involved with the Stein circle that after twenty-five years of lecturing on this theme, I decided to write a novel that would include many of the great writers and artists who were all in Paris at the same time. "We all went to Paris," Gertrude once said. "It was where we had to be." I went there for the same reason, and now in my retirement I have put together a work of fiction that brings together many of the great names of Paris in its exciting period of creativity. My recent novel deals with many of these giants but aside from the fact that there was a painting of Gertrude done by Picasso, the work is total fiction. You will notice that while the cover shows a portrait and a copy, these pictures were created solely for this book
TWICE DECEIVED
deals with Gertrude's love for that painting. The story suggests that she wanted a copy made since she lived in south central France during the winter and wanted the painting with her all the time. Included in the book are those giants I refer to. I include Picasso, Rousseau, Gertrude, Alice B Toklas, Moise Kisling, Modigliani, Harry and Caresse Crosby, Jules Pascin, Marevna Vorobiev and Diego Rivera and Picasso's friend Jaime Sabartes. Part of the story is told through the eyes of Robert Bartlett Haas, the only man I ever met who actually knew and corresponded with Gertrude. Even the art detectives Bruce Kellner and Jean MacMasters-d'Aiguy were friends of Doctor Hass. Jean is the son of the famous Rose that Gertrude wrote about in The World is Round. Gertrude, according to my fiction, asks Robert Haas to introduce her to his Russian neighbor Marevna Vorobiev, who is a copyist Gertrude once saw at the Louvre. Marevna, the lover of Diego Rivera, agrees to copy the painting. It is delivered with a red crayon mark on the back to distinguish it from the original and was necessary since the copy was so like the original that even Picasso, standing on a chair in gaslight, couldn't tell the difference from afar. The paintings hung in Paris and in Culoz, France, near Rose d'Aiguy's parent's chateau. When Gertrude died, the original painting was left to the Met in New York. That way, more people would see it. But was it the real painting that the Met received? The expert who checked the canvas said he had his doubts. Enter the investigators who return to France to find the copy. They would bring both copies to Picasso for authentication since Picasso was still alive. His decision and what follows will take you into my imagination. You will journey through France, Mexico and Italy. You will be deceived twice, but in the end you will discover which painting was the original and be certain that it is Picasso's portrait that hangs in New York for all to see. (REMEMBER: This is a total fiction based on the lives of real people and tells something of what they did while in France.) Note: The book is dedicated to the memory of Dr. Robert Bartlett Haas, my friend and Mentor. He was an academic from California originally. It was "Bob" who invited me to lecture in Culoz at a Stein Conference. It was Bob who introduced me to Bruce Kellner and Jean d'Aiguy whom I still count as my friends. It was Bob who introduced me to the directors of the University Theatre Company in Stuttgart, thus leading to the production of my play about Gertrude and her friends, Goddy: A Play at the Wilhelma Theatre in Stuttgart in 1993. Bob Haas passed away this year. He was a sensitive, loving man. He changed my life and perhaps, in a small way, this book will allow him to live on.   If you're coming to France (or for that matter anywhere) you can
reserve your hotel here
. To rent a car, Bonjour Paris recommends
Auto Europe
.
SUBSCRIBE
ALREADY SUBSCRIBED?
BECOME A BONJOUR PARIS MEMBER

Gain full access to our collection of over 5,000 articles and bring the City of Light into your life. Just 60 USD per year.

Find out why you should become a member here.

Sign in

Fill in your credentials below.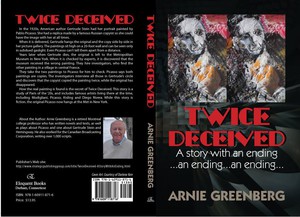 The first time I saw Picasso's 1906 portrait of Gertrude Stein was at the Metropolitan Museum in New York. There was something exotic and unique about it, and I was captured by that uniqueness.
I returned to my studies and began delving into Picasso, Gertrude Stein, their lives and the lives of those around them.
Over the years I became so involved with the Stein circle that after twenty-five years of lecturing on this theme, I decided to write a novel that would include many of the great writers and artists who were all in Paris at the same time.
"We all went to Paris," Gertrude once said. "It was where we had to be." I went there for the same reason, and now in my retirement I have put together a work of fiction that brings together many of the great names of Paris in its exciting period of creativity.
My recent novel deals with many of these giants but aside from the fact that there was a painting of Gertrude done by Picasso, the work is total fiction. You will notice that while the cover shows a portrait and a copy, these pictures were created solely for this book
TWICE DECEIVED deals with Gertrude's love for that painting. The story suggests that she wanted a copy made since she lived in south central France during the winter and wanted the painting with her all the time.
Included in the book are those giants I refer to. I include Picasso, Rousseau, Gertrude, Alice B Toklas, Moise Kisling, Modigliani, Harry and Caresse Crosby, Jules Pascin, Marevna Vorobiev and Diego Rivera and Picasso's friend Jaime Sabartes.
Part of the story is told through the eyes of Robert Bartlett Haas, the only man I ever met who actually knew and corresponded with Gertrude. Even the art detectives Bruce Kellner and Jean MacMasters-d'Aiguy were friends of Doctor Hass. Jean is the son of the famous Rose that Gertrude wrote about in The World is Round.
Gertrude, according to my fiction, asks Robert Haas to introduce her to his Russian neighbor Marevna Vorobiev, who is a copyist Gertrude once saw at the Louvre. Marevna, the lover of Diego Rivera, agrees to copy the painting. It is delivered with a red crayon mark on the back to distinguish it from the original and was necessary since the copy was so like the original that even Picasso, standing on a chair in gaslight, couldn't tell the difference from afar.
The paintings hung in Paris and in Culoz, France, near Rose d'Aiguy's parent's chateau. When Gertrude died, the original painting was left to the Met in New York. That way, more people would see it. But was it the real painting that the Met received? The expert who checked the canvas said he had his doubts. Enter the investigators who return to France to find the copy. They would bring both copies to Picasso for authentication since Picasso was still alive.
His decision and what follows will take you into my imagination. You will journey through France, Mexico and Italy. You will be deceived twice, but in the end you will discover which painting was the original and be certain that it is Picasso's portrait that hangs in New York for all to see.
(REMEMBER: This is a total fiction based on the lives of real people and tells something of what they did while in France.)
Note:
The book is dedicated to the memory of Dr. Robert Bartlett Haas, my friend and Mentor. He was an academic from California originally. It was "Bob" who invited me to lecture in Culoz at a Stein Conference. It was Bob who introduced me to Bruce Kellner and Jean d'Aiguy whom I still count as my friends. It was Bob who introduced me to the directors of the University Theatre Company in Stuttgart, thus leading to the production of my play about Gertrude and her friends, Goddy: A Play at the Wilhelma Theatre in Stuttgart in 1993.
Bob Haas passed away this year. He was a sensitive, loving man. He changed my life and perhaps, in a small way, this book will allow him to live on.
If you're coming to France (or for that matter anywhere) you can reserve your hotel here. To rent a car, Bonjour Paris recommends Auto Europe.
More in French artists, Paris, Paris book reviews, Paris museums
---
---