Salmon and Dill Mousse Recipe: Mousse de Saumon a l'Aneth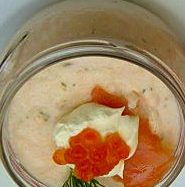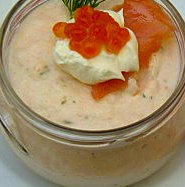 Do you remember the dish that introduced you to French cuisine? For me and I would guess a lot of us, it was mousse au chocolat—the iconic dessert that sounded so exotic when it rolled out of my mouth for the first time. And  it tasted so rich, not too sweet and fairy light in my mouth. Today, I rarely order mousse for dessert. I prefer to order it in its savory versions, whether it's a small tomato mousse served in a verrine as an amuse-bouche or a veggie mousse or this delicious salmon mousse.
Mousse de Saumon à l'Aneth ~ Salmon and Dill Mousse
INGREDIENTS:
7 oz. fresh salmon, skinned and boned
1 egg, chilled
1/2 cup heavy cream
1/2 tsp. chopped fresh dill (plus a few sprigs for garnishing)
1 Tablespoon butter
salt, freshly ground pepper
1/8 tsp. cayenne pepper
Optional to serve: Hollandaise sauce, caviar topping
PREPARATION:

1. Cut the salmon into pieces and place in food processor bowl with the cream and the egg.
2. Process for about 3 minutes until mixture is a thick purée.
3. Season with salt, pepper and cayenne pepper. Mix in the dill.
4. Divide the mixture between 4 well-buttered ramekins. Cook in a bain-marie for 15-20 minutes.
To Serve:
Unmold each mousse onto a small, warmed plate and garnish with some more dill.
Optional: Spoon some hollandaise sauce around it and garnish with a sprig of dill.
Et voilà!
Debra Fioritto contributes delicious French recipes to Wednesday issues of BonjourParis. Click on her name to read more about her Tour de Forks culinary tours or to collect the many recipes she has shared here.
NEW:
Subscribe for free
to our weekly newsletters with subscriber-only stories.
Thank you for using our link to Amazon.com…your purchases support our free site.
Click on image for more info about these favorites.
Leave a reply
Your email address will not be published. Required fields are marked *